There are almost countless beach-front and waterfront hotels and villas around the world—each offering something different to guests in the way of accommodation, amenities and local attractions. Few hotels however, offer experiences that enable guests to take in what lies beneath the sea's surface. Today we are going to take a look at some of the world's best underwater hotels and reef suites that simply must be experienced.
Atlantis: The Palm, Dubai
The Atlantis, The Palm, Dubai has some of the most luxurious signature suites in the world, allowing guests to immerse themselves in an incredible underwater marine experience that brings the wonders of the sea suite-side.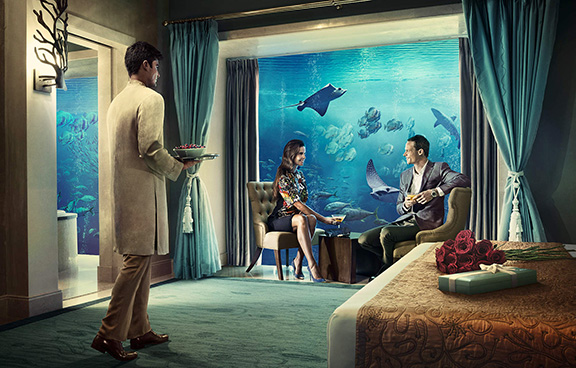 Located at the bottom of the Ambassador Lagoon—home to 65,000 marine animals. Offering a level of peace, tranquillity and escapism, these magnificent multi-floor underwater Signature Suites allow you to capture a mesmerising underwater sea life experience with floor-to-ceiling views from your suite. Underwater suites are complimented with a lavish upstairs lounge and 24-hour private butler service to cater for your every need.
Guests staying at this five-star resort can enjoy various water activities, including a private beach, water park, scuba diving, snorkelling and kayaking—plus a private marina. Atlantis Dubai offers some of the best live entertainment, bars, nightclubs, and a casino, along with exquisite dining in some of the finest restaurants.
The Atlantis, The Palm, Dubai, is the perfect destination for a luxurious and unique underwater hotel experience. With its stunning views, world-class amenities, and various activities, it's no wonder this resort is one of the most popular in the Middle East.
Conrad Maldives: Rangali Island, The Muraka
The Muraka, Rangali Island is a luxurious two-level hotel featuring a master bedroom submerged beneath the sea's surface. Located in the Indian Ocean, the Conrad Maldives resort, the Muraka, has a unique and innovative design that enables guests to enjoy two unique and unforgettable experiences in one of the world's most exclusive residences.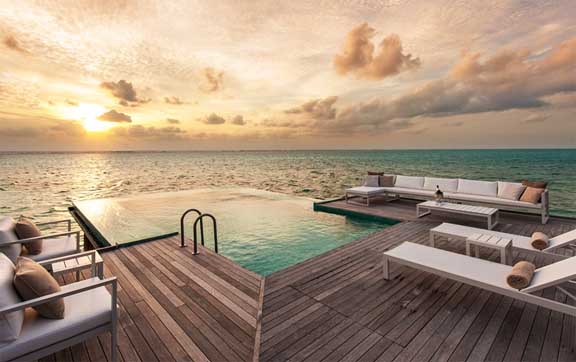 With the lower level submerged underwater, the Muraka's two-level structure allows guests to enjoy stunning views from the Indian Ocean above and below deck. Take the stairs or elevator to your private underwater aquarium and master bedroom—encapsulated in a 180-degree acrylic dome. This incredible immersive experience enables you to take in awe-inspiring views of marine life in their natural habitats in the crystal clear, pristine waters of the Indian Ocean.
Each villa features a private gym, spa and infinity pool—enabling guests to keep fit, take a relaxing spa or layout in the tropical sun and take in everything the Maldives offers.
For active individuals, the resort offers a variety of water activities, including snorkelling, diving, fishing, paddle boarding, windsurfing and kayaking. For underwater adventures, there are also day and night scuba experiences at the Ocean Dive Centre for amateurs and experts alike, where an abundance of sea life, such as exotic fish, turtles, rays and sharks, are waiting to be discovered.
The Conrad Maldives Rangali Island is the perfect destination for those looking for a luxurious and unique underwater hotel experience. With its stunning views, world-class amenities, bars, restaurants and various outdoor activities, it's no wonder this resort is one of the most popular in the Indian Ocean.
Resorts World: Sentosa, Equarius Ocean Suites, Singapore
Resorts World Equarius Ocean Suites are located on Sentosa Island. Dubbed Asia's favourite playground, the island is connected to the mainland by road, cable car, pedestrian boardwalk and monorail.
Equarius is a collection of 11 exclusive ocean suites—each a unique luxury two-storey townhouse with above-ground and underwater experience all in one. Take in the tropical sun from your outdoor patio and jacuzzi, or enjoy the underwater views from your bedroom suite in privacy and comfort.
Sentosa offers a unique experience with various restaurants, bars, and shops, home to the world's largest aquarium, as well as outdoor activities such as snorkelling, diving, fishing and kayaking. With everything Resorts World has to offer, it's no wonder Sentosa is one of Asia's most popular playground destinations.
The Manta Resort: Underwater Room, Pemba Island, Tanzania
Pemba Island is a remote island off the east coast of Tanzania, Africa. The Manta Resort, Tanzania, is one of the most unique and luxurious hotels in the world, offering a range of seafront villas, garden rooms and underwater rooms.
The underwater room provides guests with the ultimate privacy and comfort—wake up to peaceful ocean surroundings encapsulated in an aquatic setting. Anchored to the ocean floor, the tri-level design of the floating suite enables guests to experience above and below sea levels all in one—for a truly, totally immersive experience.
Capture the beauty of an abundance of tropical fish and sea life in the crystal clear, blue waters of the Indian Ocean in a luxurious and relaxing atmosphere—an opportunity to re-centre your thoughts, stargaze and work on your sun tan while listening to the soothing sound of lapping waves.
The island offers guests a range of bars, restaurants, world-class amenities, and recreational activities such as snorkelling, diving, fishing and kayaking—no wonder this resort is one of the most popular in Africa.
Reefworld, Reefsuites, Whitsundays, Australia
Unlike other underwater experiences, the Reefworld was contrived from a pontoon—repurposed in 2019. Moored offshore at Hardy Reef, just 40 nautical miles from Airlie Beach, Reef World caters for day-trippers, on-deck Reef Sleep and below-deck Reef Suite guests.
Guests board Reefworld from the renowned Whitsunday Islands to Hardy Reef, where guests can indulge in water activities such as snorkelling, diving, swimming or even take a scenic helicopter flight. Around mid-afternoon, the day trippers depart, and overnight guests remain to enjoy everything Reefworld has to offer.
After watching the sunset and enjoying dinner on the upper-level deck, Reef Suite guests can retreat to the privacy of their accommodation below deck. Your underwater suite features floor-to-ceiling windows, enabling guests an unhindered view of a wide variety of marine life on this world-heritage-listed reef.
The Reefworld all-inclusive and beautifully appointed reef suites are perfect for an intimate experience, a well-earned escape or those wanting to see what lies beneath a little closer.
The Reefsuites is an incredible way to enjoy the beauty of the barrier reef, dine on the reef, interact with marine life through various water activities, and leave with life-long memories.
Intercontinental, Shimao Wonderland, Shanghai, China
Intercontinental Shanghai, Shimao Wonderland is located in Songjiang District and designed to attract affluent travellers eager to blend business, leisure and adventure into one experience.
Built into the cliffs of a former quarry, 30 miles from Shanghai, descending 290 feet to the lake at the bottom of the quarry pit, the Intercontinental Wonderland Hotel is as impressive as it is unique.
The Underwater View Duplex Suite is an impressive 120 square metres and features a twin bedroom and separate sitting and children's rooms and terraces, butler service along with all the luxurious inclusions you would expect from a hotel of this calibre—wholly submerged beneath the surface of the water with amazing views of aquatic life.
Guests can enjoy breathtaking views of the surrounding quarry and access to various activities, such as snorkelling, diving, fishing, kayaking and even rock climbing.