"It's yachting, not cruising" Enjoy the difference. SeaDream Yacht Club is different from big ship cruising. Their philosophy of casual perfection runs through everything they do. With only 112 guests being pampered by an award-winning crew of 95, the level of attention and service given to each guest makes yachting aboard either one of their mega-yachts SeaDream I or SeaDream II feel as if you are on your own private yacht. Be as active or as relaxed as you like and take in the ultimate in luxury, privacy and pampering.
Founded in September of 2001 by Norwegian entrepreneur Atle Brynestad who founded the award winning Seabourn Cruise Line and Larry Pimentel, who was President of Seabourn under Brynestad and later President and CEO of the merged companies Cunard-Seabourn. Why is SeaDream Called a Yacht Club? As the Chairman says "We are not a cruise line. We are a yacht company and we provide a yachting experience." Yachting features an open and unstructured ambience that provides guests the ability to fulfill their own dreams – call them "seadreams" if you will – at their own pace and in their own style. SeaDream like to express this as "No clocks, no crowds, no lines, no stress." The key word for the SeaDream yachting experience is "unstructured. It's all about personal choice. Think of it as a free form holiday in which guests fall into a "seadream" and believe that they are aboard their own yacht. That's why they say SeaDream is a yacht company; not a cruise line. What are some of the highlights of the SeaDream yachting experience? Flexible Schedules and Itineraries – Basically, SeaDream I and II sail on scheduled, seven-day schedules and itineraries.

Nevertheless, although SeaDream yachts depart their first port of call and arrive at their last port of call as scheduled, arrivals and departures at intermediate ports are not necessarily cast in stone. Captains have the authority to adjust for local opportunities. So yachts frequently make unscheduled calls at small ports to visit a local fish market, for example, or to remain longer than scheduled in a secluded bay so guests can enjoy a few more hours of water sports. Overnighting in Key Ports – Let's go back to cruise ships for a moment. Cruise ships usually arrive at ports of call in the early morning and depart in the evening of the same day. But SeaDream yachts overnight at many ports of call. You'll find many examples when you go into the itinerary section of this website. The point is the action doesn't even get started in ports such as these until late in the evening and SeaDream have found that guests are active people who don't want to miss anything.
Officers and Staff Lead Guests on Personal Off-Ship Experiences – Officers and staff know the ports of call like the backs of their hands. They are experts and they are also active, interesting people just like the guests they serve. So, on each sailing Officers and Staff frequently lead guests to their favorite sites for their favorite experiences. So, guests might have the chance to go snorkeling with the Captain in an area he knows well and enjoys. Or, the Activities Director might lead guests on a shoreside hike that he has uncovered on a previous visit. Guest may also want to join the Chef for a visit to his favorite patisserie or to a fine fish market where he plans to select some delicacies to put on the menu that evening. There is no cost for these shoreside opportunities.
No. of Vessels
SeaDream I and SeaDream II
Demographic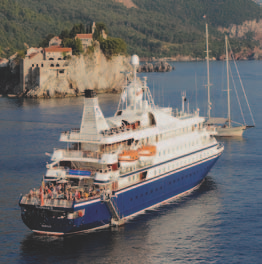 Discerning and active people
Accommodation
56 ocean-view staterooms including 10 suites
Marble-lined bathrooms & BVLGARI toiletries
TV/DVD/CD/iPod docking/safe/minibar
Dining & Beverages
Award winning cuisine, a la carte dining
Open sitting in the elegant Dining Room or alfresco in Topside Restaurant
Complimentary wines at lunch/dinner
Premium spirits from the bars
Entertainment
Late sailings enable guests to experience the nightlife in the ports
Onboard: Piano Bar, movies & dancing in the Main Salon, Starlit Movies, classical guitarist, casino, sleep out under the stars
Ship Facilities
Generous decks, Thai Spa, fitness centre, Balinese Dream Beds, library, pool, jacuzzi, golf simulator, boutique, medical facility & water sports marina
Cruise Price Inclusions
All onboard meals
Wine with lunch and dinner & open bar with select premium brands
Water toys from the Marina
Gratuities
Port and handling charges