Planning a trip to the Kimberley? Here is our guide to the top luxury cruise lines in the Kimberley, a bucket list destination.
Where is the Kimberley?
The Kimberley is located in the far north-western region of Western Australia. It is one of the largest wilderness landscapes in the world. Thousands of visitors are drawn to this fascinating region for its incredible natural wonders. Hot, arid landscapes bask in glorious sunsets where thundering waterfalls contrast the brilliant red cliffs and soaring plains.
Natural phenomena like Horizontal Falls and rivers brimming with crocodiles, pristine beaches and spectacular reefs lie within this remote and indigenous landscape.
Due to its remote location and extreme climate, one of the best ways to appreciate the Kimberley is by cruising.
When to travel to the Kimberley?
The best time to visit the Kimberley is mid-May to August, where the daytime temperature sits at around 28-30°C and evenings are a balmy 19°C. This is just outside the wet season. However, some cruise operators run waterfall cruises from mid-March to mid-April where visitors can appreciate nature in all its glory with thundering waterfalls and spectacular light storms in a more humid climate.
Choosing the right ship for your Kimberley Cruise
Expedition /smaller cruise vessels can get into areas where larger vessels cannot access allowing for a more intimate and close-up experience. These vessels come with multiple smaller zodiac / adventure boats to propel you right into the heart of these untouched gems of the area. Some of these vessels have helicopters on board too, providing an even more exhilarating adventure and birds eye view.
It's important to consider the type of Kimberley adventure you are looking for. Some of the larger vessels offer pools and day spas with multiple restaurant choices whereas the smaller vessels like True North, whilst still very luxurious, have limited onboard facilities and focus mainly on experiences in the region off the main cruise vessel.
Iconic highlights of the Kimberley region
King George Falls – one of the most photographed icons of the region. These 260-foot all twin cascades are phenomenal against the burnt red cliffs. Vessels like True North can get right up close to the foot of the falls.
Horizontal Falls and Talbot Bay – The Horizontal Falls are fast moving tidal currents that flow through two narrow gorges in Talbot Bay, located in the Buccaneer Archipelago. Most of the cruises will take guests on fast jet boat rides through the currents.
Mitchell Falls – a breathtaking waterfall at its height at the end of the wet season. Fly over the falls via helicopter or take the hike in – that is well-worth the journey.
Baccaneer Archipelago – the Kimberley is home to one of the highest
concentrations of islands in the world. Some harbour ancient rock art dating back to Aboriginal times like Bigge Island.
The red rocks of Cape Leveque contrast the turquoise sea, the northernmost point of Dampier Peninsula.
Montgomery Reef – Australia's largest inshore reef that rises from the ocean with an incredible sound as the tides wash over it.
Kuri Bay – Nestled within the untamed Kimberley wilderness in Western Australia, Kuri Bay is a remote coastal haven which boasts pristine beaches, secluded coves, crystal-clear waters, and abundant marine life.
Vansittart Bay – Vansittart Bay beckons adventurers seeking rugged beauty. Marvel at cascading waterfalls and discover the haunting wreckage of WWII aircraft.
Some activities available such as barramundi fishing trips, crocodile spotting cruises, whales off the coast of Broome, and camel rides on Cable Beach in Broome
Comparing Cruise Operators
Silversea
Silversea is known for its luxurious all-inclusive cruise experience, with spacious accommodations, personalized service, exceptional dining, and immersive enrichment programs. Sail to the Kimberley region on board Silversea's Silver Explorer, a unique and intimate expedition experience.
Silver Explorer — Expedition vessel used till 2024 when Silver Cloud takes over 144 passengers and 118 crew
The only truly all-inclusive experience. Door to door with pre / post accommodation if needed. Flights, all meals and beverages and excursions included.
Butler service in every cabin
9 luxury cabin types all with ocean views and most with balconies
12 inflatable zodiacs to get you up-close-and-personal to the icons of the Kimberley in this extraordinary environment.
Up to 3 dining experiences including 24hr in-suite and 2 restaurants & bars on board, from casual to fine dining.
Spa & beauty salon, fitness centre, 2 heated whirlpools and two lounges
No helicopter on board, however they do offer a day excursion at an additional cost with a helicopter over Mitchell Falls.
In 2024, Silver Cloud will take over the Kimberley region. A larger vessel holding 254 passengers with a full-sized pool and 5 restaurants.
2 Itinerary Offered:
10-night – Broome to Darwin (or reverse Darwin to Broome) — Featuring all the iconic Kimberley sites including Montgomery Reef. (Darwin to Darwin can be an alternative for guests not wanting to enter international waters to return home).
17-night – Cairns to Broome — Discover stunning natural wonders, and cultural experiences.
Ponant
Ponant is a luxury, French company with a fleet of vessels and French crew on board.
Ponant offer 2 vessels in the Kimberley Region Le Lapérouse or Le Soléal
Le Soléal – 264 passengers, 11 zodiacs, 2 restaurants, 24-hr room service, exterior bar, pool, wellness area, 2 lounges, theatre and spa
Le Lapérouse- one of the Ponant Explorers fleet has 92 staterooms. 184 passengers, 118 crew, 2 restaurants, the Blue Eye – a unique underwater lounge unlike any other in the world. Day spa, gym, 2 lounges, theatre, pool, hydraulic platform making for easy embark & disembarkation, inflatable zodiacs, kayaks & paddleboards.
All-inclusive meals, open bar and activities offered during expedition cruises.
Ponant's iconic sailing yacht, Le Ponant, will debut its Kimberley voyages from April to October 2023, with cruises from the northern and southern Kimberley regions.
1 Itinerary Offered:
10-night – Broome to Darwin (or reverse Darwin to Broome) — Featuring all the iconic Kimberley sites.
Scenic Luxury Cruises & Tours
Scenic, An Australian owned company, offers Scenic Eclipse a 5-star luxury experience, with all-inclusive dining, shore excursions and onboard amenities, while exploring the stunning rugged landscapes of Australia's northwest region.
228 passengers with 176 crew
Scenic has one luxury 6-star ship the Scenic Eclipse – with a second vessel due for completion in 2024.
Australian founded company
Scenic are the only company with 2x Helicopters and Submarine onboard the Scenic Eclipse (bookable 3 months in advance of departure- not included in price)
Every suite has a veranda and all have ocean views
Butler service for all guests
All inclusive – food, select premium beverages, shore excursions (except Helicopter and submarine), tips and gratuities.
12 inflatable zodiac boats + kayaks & stand-up paddle boards
Up to 10 dining experiences including 24hr in-suite and 9 restaurants & bars on board from casual to fine dining
Senses Spa, theatre, Gym, Pilates studio, 3 outdoor vitality pools
1 Itinerary Offered:
13-Day – Broome to Darwin (or reverse Darwin to Broome) — Featuring all the iconic Kimberley sites.
Seabourn
Seabourn Pursuit is the epitome of luxury travel on the high seas, offering a world-class journey filled with opulence and unforgettable moments. The latest addition to the ultra-luxurious Seabourn fleet—purpose built to explore remote destinations where larger vessels are unable.
With a maximum 264 guest capacity and with a passenger-to-crew ratio that ensures personalised attention throughout your voyage. Guests enjoy luxurious accommodation and in-suite service with a choice of Veranda, Panorama Veranda, and Penthouse Suites.
Onboard Amenities
World-Class Cuisine: Two fine dining restaurants, an american grill, buffet and sushi bar.
Discovery Centre: Insightful lectures, briefings and enrichment programmes
Observation Bar: Enjoy a beverage with uninterrupted panoramic views.
Pool: Spend a day unwinding.
Fitness Centre: Treadmills, elliptical trainers, stationary bikes and weight machines.
Dancing: Let your hair down and spend an evening dancing  under the stars.
Salon and Spa: Reward yourself with a new hairstyle, manicure or pedicure.
Card Room: Enjoy lot's of onboard activities including a game of bridge
Bars: Enjoy a refreshing tropical beverage day or evening.
Shopping: Stay in the moment, shop for fashion, cosmetics, jewellery souvenirs.
Activities: 24 Zodiacs, Kayaks and two custom-built submarines, plus land excursions and expert expedition team.
2 Itineraries Offered:
An adventure of a lifetime, visiting all iconic stops, exploring pristine wilderness, witnessing stunning landscapes and immersing yourself in rich indigenous culture.
10-Day Darwin to Broome (or reverse): Waterfalls & Wandjinas with five sail dates in 2024 commencing June through to August.
10-Day Broome to Darwin: Discovering the Kimberley Inaugural Voyage, commencing June, 2024.
True North
The TRUE NORTH has been safely navigating the Kimberley Coast's many shallow river systems for over 35 years. Their purpose small ship cruises provide guests with a luxury experience and intimate access to the region's iconic natural features.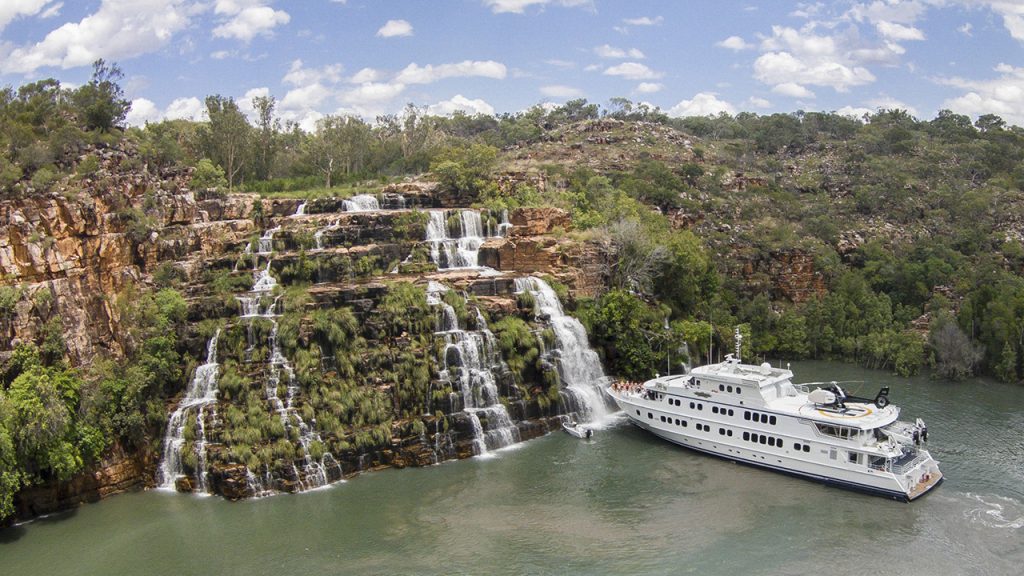 36 passengers to 22 crew
One of the only luxury vessels to cruise right into King George Twin Falls
Australian owned, been in business 35 years and all Australian crew
All-inclusive meals, destination-inspired dining and non-alcoholic refreshments throughout the day. Complimentary café style coffees and tea are also available all day.
All adventure boat excursions & activities, All fishing & snorkeling equipment and cylinders & weight belts (on dive trips).
6 Adventure boats – made of aluminum. These adventure boats provide guests with greater opportunity to do "what they want, when they want". These boats are spacious with comfortable seating and guests to walk around. They sit high out of the water unlike the inflatable boats, and passengers have commented they felt incredibly safe when out spotting crocodiles.
Helicopter – gaining a whole new perspective on the region. Most guests find they purchase multiple helicopter opportunities at each of the iconic sites – so keep this in mind when planning your budget. The 13-night cruise offers approximately 20 different helicopter flight opportunities and 17 on the 7 & 10-night cruises. Helicopter flights are not included in the price.
1 spectacular restaurant with large panoramic windows ensures that guests never miss any of the action, even when they are enjoying the finest in fine dining.
TRUE NORTH also features a sun deck, observation lounge, ship's lounge, alfresco bar, sports deck
No balcony suites
5 Itineraries Offered:
7-night – Snapshot Cruise — for those pressed for time. Featuring all the iconic Kimberley landmarks.
10-night – Waterfalls Cruise — starting at the end of the wet season, showcasing thundering waterfalls, fantastic light storms & swollen billabongs. (Mid-March to mid-April).
13-night Ultimate Cruise — all the icons of the Kimberley and more, at its very best done at a leisurely pace.
13-night Coast & Coral — combines the very best of two equally stunning destinations – the Kimberley coast and the Rowley Shoals, world-class snorkelling at its very best. Brilliantly coloured corals, giant clams and more than 600 of the world's most beautiful fish species to be explored.
How to get to the Kimberley
Most of the cruises we featured start and finish in Broome or Wyndham (via Kununurra), however Darwin is also another port for some itineraries.
What to pack when visiting the Kimberley
A diverse landscape that is dry and arid with lush rainforest and stunning waterfalls requires careful packing to ensure you have the right clothing and gear for different activities and weather conditions. Light-weight cotton clothing ideally with long sleeves for sun protection. Pack layers to accommodate the dry heat and slightly cooler evenings.
Good walking shoes as well as wet shoes for shore excursions and reef landings are a must. A hat, sunglasses, swimmers and sunscreen are also essentials for the suitcase. A spray jacket, water bottle and lip balm with SPF is also a good idea. Depending on where you are planning to visit, gaiters will protect your ankles and legs if you are planning to do the Kunmunya Hike. Many cruise vessels have a smart casual dress code for evening dinners on board, so pop in a few outfits for dinner.