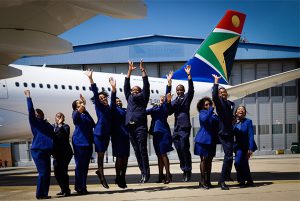 South African Airways have taken delivery of their first A330-300 aircraft which features all-new Vantage XL business class seats by Thompson Aero Seating.
The new seats are the same product found on SAS, Delta and Qantas, which feature the seats on the Airbus A330 and Boeing 787. Malaysia Airlines and Swiss also have a simpler version of the Vantage model.
SAA is the second airline in Africa to sport the Vantage XL seats, with RwandAir already featuring it on their A330 fleet.
Passengers travelling from Perth however, will not have the opportunity to enjoy the new product as the Star Alliance member will not be fitting the long-range A340 aircraft, which serves the Perth to Johannesburg route, with the new seats.
Instead, the long-range A340s will continue to serve Perth and Johannesburg with its lie-flat seats in the 2-2-2 arrangement. SAA have not confirmed whether any upgrades will be carried out on any other aircraft in their fleet.
The planned upgrades are a long-awaited and overdue move for the South African national carrier. The new aircraft is the first of five on order from Airbus with a second due before the year ends and three more expected in the first half of 2017.
On board the new A330-300, a larger and long-range version of SAA's A330-200 fleet, there is a two-class system with 46 business class seats and 203 economy seats. The staggered 1-2-1 seat configuration means direct-aisle access and added privacy for every passenger while the seat reclines into a fully-flat bed.
Entertainment options have also been improved with the latest TV series and comedy shows available as well as 15 games with a selection of multiplayer games. There is also a special children's programme installed with a family-friendly feature where parents can control what their child can or cannot view. 
The newest additions to the SAA fleet complement's the airline's already existing Airbus longhaul and domestic/regional fleet, consisting of 10 A320s which were delivered in 2015.