Maldives is a paradise many have yet to bank in their store of memories while others pledge to be reacquainted with its azure waters again. Blue lagoons, colourful coral reefs teeming with unique aquatic wildlife, pristine beaches, and the warm Indian Ocean seducing from every angle – it's one of those places in this world that makes you feel like you are in another world. So, if a tropical retreat beckons in 2019, here are some truly memorable Maldives moments you will want to deposit repeatedly
Private picnic on a secluded sandbar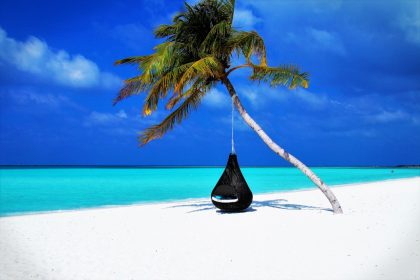 Sandbars are quite like smaller atolls not large enough to be inhabited. Some stretch out lengthwise perfect for perspective pictures, and others are circular adorned with native plants in its centre.  Excursions to a secluded sandbar can be easily arranged and are most likely to include travel in a small boat with a captain and local guide complete with a picnic lunch. Your hotel or resort could also provide you with a pre-ordered picnic hamper packed with Maldivian delicacies such as lobster, cheeses and champagne. With stunning turquoise water and sparkling white sand as your backdrop, it makes for a one of the most relaxing and romantic Maldives moments.
Underwater date
Speaking of romantic moments, if you're in paradise chances are, you're with special company and the ultimate date night awaits underwater with the exotic Maldivian marine life dancing around you whilst you remain completely dry. Ithaa at the Conrad Maldives Rangali Island is the world's first all-glass undersea restaurant offering 180-degree panoramic views of the spectacular ocean life five metres below sea level. Subsix at Niyama private Islands is not only a restaurant but is also the first underwater nightclub on the island; accessible by speedboat, the waves of capiz shells dangling from the ceiling mimics the outside glitter of the water inside as you sit in soft anemone chairs and sip champagne delivered from the clam-inspired bar. Or take relaxing to the next level at Lime Spa located at Hufaven Fushi – an underwater spa offering couture facials, hot stone massages and 'champagne and truffles' for the skin.
Hukuru Miskiiy
On the capital of Malé, the Hukuru Miskiiy or 'Old Friday Mosque' is the oldest and most ornate mosque in the country, dating back to the 17th Century. From the outside, it may not pique the interest of those strolling past not looking to do much on an outing to the region's biggest city. But its interior tells much about the sovereign state's history as it displays intricate woodwork and exquisite inlays, as well as elaborate inscriptions from the Quran. The interior and exterior walls are made of coral stone, its wall panels and ceilings being significant cultural examples of traditional Maldivian woodcarving and lacquerwork landing it a place on the UNESCO World Heritage tentative list in 2008. Admission is free but permission of entry from an official of the Ministry of Islamic Affairs (of which many of the staff members are) is required for non-Muslim visitors. Conservative attire is essential and visiting outside of prayer times or just before noon Sunday to Thursday is recommended.
Bird's eye view of the Atolls
In this paradise, you are constantly swapping one azure vista for another and the best place to take in the wonder of this archipelagic nation is from the azure of the Maldivian skies. In the air, you can identify the different islands, sandbars, lagoons, uninhabited islands, endless hues of blues that alternate from turquoise to deep blue, rings of glowing white sand, and even spot the over-water-bungalows. The vessels are usually seaplanes and the tour companies offer aerial photography so you can keep a souvenir of the string of stunning islands that glitter on the Indian Ocean like gems on a jewelled necklace.
Scuba diving or snorkelling
You'd be crazy to be in a place with one of the most unique topography in the world and not explore the treasures of its warm waters. At many resorts, you can simply swim to the reefs from the beach to begin your underwater adventure, while others offer tours which take you out on a boat to deeper waters and other colourful reefs. It's best to go with tour operators specialising in scuba diving or snorkelling rather than with the hotel or resort operating such tours. You can get certification here but whether you're already certified, every diver is required to participate in an initial guided orientation – experienced divers are asked to bring their certification and logbook.
Dive or snorkel, whichever you prefer, you are most likely to make your acquaintance with some of the aquatic population of the Maldives such as butterflyfish, clownfish, angelfish and parrotfish, as well as sting rays, whale sharks reef sharks and eels. But keep your distance and know how to identify fish that can be dangerous if you come into proximity with them such as lionfish, triggerfish, moray eels, sharks and sting rays.
Dhoni Sunset Cruise
A dhoni is a traditional Maldivian boat and a popular but unforgettable experience that many resorts offer is a sunset cruise on one of these beautiful vessels. You can cruise in a group with others from your accommodation or hire one just for you and your travel partners. Snorkel or dive directly from your dhoni, discover uninhabited islands and stop off at a sandbar to enjoy your pre-packed picnic, go island hopping cruising leisurely between the atolls, and finish the day viewing a glorious sunset with the blissful ocean breeze on your skin. Many tours include day itineraries with lunch and snorkelling equipment included, or you can try a 2-night or more all-inclusive itinerary for some truly unparalleled memorable Maldives moments.