Thailand is a well-loved holiday destination the world over. The country's friendly hospitality, unique cuisine, and extraordinary natural beauty makes it an irresistible place to visit.
It all starts with the amazing accommodation offers that is, these days, easily come by in Thailand. And with luxury accommodation comes luxury modes of transport – like yachts and private jets – rooftop bars, amazing pool settings, and extravagant shopping options. Yes, it's all about cultural immersion, but in the most comfortable way possible.
A room with a view and then some…
Lavish hotels and resorts have burgeoned throughout the kingdom in the past decade making holidaying in this South-eastern nation the stuff that unforgettable vacations are made of. And when we talk of luxury accommodation, we don't just mean an amazing room in an amazing building – we're talking about all kinds of different abodes of which some you may have never even considered staying in. There is a plethora of types of opulent lodgings to indulge in; health and wellness resorts and spas, magnificent hotels with Michelin-star restaurants and rooftop bars, teak retreats ensconced in lush foliage, jaw-dropping treehouses – in Thailand's tropical climes, the choices abound.
Dhara Dhevi, Chiang Mai  
In a city where ancient temples are as much of a draw as trendy bars, the Dhara Dhevi in Chiang Mai perfectly combines modern amenities with the architectural and cultural influences of the Lanna Kingdom. The exterior gives the feeling of being at a temple whilst the interior and spacious rooms feature colonial style furniture and exquisite artworks. The property's palatial 3,100 square-metre Spa and wellness centre, which took three years and 150 Chiang Mai artisans to build, is a must for visitors, offering holistic and Ayurvedic treatments.
137 Pillars House, Chiang Mai
This boutique hotel lays its claim to fame from the film Anna and the King as it was once owned by the son of Anna, Louis Leonowens. Set in exotic gardens dotted with day beds, the sleek architecture and modern design makes you feel at home with excellent dining, beautiful spa, dramatic pool, and 400-thread count linen.
The Siam, Bangkok
Boasting 39 of the capital city's most spacious suites and pool villas, and set on premium river-front real estate, The Siam is truly luxurious. Each suite carries an individual cultural theme, but all come with super-sized king beds, high ceilings, plush furnishings, and each suite come with their own Art-Deco living rooms. Guests are attended to by a butler if so desired, and the hotel has its own private pier which guests can depart from during the day to explore the bustling and heady city of Bangkok.
Villa M, Koh Samui
Step back in time with a stay at Villa M, otherwise known as 'Villa Macpherson'. This chic three-storey residence is set in a charming fisherman's village, Bophut, which is mostly made up of original, wooden Chinese shop fronts and has been kept as it was fifty years ago. This property can be rented for periods of time where guests can enjoy an idyllic beach lifestyle with the Gulf of Siam at your feet.
Flair for Fine Fare
Thailand's culinary delights is just as popular as the destination itself. So appreciated is Thailand's cuisine, that you can find many Thai cooking classes throughout the country, especially at hotels and resorts. But the flavours extend beyond just Thai cooking, with many international dishes complementing the traditional ones. Thai street food stand shoulder to shoulder with award-winning Michelin-starred restaurants and edgy bars, providing a taste indulgence for discerning palettes.  
The Symbiosis of Haute & Local Cuisine 
Bangkok is recognised as the street food capital of the world and its dining scene received further elevation when the first Michelin Guide Thailand recently revealed its list of 17 restaurants that have been newly awarded Michelin stars. These included three restaurants receiving two stars each and half of these eateries serve Thai food whilst the other half offer international dishes. 
Molecular Gastronomy 
Michelin-starred restaurants have paved the way for molecular gastronomy, which fuses physics and chemistry into cooking (think 'flash freezing', 'foams' and 'sous-vide'). Gaggan – a two Michelin-starred restaurant in Bangkok – offers an array of molecular gastronomic dishes, like its extraordinary 'Yogurt Explosion' (a cylindrical-shaped concoction made of yogurt with an outer plastic bag made from rice flour, and a mango mousse created with liquid nitrogen). 
Haute Cuisine
A requisite component of the Michelin criteria is haute cuisine, where every element of a dish is carefully attended from the source of the ingredients to the intricate plating. Le Normandie in Bangkok, for instance, which has two Michelin stars, uses ingredients from the Thai Royal Projects. Haute cuisine doesn't just stop at the food though; it's a culmination of a restaurant's behind-the-scenes from its management to its decor. 
Local Taste
Thai cuisine is unique on a global scale, but it also differs from region to region, taking you on a cultural journey through gastronomy. From the majestic mountains of the north to the fabled clear waters of the south, there is nothing that quite reflects Thailand like its local dishes.
Don't leave Chiang Mai before feasting on a traditional Lanna Khantoke dinner set; five dishes that includes dill soup, hang lay curry, pork crackling, a chilli and tomato dip, and roasted pork served with sticky rice – all enjoyed whilst watching a traditional Lanna dance performance. 
Located in the Andaman Sea, Phuket naturally offers the freshest seafood which are exquisitely prepared at the many five-star hotels, local restaurants, and seaside market stalls with their live seafood on show. Dine in the open air on a beach with the ocean as a backdrop while the stars twinkle above. 
The Michelin Touch
 L'Atelier de Joel Robuchon – Bangkok
Headed by a 28-Michelin-starred chef, the Bangkok edition of L'Atelier de Joel Robuchon lets the diners become a part of the cooking process where chefs create and experiment right in front of you. The fine dining restaurant offers two styles of dining; L'Atelier with a view of the open kitchen, or Le Terrace for a more intimate feel. It's not just dining – it's an experience.
Photo: Javier Lastras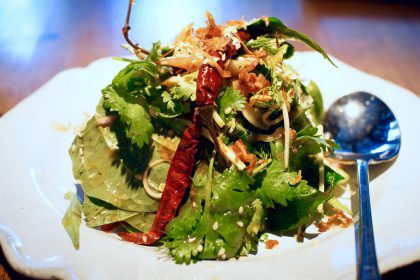 Nahm – Bangkok
Renowned for its authentic Thai food, Nahm is owned by Australian chef, David Thompson. The London branch was once the only Thai restaurant in the world that was awarded a Michelin star. The restaurant is located in the chic COMO Metropolitan Bangkok. 
Photo: Jun Seita
Western Cuisine
Le Normandie – Bangkok
It's the very best of French fine dining with uncontested views of the Chao Praya river, located in the Mandarin Oriental Bangkok. La Normandie drips with French sophistication complete with vintage crystal chandelier and striking floral displays. The elegance is continued through to the exquisite flavours of its cuisine which has earned two coveted Michelin stars.  
David's Kitchen at 909 – Chiang Mai
Find many of the flavours of  Europe (mainly French) with Asian accents at David's Kitchen in Chiang Mai. Located in a converted home and with a friendly ambience, it's like going to a relative's for dinner but with fine food in a formal setting. 
Authentic Thai
Bo.Lan – Bangkok
Bo.Lan is the product of two sensational chefs; Thai-born Duangporn 'Bo' Songvisava and Australian-born Dylan 'Lan' Jones, who met at the London branch of David Thompson's Nahm. Creating perfectly balanced Thai cuisine, the restaurant has one Michelin star and Bo has been voted Asia's Best Female Chef. 
Blue Elephant – Bangkok & Phuket
Blue Elephant has eight outposts in seven countries, each of them known for the finest Thai fare. At its Bangkok and Phuket branches, you can catch a cooking class and get a taste of how the brand's traditional recipes are executed and then relish the stunning food in charming ambience set in historic mansions. 
The Night Lifestyle
Thailand's animated nightlife is pronounced by its vast array of ultra chic rooftop bars and restaurants most evident around the areas of Sukhumvit, Ploenchit, and Silom. Here are some to point you in the right direction…
Vertigo and Moon Bar, Banyan Tree – Bangkok
There are certainly no shortages of rooftop bars in Bangkok but Vertigo and Moon Bar, located on the 61st floor of the Banyan Tree, truly pushes the limits of the category 'rooftop bar'. With its unique narrow and elongated shape, it gives the feeling of being on a spaceship and, with no other buildings in the way, you get a completely unobstructed panoramic view of the dizzying city below. 
Skybar and Sirocco, Lebua State Tower – Bangkok
If this rooftop bar and restaurant looks familiar, it's because it featured in the popular film The Hangover. Situated on the 64th floor of Lebua State Tower, the multi-hued Sky Bar also claims the title of the world's highest open-air rooftop bar. 
Photo: nhadatvideo
Cru Champagne Bar, Centara Grand at Central World, Bangkok
Taking pride of place on the 59th floor above the Centara Grand at Central World, the ultra-swanky Cru (French for 'wine of exceptional quality') serves up some exclusive G.H Mumm Champagne label whilst affording stunning 360-degree views of the city. Champagne cocktails mix it up with Bolingers which you can accompany with an eclectic menu featuring a sampling of world delicacies such as Russian Caviar, Foie Gras and Chicken Yakitori skewers, and Spanish 'Joselito' cured meats. 
 A Health and Wellness Culture
Thai massages are world famous but it's not just the massage itself that's become popular; incredibly well-facilitated wellness spas and health resorts provide a host of treatments besides the humble Thai massage . Many tailor their services to its individual guests, and most bear either the World Class Spa standard certified by the Thailand Ministry of Health, a Thai Spa Excellence Quality certified  by SGS and Thai Spa Association, or an ASEAN Spa Standard. 
Flanked by the Andaman Sea and the dramatic limestones of Phang Nga Bay, slip into a world of seclusion and privacy at one of Phuket's finest health resorts. Focus on healing your mind, body, and soul with its Asian-inspired holistic approach, yoga, and of course, Thai massages.
Seven acres of lush, tropical gardens set in the royal city of Hua Hin on the Gulf of Thailand. This award-winning beachfront haven offers 70 treatment rooms, a kinesis studio, gym, watsu pool, flotation pool, large indoor and outdoor pool, bathing pavilion with kneipp bath, sauna, steam room, and jacuzzi. 
Specialised Thai Shopping
Thailand offers luxury shopping malls that rival some of the most superlative in the world. Centres like Central World, Siam Paragon, Emporium, EmQuartier, Gaysorn, and Central Embassy offer the usual high-end brands like Gucci, Louis Vuitton, Hermes, and Cartier. However, if you're looking for beautiful handicrafts that are quintessentially Thai and exquisitely made, check out some of the best Thai brands like these:
Antique gold handicrafts of Si Satchanalai District – Sukhothai
This place is for the gold collectors where you can find ornaments still made in the traditional way. The gold is claimed to be 99.9% pure.
Jim Thompson Thai Silk
Jim Thompson was an American entrepreneur who saved the Thai silk industry in the 1950s. His shops, particularly the flagship store on Surawong Road, offer the best quality high-end silk items in Bangkok.
Wualai Silvercraft, Chiang Mai
Chiang Mai is brimming with silvercraft shops. Wualai Road in particular is the centre of silversmiths where you can find bracelets, necklaces, pendants, and decorative items, and where you can witness craftsmen create pieces before your eyes. 
Handwoven Gold Thread Thai Silk – Baan ThaSawang Village, Surin
This small village specialises in 'Pha Yok Thong', the ancient and royal art of silk weaving with fine gold thread to create beautiful, intricate patterns. Often, pieces are made by up to eight weavers over four months.