London – place of parks, palaces and of course pubs and parties.
Our three-day stopover was too short to pack a lot in, however staying in Park Lane was a trip down memory lane – of the Monopoly kind. 
Before we knew it all the places on the board were accessed. Just a short walk through Green Park and we were at Buckingham Palace, which we did whilst waiting for our room to be ready. This walk was the centring for the next three days of our stay.
High Tea
There is nothing more quintessentially English than High Tea and we took ours at none other than the Ritz Hotel on Piccadilly Street. There's nothing like the grandeur of a lobby floral centrepiece that gets every guest gasping. This lead us onto to the salon complete with string quartet, palm fronds, and waiters in coat tails to greet us. An equal ratio of staff to guests meant that we really were 'being served'. We were also shown various rooms throughout the hotel. The furnishings throughout were traditional yet inviting and comfortable, which made our High Tea experience even more pertinent.
The Ritz Club
A special treat was a private viewing of the Ritz Club. I would recommend checking out their website to get an idea of the pure opulence that this iconic establishment has on offer. The Ritz Club is a global name synonymous with luxury and the finest in hospitality. Arrival is by your own private limousine and, although access is usually exclusively for members only, all guests staying at the hotel is also offered access throughout the duration of stay. Inside you'll find nothing but the best; the Restaurant serves outstanding dishes of fusion cuisine, whilst the Ritz Club Bar provides the finest collection of champagnes, whiskeys, and cocktails.
Randall & Aubin
For lovers of great seafood, we were taken by a local to eat at Randall & Aubin. Located in Soho and only a short stroll from Chinatown, Randall & Aubin is something of an institution in Soho, and is always buzzing. And with good reason – the food here is excellent. We had the best and freshest seafood platter with a variety of oysters – a specialty – washed down with a Rose suggested by a very helpful waiter. It was summer and so the windows were thrown wide open onto Brewer street, passersby were tempted by the freshly iced seafood being served and by the glasses of chilled champagne. It's busy but comfortable, and absolutely worth queuing for. This place is also a great base to start off a night out in vibrant Soho.
Tate Modern
A trip to the British Museum and the Tate Modern was on the agenda for day three. This meant we got to walk along the famous Thames River and the lively bustle of Southbank. The Tate Modern is Britain's national gallery and home to a collection of international contemporary and modern art as well as a collection of national British art. There are regular events to be enjoyed like the after-hours 'Tate Lates' where music, exhibitions, films and workshops mix with food and drinks.  If you have some time, a short walk along the Millennium Bridge to the other side of the river will see you arrive at the majestic Saint Paul's Cathedral.
The Four Seasons at Park Lane
During our stay, we also inspected the Four Seasons at Park Lane in the heart of Mayfair. The reimagined interior by Pierre-Yves Rochon (designer of the latest Savoy look) is ultra-chic and modern with up-lit bar stools, ruby-red chairs, oriental-inspired tables, red-leather padding in the lifts, and 1950s black-and-white Vogue photos in the hallways. But easily the highlight is the sleek, luxury tenth-floor rooftop retreat. Designed to be the most dazzling urban spa in London, the spa has incredible 360-degree views over treetops to London's cityscapes. It's the perfect to place to relax and catch a breath if you have an early check-in and are waiting for your room to be ready. On the same floor, there is also a fitness room with south-eastern views of the Big Ben, the houses of Parliament, and the London Eye.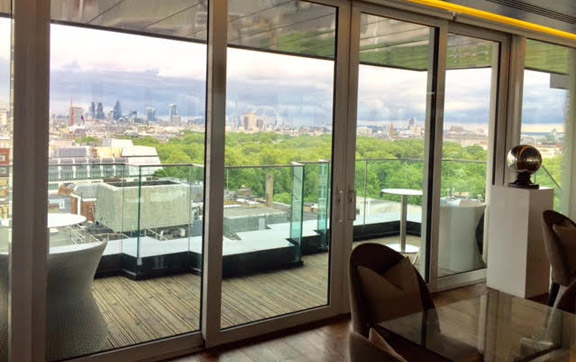 Last minute shopping
The last excursion before our flight out of London was a short walk from our hotel. This was meant to lead us to Harrods however we were waylaid by hungry stomachs satisfied by a brilliant English breakfast and a shopping spree at Harvey Nichols. Harvey Nichols is luxury department store that's probably the equivalent of Australia's David Jones or Myers but, well… maybe better? Maybe ?
All in all, being in ''ole London town' on a stopover was a great experience as always and three days just isn't enough to do it justice. But getting amongst it in their Summer is always a treat. As Samuel Johnson once wisely said, 'when a man is tired of London, he is tired of life; for there is in London all that life can afford.'