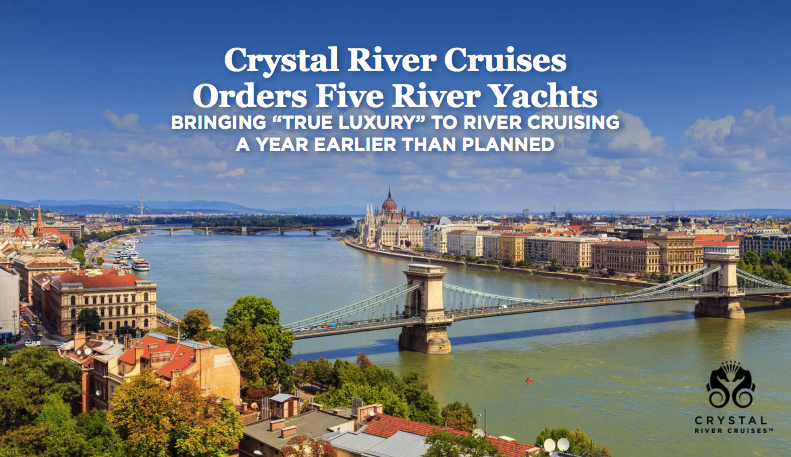 Crystal River Cruises will launch with five luxury river yachts – three more than previously announced – with the first ultra-luxury river vessel starting in 2016, a full year earlier than planned. Four newly built Crystal river yachts – twice the originally planned deployment – have been ordered for delivery in 2017 from the German shipyard Lloyd Werft. Additionally, due to strong demand for an earlier Crystal river experience, Crystal has also completed the purchase of the German built MS Mozart, the largest river cruise vessel in Europe. Following an extensive dry dock to create the elegant Crystal experience on board, the newly designed vessel will be renamed Crystal Mozart and embark on the Danube River on 13 July 2016.

Crystal Mozart is designed to fit into the wider locks of the Danube River. Measuring 75.1 feet wide (22.9 meters), it is double the width of an average industry river boat. Due to its impressive width and size, the vessel's unique features will remain, such as the public area that spans a single level and exclusive yacht-like amenities including multiple dining rooms, a wraparound promenade, a luxurious spa and fitness center, an indoor pool, beauty salon, and library.
The suites on board Crystal Bach, Crystal Mahler, Crystal Ravel, and Crystal Debussy will all feature king size beds (an industry first), walk-in wardrobes and bathrooms with double vanities. Similar to Crystal Mozart's concept, the luxury river yacht's public areas and dining venues are all on one level for convenient access. The new vessels will feature a Palm Court with dance floor and glass domed roof, a library, fitness centre, spa, and sporting equipment such as electric assisted bicycles, kayaks, and jet skis.
Crystal will dedicate a portion of each cruise to sailing along some of the most picturesque rivers in central Europe during daytime hours, allowing travellers to relish the extraordinary scenery. This timing also affords guests the opportunity to enjoy the nightlife with port overnights, which will often present inclusive culinary experiences ashore at Michelin-starred restaurants and renowned local eateries, and exclusive evening events and cultural entertainment. During days spent in port, Crystal River Cruises will offer guests a bevy of the immersive Crystal Adventures as well as launch its newest shore-side program called Active Exploration Adventures. Crystal is also offering a complimentary active excursion for guests to explore the splendid European landscapes while staying fit on their holiday. The Crystal Adventures experience will be enhanced by the introduction of a fleet of luxury motor coaches, offering business-class style seating, complimentary Wi-Fi and the most knowledgeable local guides onshore.