Many people would associate Italy with its robust capital of Rome, the romance of Venice, or the Renaissance of Florence. And you'd be forgiven for doing so as these cities, each distinct in their own way, defines Italy's glory. But this Mediterranean country is like its famous Tiramisu cake; it gets better with each layer. With beautiful natural vistas and ancient buildings, the many scenic small towns of this fabled European country make up the heart of this nation. Here are just some of the most beautiful small towns in Italy.
Atrani
Atrani is the smallest town located along the azure waters of the Amalfi Coast, and indeed the smallest community in all of Italy. The picture-postcard perfection of this historic fishing village has posed as inspiration for many artists including Dutch artist M.C. Escher who completed a lithograph print in 1931 which he called Atrani, Coast of Amalfi. The spectacular coastal scenery and the intricate streets and passageways of Atrani has also featured in the 2012 production of the famous Fiat 500 commercial. What this town lacks in physical size more than makes up for in charm and beauty.
Vernazza
One of the Italian Riviera's quintessential fishing villages, Vernazza is one of the five towns that makes up the Cinque Terre region. It is arguably the most picturesque of the five with its colourful, antique homes balancing on incredible cliffs easily making it one of the most beautiful small towns in Italy. It has no car traffic and is the only natural port of Cinque Terre. Arrive by sea to fully take in the surrounding pastels and steeply-terraced olive groves which are believed to produce among the best olives in the country.
Alberobello
Located in the Puglia region, Alberobello is a scenic little town famous for its unique, trulli-style buildings which are a UNESCO Heritage site. The white-washed, conical-roofed houses are remarkable examples of drywall (mortarless) construction and the most picturesque parts of Alberobello are the two areas that are made up almost entirely of trulli. For a truly unique experience, you can stay in a trullo when visiting Alberobello and appreciate the outstanding prehistoric construction techniques that has withstood the test of time and is still functioning in the modern world.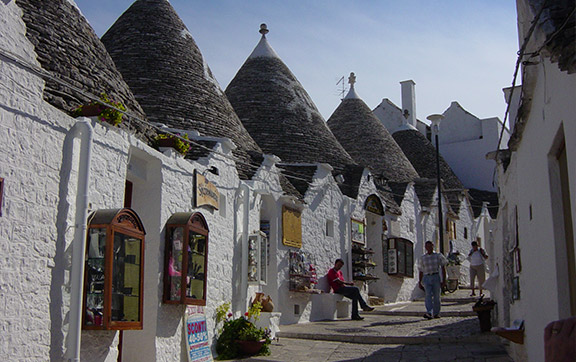 Belluno
With the majestic Dolomites for a backdrop and the dazzling Piave River below, Belluno is a hiker's playground located about an hour from Venice. But although many are lured to the high bluffs on which Belluno is perched, the historical old town's mix of stunning views, Renaissance-era buildings, hidden romantic corners, and excellent cuisine is an attraction all on its own. Here you can fuel your outdoor pursuits with Italy's most remarkable cheeses: Schiz (cow's milk cheese typically fried in butter) and Malga Bellunese (flaky in texture and butter-yellow in colour). Belluno's quiet, clean and friendly atmosphere with its own unique climate (moderate year-round) makes it one of the most beautiful small towns in Italy.
Cefalù
Sitting serenely between its natural bay and the towering rocky granite mass of La Rocca lies Cefalù: the perfect combination of some of Sicily's finest beaches and Medieval history. Just one hour's drive east of Palermo, Cefalù's Arab-Norman architectural masterpieces (including the town's Duomo), honey-hued stone buildings, mosaic-adorned cathedral and narrow cobbled streets have holidaymakers flocking from all over Europe every year. Its many resort hotels, shops, and excellent restaurants offering the freshest fish add to the popularity of this little fishing port.
Manarola & Corniglia
The best way to get from Manarola to Corniglia, as is the best way to get between all the Cinque Terre towns, is on foot. This way you can fully take in the magnificent coastal views of the Italian Riviera. The stretch between two of the most beautiful small towns in Italy are all about hills covered with vineyards and olive groves, beaches, rugged cliffs, brightly coloured houses, and turquoise waters. It's difficult not to take pictures every second.
Bosa
What makes Bosa one of the most beautiful small towns in Italy is its charming pastel houses which surround the ancient castle, the Castello dei Malaspina, situated on Serravalle hill. Its eclectic blend of culture, palm trees, cobbled streets, gracious palazzos and spectacular views gives it an amazing atmosphere to holiday. It's a unique and unspoilt town located in the region of Sardinia which offers beautiful, wild countryside, stunning beaches, and coastline. Unlike many of the Island's beach destinations, Bosa has not suffered from over-development and modernisation, indeed it has retained its ancient charm and Sardinian identity.
Civita di Bagnoregio
Perched on top of a hill at an altitude of 1440 feet above sea level, Civita di Bagnoregio is also known as 'the dying' town due to its erosion and logistic problems. It is connected to the outside world only by a small pedestrian bridge. The town was built on top of a block of ancient volcanic stone laying over soft clay, which is probably why less than ten people permanently inhabit it. Nevertheless, its warm glowing stone walls, ivy-draped arches, tufa-built hamlets, the potted flowers that parade across balconies is an artist's dream and is one of the most unique, and beautiful small towns in Italy.
Matera
Italy is home to an ancient cave-city found in Matera's sassi and rupestrian churches, where layers upon layers of history emanates off the remarkable complex of houses, churches, monasteries and hermitages. It is, of course, a UNESCO listed site. Standing in the midst of its rock-grey façade and calcareous landscape, you can't help but feel as if you've been transported to biblical times. Being inhabited for 9,000 consecutive years, Matera is also one of the oldest settlements in history, dating back to the Palaeolithic period. Today, this mind-boggling example of an intact troglodyte settlement is becoming a popular tourist destination with an increasing number of cafes, restaurants and hotels.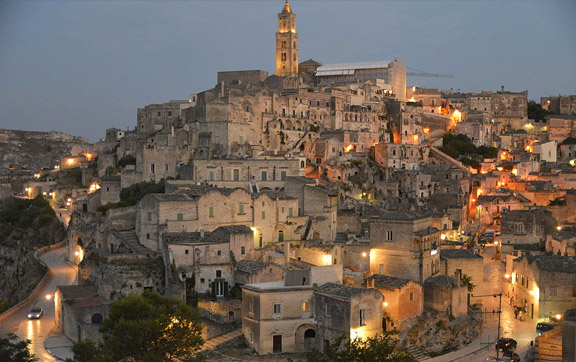 Monte Isola
It doesn't get any more intriguing than a mountain on an island that's in the middle of a lake! Monte Isola is not only one of the most beautiful small towns in Italy, but also one of the most unique. The residents live off the lake using the promenade to dry and salt their fish and repair their nets. There are no street names or postcodes, just house numbers and the coloured houses are all connected to each other by walls, arches, and ancient stone stairs. Monte Isola is the largest lake island in Italy, encompassing an area of five square metres and is an unforgettable place to visit.