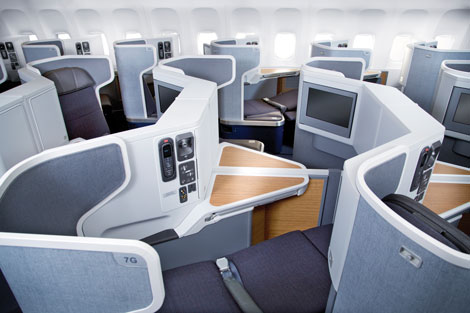 A New Personalised Cabin
To ensure comfort and well-being all throughout the flight, Air Frances newly designed Business cabin is now available on certain intercontinental flights.
The new cabin serves as an office, restaurant, entertainment lounge and bedroom which allows passengers to use the cabin to meet thier needs.
The Business Cocoon Seat
The contemporary design and subdued elegance of the Business seat: a graceful shape, padded upholstery, footrests, leather armrests, topstitching on the headrest and metallic finishing touches. Every detail is designed to ensure the well-being, comfort and privacy for passengers throughout flights.
A Full Bed for a Full Night's Sleep in The Sky
To ensure a peaceful night's sleep in a seat that transforms into a full bed. Nearly 2 m / 6.5 ft in length, it is made of comfortable materials and an armrest that lowers completely.
Details that Make a Difference
In the Business cabin electronic devices (e.g. Smartphone, tablet and laptop) have a secure place in the storage areas. You can also charge them using a personal power outlet and USB port.
The personal storage compartment features an elegant red interior and contains noise-reducing headphones as well as a mirror. Store your daily-use items here to keep them close at hand.
Make Your Selection… And Fly Away
Turn on the 16-inch HD touch screen and the cocoon transform into an entertainment lounge for movie classics and blockbusters, foreign films in the original language, concerts, documentaries, TV series, music, games and more. Updated every month, the varied programming gives plenty of opportunity to relax and enjoy and helps to ensure the getaway starts as soon as passengers board