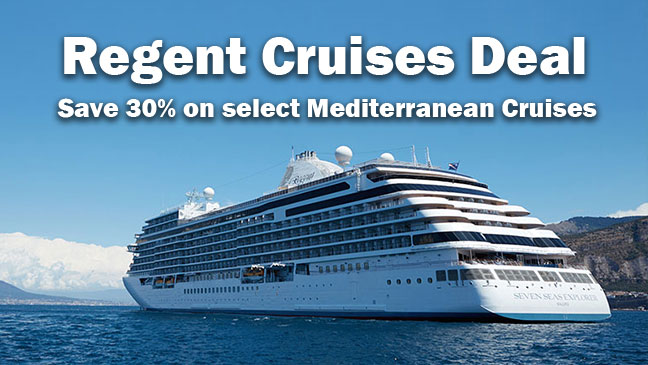 With Winter creeping in over Australia the warm Mediterranean sun is calling you this year to make your next cruise a memorable one, where you can really have it all at a price you might not expect.

BOOK NOW & SAVE UP TO 30%
Incredible selected Regent Seven Seas Mediterranean Cruises. 
For a Limited Time Only.  Book Your Suite Today.
Ask Our Travel Specialists to Package Flights and Save
Call1300 308081 or Enquire Now
 [left_display notitle='1′ ids='25653,25648,24944,25642,24961,24976,']
Why Book Regent Seven Seas Cruises
Regent Seven Seas Cruises Signature Hallmarks
FREE Unlimited Shore Excursions
FREE Specialty Restaurants
FREE Unlimited Beverages Including Fine Wines and Premium Spirits
FREE Open Bars and Lounges PLUS In-Suite Mini-bar Replenished Daily
FREE Pre-Paid Gratuities
FREE WiFi Throughout the Ship
FREE 24-Hour Room Service
FREE Unlimited Shore Excursions
FREE Unlimited Beverages Including Fine Wines and Premium Spirits
FREE Open Bars and Lounges Plus In-Suite Mini-Bar Replenished Daily
FREE Pre-Paid Gratuities
FREE Specialty Restaurants
FREE Unlimited WiFi
See all Regent Seven Seas Cruises >>>
[changeFormCabinToStateroom]