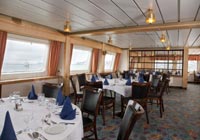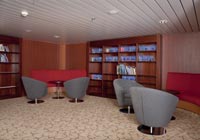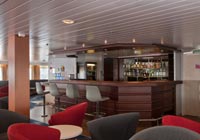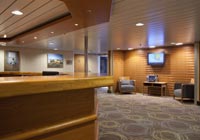 MS Expedition
Operated by G Adventures, the 120 passenger MS Expedition has recently been renovated to offer modern and spacious cabins and public areas.
The cabins provide a variety of affordable doubles and triples, higher end double cabins and suites. All cabins have en suite bathrooms and outside views; category 1 and 2 cabins have portholes, category 3 and 4 have a medium sized window and category 5 cabins have several large picture windows. In addition category 5 has a separate spacious seating area. Public areas include the Expedition Lounge, Albatross Bar and a fine dining room serving international cuisine, large enough to accommodate all passengers in one sitting. There is also a barbecue deck, a top 360 degree view observation deck and a fitness centre and sauna.
Relax with a book and glass of wine in the Expedition Lounge, or spend your days on the observation deck enjoying fantastic scenery and keeping your eyes peeled for passing wildlife. The Expedition Lounge is equipped with state of the art audio visual equipment, including multiple screens and will host the lectures, evening films and pre landing briefings and recaps.
The expedition team includes experts in marine and avian biology, history and the natural world. Together they represent a vast depth in knowledge and experience that will enrich your travels in unforgettable ways. Through a lecture programme and shore expeditions, they will share their knowledge and passion with you, to enhance your experience. A fleet of Zodiacs are used for landings and nature cruises, and an open bridge policy onboard allows interaction with the captain and navigation crew, further fostering the expeditionary nature of every voyage.
Ship facts
Amenities onboard
Polar Bear Pub
Expedition Lounge/Albatross Bar
A barbecue deck
Top 360 degree view observation deck
Fitness centre/sauna
Fine dining room serving international cuisine and large enough to accommodate all passengers in one sitting
Specifications
Built: Helsingor Skibsvaerft, Denmark 1972
Ice Class: Swedish/Finnish 1B
Length: 105.23 metres (345 feet)
Breadth: 18.63 metres
Max Draft: 4.71 metres
Gross Tonnage: 6336 grt
Cruising Speed: 16 knots
Stabilizers: Fins, Type Brown/AEG
Passenger Capacity: 124 passengers maximum
Current Life saving and Rescue Equipment: Covered motor lifeboats 4 pcs capacity of 192 people. Life rafts total capacity 260 people.