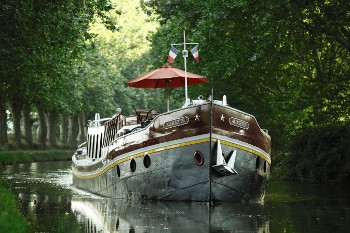 Afloat in France – Alouette Barge
Alouette was built in 1908 at Ouderkeek in the Netherlands. Whilst used as a cargo barge, she was first named 'Cura' and later, 'Mars'. In 1986-1987 she was converted into a luxurious passenger carrying barge and was renamed Alouette.
Alouette is a Luxemotor type of barge and is 98ft in length and 17ft wide, the only boat in the Afloat in France fleet that can navigate the Canal du Midi. This is a well appointed boat with all cabins well above the water line.
In 2008, the Alouette was converted from a six to a four passenger luxury hotel barge. The interior of the barge was also refurbished to the highest standard.
Facilities
These entertainment services are provided at no additional charge:
Entertainment
Library
Games
Hifi/Stereo
Bose iPod Docking Station
Bicycles and Maps
Tennis Rackets and Balls
Television
Also available on board for your convenience:
Mail Service/stamps on sale
Newspaper
Photo film on sale
Souvenirs
Telephone
Guest computer with Internet access (in Salon)
Safe – one central per barge and one per cabin
We can also offer to arrange essential services: (additional charges may apply)
Dry Cleaning
Hair Dresser
Religious Services
Restaurants can be booked
Doctor/Dentist/Nurse
Ship facts
Total Length: 98ft
Width: 17ft
Decks: 1
Guests: 4
Crew: 4