Offer Expired
Waiting for Cruiseline update
Contact us for current specials

Due to the travel ban, all pricing info on this site is NOT updated. Use them as reference only.
11841
Ocean
01 Jan 00
Australia & New Zealand
07 Jun 16
Orion
Cruise Only


Accommodation onboard Orion comprises 31 Suites and 22 Staterooms.
Every room offers you ocean views, room to relax during the day and a choice of either queen or twin bed sleeping arrangements. All of the Staterooms and Suites have the same high standard of amenity. The marble bathrooms are well appointed, with Grohe tapware, Lanvin toiletries, fluffy towels and robes. All rooms offer conveniences such as ample storage space, complementary 24-hour room service, a flat screen TV, DVD/CD player, internet connectivity, a personal safe, hairdryer and a mini-refrigerator continuously stocked with complimentary bottled water.
Owners Suite

Orion's four spacious Owners' Suites are located on Deck 5. These 345 sq ft* suites contain a beautifully appointed separate bedroom and living room.

Enjoy your private French Balcony featuring floor to ceiling sliding glass doors and a small outside area for viewing the breathtaking scenery. (OS509 has two large rectangular windows instead of a balcony.

OS502 has the living room space incorporated into the bedroom and features a large bathroom with separate bathtub).
Balcony Suite

The six luxurious Balcony Suites are also on Deck 5, they have an open living room with a total average area of 230 sq ft*.

The Suite affords floor to ceiling sliding glass doors opening onto a private French Balcony allowing you to take in the sea breeze.
Deluxe Suite

The two Deluxe Oceanview Suites occupy up to 230 sq ft* in area on Deck 5.

An open living room with a two-seater sofa and large rectangular window lets you relax and enjoy the beautiful ocean view after a day of exploration.
Junior Suite

On decks 4 there are nineteen Junior Suites. These generously sized 218 sq ft* Suites offer lots of storage space and most feature a comfortable two-seater sofa in the sitting area.

They also contain a large rectangular window (except JS418 & JS419 which have large oval windows, please note JS512 is a twin bed configuration only).
Category A Stateroom

These nicely appointed Oceanview Staterooms are situated on deck 3. The average room size is 180 sq ft*, all with large oval windows and a comfortable sitting area with tub chair.
Category B Stateroom

The Oceanview Staterooms are located on Deck 3. Relax in your sitting area with tub chair in a 175sq ft* room with a large oval window (except staterooms B322 & B323 which have twin portholes).
* Average area of room size.
Stateroom and Suite ceiling height is 2.1m
Single Bed Dimensions: 196cm(l) x 90cm(w)
Queen Bed Dimensions: 196cm(l) x 180cm(w)
Important Terms
* Rates quoted are in Australian dollars.
Prices shown are fully inclusive of taxes unless otherwise stated.
Advertised price includes any bonus nights, special offers or discounts listed in the inclusions.
Surcharges may apply due to demand, Christmas & New Year's Eve, school or public holidays, trade shows, special events & other unforeseen circumstances.
Prices may be based on Dynamic Rates and as such, may fluctuate at anytime without notice, due to matters outside our control, such as adverse currency fluctuations, fuel surcharges, taxes and airfare increases, or at the property's discretion.
Itinerary
All endeavours will be taken to conduct the tour according to the proposed itinerary, but the final destinations shall be always to the good judgement of the Master as respects safety of the Vessel, her crew and passengers.
Option to book the optional activities will be given at a later stage.
Saturday 15 October, 2011 – Auckland (Dry landing) for semi-final 1 (Winner of QF 1 v Winner of QF 2) at Eden Park
Auckland is more than just a great city, it is a whole region full of things to see and do. The sparkling waters of the Waitemata and Manukau Harbours set the perfect backdrop for this city known as the 'City of Sails'. The cosmopolitan city life is perfectly complemented by the surrounding hills, dozens of dormant volcanic cones which dot the landscape and enchanting holiday islands are right by its doorstep.
Bored is one thing you will never be in Auckland. There is an abundance of things to see and do for both the thrill seeker and the sightseer. You can ride four wheel motor bikes, hang glide, kayak, sail, or even bungy jump off the world's first harbour bridge bungy jump.
If thrill seeking is not your cup of tea you might like to enjoy a day at Auckland Zoo, which features all kinds of exotic and native animals. There are also many islands situated in the Hauraki Gulf, so you may wish to get away for the day to places such as the Waiheke or Great Barrier Island. Other highlights include the Auckland Museum, the Botanic Gardens, popular beaches and the breathtaking Sky Tower which offers incomparable views of the city and beyond.
In the evening, catch your transfer to Eden Park for the first semi-final. If all goes to plan, this will be Australia's big moment to secure their spot in Rugby World Cup 2011 Final, so makes sure you do your part to support our boys!

Match: Semi-final 1 – Winner of QF1 (Australia) v Winner of QF2 (France)
Kick Off: TBC
Venue: Eden Park, Auckland
Overnight: Onboard the Orion
Sunday 16 October, 2011 – Semi-final 2 (Winner of QF 3 v Winner of QF 4) – Eden Park
This morning is free to do what you want at your leisure.
If you feel like getting out of the city for a while, why not get on a ferry and visit Rangitoto Island? Home to Auckland's youngest volcano emerging around 600 years ago, it is the city's most recognisable geographic feature. The ferry ride is only 20 minutes and you can easily fill a few hours exploring the surrounds (at your own arrangements).
For those comfortable spending a couple of hours on foot, you can enjoy a hike to the summit from the wharf on the island's southern side and be rewarded with an amazing view. For those who prefer wheels, a tractor-trailer service provides transport to the summit boardwalk.
In the evening, transfer to Eden Park for the second semi-final.
Match: Semi-final 2 – Winner of QF3 (South Africa) v Winner of QF4 (New Zealand)
Kick Off: TBC
Venue: Eden Park, Auckland
Overnight: Onboard the Orion
Monday 17 October, 2011 – White Island (Wet Landing)
In 1769, James Cook gave the island its name because of the dense clouds of steam hanging over it. Today the island still emits visible plumes of steam, often ejecting clouds of ash that rise as high as 10km on clear, still days. The crater, containing a lake, often fluorescent green in colour, is over 100 metres deep.
This is a fascinating place to visit as there is continuous thermal activity on the surface of the island, with boiling pools, pot holes of sulphuric acid, steam and natural gas vents.
Located 48km offshore, White island has built up over 15,000 years of ongoing volcanic activity. About 70 percent of the volcano remains under the sea, making this massive volcanic structure the largest in New Zealand.
After a Zodiac transfer you will don your safety equipment and explore the slopes of White Island Volcano.
Included Expeditions
A guided walk on the active White Island Volcano is included today.
Overnight: Onboard the Orion
Tuesday 18 October, 2011 – Bay of Islands – Te Rawhiti Inlet (Dry Landing)
On the east coast of the North Island of New Zealand a coastline of bays and white sandy beaches embraces a sea dotted with 150 islands. The Maori believe that the Bay of Islands was originally discovered by their legendary navigator Kupe. This is where the Maori first arrived, and not so long ago was a base for whalers, sealers and sailors, preparing the way for a fusing of Maori and European culture. It is famously known as being the home of the Treaty of Waitangi, the first official agreement between Maori and the British.
Included Expeditions
Today will be spent out in the islands themselves anchored in Te Rawhiti Inlet for beach and water activities.
Overnight: Onboard the Orion
Wednesday 19 October, 2011 – Bay of Islands – Russell
Orion will spend the day anchored off the historic township of Russell, a peaceful retreat with old world charm.
Included Expeditions
A shuttle bus is included and a guided town walk lasting one hour is available.
Optional Shore side Expeditions (additional costs and subject to minimum numbers apply)
Option 1 – Waka Taia–Mai – A Maori Journey
Northland is the birthplace of a nation and the Ngapuhi Tribe of the Bay of Islands is the largest group of Maori in New Zealand. You will be taken on your Waka journey by a member of the Ngapuhi family. This tour has been cited as one of the best cultural experiences in Northland's Bay of Islands, they will introduce you to sights of significance and heritage landscapes, making for a perfect combination of history and scenic beauty.
As your Waka voyage begins you start to feel and sense the spirituality of this journey as you paddle your way up the peaceful and tranquil estuaries of the Waitangi River aboard the 50 ft traditional Maori Waka (canoe). Awe-inspiring is how to describe your arrival at the bottom of the Haruru waterfalls, a spiritual place of the Maori. With commentary and interpretation from the Maori warrior guides, you continue your voyage until you arrive in front of the Maori Marae where some of the local tribal members will greet you from the riverbanks.
The Waka voyages are a perfect combination of eco landscapes and interactive cultural encounters. With a maximum of 18 people permitted on the Waka on any one of our voyages, we guarantee you will go back to Orion knowing you have met and spent time with the Ngapuhi, the original inhabitants of Northland.
Duration: 2 Hours
Option 2 – Bay of Islands by Helicopter
Capture the essence of the Bay of Islands in just 20 minutes, on this aerial adventure by helicopter. Experience unparalleled views of picturesque islands, magnificent sandy beaches and superb coastal scenery.
Of particular interest is Moturua Island, where the French navigator Marion du Fresne set up a shore base for his two vessels in 1772, unaware that Captain Cook had already claimed New Zealand for the British Crown. Fly over game fishing waters to Cape Brett before viewing the lighthouse and Piercy Island (Motukokako) with its famous "hole-in-the-rock."
During the return flight, you will see Urupukapuka Island where renowned author Zane Grey set up his game fishing headquarters in the 1920s. This flight tour is about superb scenery and stunning photographs!
Duration: 20 minutes
Overnight: Onboard the Orion
Thursday 20 October, 2011 – Whangaroa (Dry Landing)
Whangaroa is a place of enormous beauty and tranquillity situated in the Far North of New Zealand on the protected East Coast. It is also home to the prestigious Kauri Cliffs Golf Course.
The area is steeped in history – from the times of the first Maori settlement to whaling, early missionary settlement, Kauri gum digging, logging and milling. One of New Zealand's earliest shipyards was at Totara North, in the Whangaroa Harbour
Overnight: Onboard the Orion
Friday 21 October, 2011 –Waiheke (Dry Landing) & Bronze Final at Eden Park
The Hauraki Gulf is the marine gateway to Auckland and stretches between the Waitemata Harbour and the Coromandel Peninsula. Over 50 islands and islets sit within these sheltered waters. Waiheke Island, one of the largest islands in the Gulf is considered by many to be the most magical part of the Auckland experience (and is only 35 minutes from downtown Auckland by local ferry). Its beautiful beaches and native forest reserves harmonise with small cafes, vineyards, olive groves and art studios to make it a favourite leisure destination for Auckland residents.
In the evening, we make our way to Eden Park to witness the battle for the Bronze Title.
Match: The Bronze Final
Kick Off: TBC
Venue: Eden Park, Auckland
Overnight: Onboard the Orion
Saturday 22 October, 2011 – Auckland (Dry Landing) & Official ARU Rugby World Cup 2011 Function
In the Maori language Auckland is known as Tamaki Makau Rau, the city of 100 lovers, having earned the name because it was a place desired by all and conquered by many. The setting is spectacular, the city being nestled upon three harbours – the Waitemata, the Manukau and the Kaipara.
Don't miss the chance to dine out in Auckland as the city has perfected the style of cuisine called "Pacific Rim", blending Asian and Pacific flavours. Seafood features prominently on restaurant menus so be sure to try New Zealand green lipped mussels and succulent Clevedon Coast oysters – all matched with an excellent New Zealand wine.
In the evening, they have a We Love Rugby specialty. A chance to reflect on the past 15 days and Rugby World Cup 2011 as a whole at our farewell function including full dinner and drinks. Live entertainment, great company and an all around good time is on the menu to end this tour on a high.
The only way to gain entry into the official Australian Rugby Union Rugby World Cup 2011, New Zealand function is to book your seat on one of the We Love Rugby tours. This is a money can't buy experience that is sure to stay with you for a lifetime.
Overnight: Onboard the Orion
Sunday 23 October, 2011 – Rugby World Cup 2011 Final at Eden Park
45 days, 47 matches, 20 Nations and just one Title. It all comes down to this moment as the World Champions for 2011 are born.
Eden Park holds special significance for the Bledisloe Cup. It is believed to be the place of the first Bledisloe match back in 1931. Since this match the two sides have played many fierce and close encounters at the revered ground.
The ground has additional World Cup significance hosting the inaugural World Cup Final in 1987. In that game the All Blacks defeated the French 29-9 to become the first Rugby World Champions.
Eden Park will be busy during the World Cup with the opening ceremony, first pool game, semi-finals, third place play-off and the final taking place here. There will also be a number of other pool and knockout games played here. The ground has a capacity of 47,500 people and every one of these seats will be filled at the business end of the Tournament.
Enjoy the city pre-game and soak up the atmosphere with numerous activities which will be available to celebrate this highly anticipated event.
Match: Rugby World Cup 2011 Final
Kick Off: TBC
Venue: Eden Park, Auckland
Overnight: Onboard the Orion
Monday 24 October, 2011 – Depart Auckland
All good things must come to an end and we bid you farewell after an action packed 18 days of Rugby, 5 star service and unforgettable experiences.
For those who have booked your flights through them, there will be a return transfer provided to Auckland airport for your flight home.
If you have made your own flight arrangements, be sure to be at the airport 2 hours prior to check-in for your flight back to Australia.
Cruise Line
Orion


Founded in early 2004, Orion Expedition Cruises has developed voyages to encourage guests to become a part of the region they are discovering.
Orion is a purpose built vessel designed to access the inaccessible, all in 5-star luxury. The ship combines the best and the latest in design with maritime and environmental technology, comfort and casual elegance. From the ice-strengthened hull to the chilled champagne and superb cuisine, this is expedition cruising at its finest.
Described as the latest in the quest to build the perfect expedition vessel *, all Orion's staterooms feature ocean views and offer internet access, flat-screen TV, DVD/CD, a choice of twin and queen sized beds, a sitting area and marble bathrooms. Other on board amenities include a health spa with gymnasium, sauna, sun deck Jacuzzi and a stern marina platform.
Orion offers a range of included and optional Shoreside Expeditions designed to enhance the destination exploration for their guests. From Camel Safaris in Broome to snorkelling over pristine coral formations, there are many unique opportunities for guests to visit areas of Australia that even most Australians don't get to see. As part of their commitment to offering guests an enriching experience, on board speakers have been selected for their knowledge and expertise on the regions they visit. Guests are invited to attend presentations in the 90 seat Lecture Theatre.
Their innovative expeditions are year-round and vary with the seasons:
Summer (December to February) Antarctica and New Zealand and sub-Antarctic Islands.
Autumn (March, April) in remote and unspoilt parts of the Papua New Guinea and Melanesia.
Winter (April to September) in the Kimberley
Spring (October, November) in the wild jungles of Borneo
They would be delighted to have you join them on a voyage to some of the most wonderful but rarely seen places on earth.
Founded: 2003
2012/13 Fleet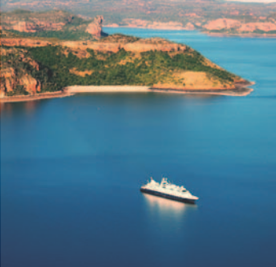 Demographic
Spirit of adventure
Travellers rather than tourists
May not necessarily classify themselves as 'cruisers'
Well travelled and are looking for something different
Enjoy their creature comforts
Recognise the value in unique and intimate itineraries
Language & Onboard Currency
Language: English
Currency: AU$
Destinations
The Kimberley, Borneo, Papua New Guinea, Antarctica, New Zealand, Sub-Antarctic Islands
Accommodation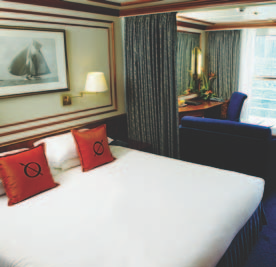 All 50 suites and staterooms with ocean views and room to relax during the day
Choice of either queen- or twin-bed sleeping arrangements
Well appointed marble bathrooms
Conveniences such as ample storage space, complimentary 24-hour room service, a flat-screen TV, DVD/CD player, internet connectivity, a personal safe, hair dryer and a mini-refrigerator
Dining & Beverages
Dining at any time is an unhurried experience with a single sitting free of fixed table assignments
Option to enjoy dinner in the restaurant or to dine alfresco, under the stars
Buffet breakfast or lunch at Outdoor Café
Selection of Australian, New Zealand and European wines: vintages from exceptional lesser-known wineries complement a range of familiar labels
Entertainment
A range of light entertainment
Musical duo in the lounge after dinner playing a selection of music ideally suited to conversation over a cognac or dancing
Ship Facilities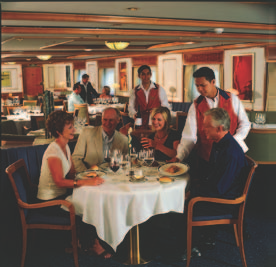 Library, spa, hair and beauty salon, boutique, gymnasium, outdoor café, restaurant, lounge
10 passenger Zodiacs and marina platform
Dedicated lecture theatre and sauna
Cruise Price Inclusions
Accommodation
All meals
Entertainment
Educational programs
Port taxes
Gratuities
24-hour room service
Use of ship's sporting equipment and facilities
Guest Loyalty Program
Past guests receive an additional 5% savings
Recent Awards
Orion are proud to have been named Best Responsible Cruise Operator at the internationally acclaimed 2010 Virgin Holidays Responsible Tourism Awards which took place as part of World Travel Market in London on Wednesday 10th November (World Responsible Tourism Day).
Thousands of tourism organisations and travel experiences were nominated by the public in just 13 categories with the central tenet being that all types of tourism – from niche to mainstream – can and should be operated in a way that respects and benefits destinations and local people. These prestigious awards recognise individuals, companies and organisations in the travel industry that are making a significant commitment to the culture and economies of local communities and are providing a positive contribution to biodiversity conservation.
Past Awards
ISLANDS
Recognised for Leadership
in Responsible Tourism

Best Cruise/Sailing
Experience

Best Adventure
Tourism 2009

Best Cruise Line 2009

Best Small Ship
2005 – 2009

Best Adventure Tourism
2005 – 2009

Best Cuisine
2006, 2007 & 2009

Best Cruise Line
2010