Offer Expired
Waiting for Cruiseline update
Contact us for current specials

Due to the travel ban, all pricing info on this site is NOT updated. Use them as reference only.
11873
Ocean
01 Jan 00
Australia & New Zealand, Pacific Islands
01 Jan 70
Orion
Cruise Only


MV Orion
Accommodation onboard Orion comprises 31 Suites and 22 Staterooms.
Every room offers you ocean views, room to relax during the day and a choice of either queen or twin bed sleeping arrangements. All of the Staterooms and Suites have the same high standard of amenity. The marble bathrooms are well appointed, with Grohe tapware, Lanvin toiletries, fluffy towels and robes. All rooms offer conveniences such as ample storage space, complementary 24-hour room service, a flat screen TV, DVD/CD player, internet connectivity, a personal safe, hairdryer and a mini-refrigerator continuously stocked with complimentary bottled water.
Owners Suite

Orion's four spacious Owners' Suites are located on Deck 5. These 345 sq ft* suites contain a beautifully appointed separate bedroom and living room.

Enjoy your private French Balcony featuring floor to ceiling sliding glass doors and a small outside area for viewing the breathtaking scenery. (OS509 has two large rectangular windows instead of a balcony.

OS502 has the living room space incorporated into the bedroom and features a large bathroom with separate bathtub).
Balcony Suite

The six luxurious Balcony Suites are also on Deck 5, they have an open living room with a total average area of 230 sq ft*.

The Suite affords floor to ceiling sliding glass doors opening onto a private French Balcony allowing you to take in the sea breeze.
Deluxe Suite

The two Deluxe Oceanview Suites occupy up to 230 sq ft* in area on Deck 5.

An open living room with a two-seater sofa and large rectangular window lets you relax and enjoy the beautiful ocean view after a day of exploration.
Junior Suite

On decks 4 there are nineteen Junior Suites. These generously sized 218 sq ft* Suites offer lots of storage space and most feature a comfortable two-seater sofa in the sitting area.

They also contain a large rectangular window (except JS418 & JS419 which have large oval windows, please note JS512 is a twin bed configuration only).
Category A Stateroom

These nicely appointed Oceanview Staterooms are situated on deck 3. The average room size is 180 sq ft*, all with large oval windows and a comfortable sitting area with tub chair.
Category B Stateroom

The Oceanview Staterooms are located on Deck 3. Relax in your sitting area with tub chair in a 175sq ft* room with a large oval window (except staterooms B322 & B323 which have twin portholes).
* Average area of room size.
Stateroom and Suite ceiling height is 2.1m
Single Bed Dimensions: 196cm(l) x 90cm(w)
Queen Bed Dimensions: 196cm(l) x 180cm(w)
MV Orion II
Accommodation onboard Orion II comprises of 50 Suites.
Every room offers you ocean views and is appointed with a sitting area or separate living room, twin or queen-size beds and marble bathrooms. All rooms offer conveniences such as ample storage space, complementary 24-hour room service, a flat screen TV, DVD/CD player, internet connectivity, air conditioning, a personal safe, hairdryer and a mini-refrigerator continuously stocked with complimentary bottled water.
Penthouse Suite
Orion II's four spacious Penthouse Suites are the only suites located on Deck 6. These 260sq ft suites have private balconies, window and sitting area.
Balcony Suite
The twelve luxurious Balcony Suites are on Deck 5 with sitting area and a private balcony allowing you to take in the sea breeze.
Deluxe Suite
The two Deluxe Suites occupy up to 285 sq ft* in area on Deck 5. Forward windows and a sitting area lets you relax and enjoy the beautiful ocean view after a day of exploration.
Junior Suite
On deck 4 there are ten Junior Suites. These 235sq ft suites have a window and sitting area.
AA Ocean Suite
These nicely appointed Ocean Suites are situated on deck 3. The average room size is 225 sq ft*, all with windows and a comfortable sitting area.
A Ocean Suite
The A Ocean Suites are located on Deck 3 with portholes and a generous average area of 275sq ft*.
B Ocean Suite
The B Ocean Suites are located on Deck 4 windows and sitting area. The average area is 215sq ft*.
* Average area of room size.
Important Terms
* Rates quoted are in Australian dollars.
Prices shown are fully inclusive of taxes unless otherwise stated.
Advertised price includes any bonus nights, special offers or discounts listed in the inclusions.
Surcharges may apply due to demand, Christmas & New Year's Eve, school or public holidays, trade shows, special events & other unforeseen circumstances.
Prices may be based on Dynamic Rates and as such, may fluctuate at anytime without notice, due to matters outside our control, such as adverse currency fluctuations, fuel surcharges, taxes and airfare increases, or at the property's discretion.
Itinerary
Retrace the adventurous footsteps of those first explorers to the lost paradise of Papua New Guinea. This was the world of headhunters and deadly tribal battles, still light years from the 21st century – but as you step ashore, you will be greeted with an excitable, heartfelt welcome from gentle villagers and an overwhelming simplicity of life that is long gone from our Western world. You will witness mysterious ceremonies derived from a thousand cultures across the South Pacific. Explore remote coastal villages surrounded by rainforests and towering volcanoes. Swim and snorkel in some of the clearest, most unspoilt waters in the world. And be reminded how a vibrant culture can be built from a strong family and tribal foundation. The joy of this expedition is to experience this deeply satisfying life first-hand and see the skills and knowledge that create a sustainable culture.
Itinerary Highlights:
Explore remote coastal villages surrounded by rainforests and towering volcanoes.
Swim and snorkel in some of the clearest, most unspoilt waters in the world.
Discover the recent history of Papua New Guinea including the decisive battles of World War II that turned the invasion tide and left a legacy of rusted guns and ships.
Full Itinerary
| Day | Location |
| --- | --- |
| 1 | Cairns (Optional direct charter flight to Rabaul) |
| 2 | Rabaul, Papua New Guinea |
| 3 | At sea |
| 4 | Sepik River (Watam Village) |
| 5 | Madang |
| 6 | Tami Islands |
| 7 | Tufi Harbour |
| 8 | Fergusson Island |
| 9 | Samarai & Kwato Islands |
| 10 | Alotau (Milne Bay) |
| 11 | At sea |
| 12 | Cairns, Australia |
Destinations & Shoreside Expeditions
Cairns (Optional direct charter flight to Rabaul)

Optional Charter Flight
Orion offers an Austrailan operated optional direct charter flight from Cairns to Rabaul. This charter flight departs at approximately 9.00am. As this is an international flight, guests will need to be at the airport at approximately 7.00am.
Orion recommends guests overnight in Cairns pre-cruise. Contact our Customer Service Team for rates on accommodation in Cairns.
Rabaul, Papua New Guinea – Embark/Disembark
Latitude: 4°12'S
Longitude: 152°10'E

The tropical port town of Rabaul has always been famous for its spectacular setting at the eastern end of the island of New Britain. Nestled on Simpson Harbour, the township is surrounded by six volcanoes providing a sensational backdrop for your overnight stay aboard Orion. In the morning you will have a full day to explore the town that was the focus of fierce battles during World War II. The steep surrounding coastal cliffs are riddled with tunnels filled with relics. Explore Admiral Yamamoto's bunker and touch the wreck of a Japanese Betty Bomber for intimate reminders of the Japanese presence. The Volcano Observatory affords panoramic views of the harbour but a helicopter flight is the ideal way to take in the scale of the 1994 eruptions that destroyed two-thirds of Rabaul. You'll fly over empty streets and what was the town's municipal swimming pool – now just an outline of blue ceramic tiles, the pool filled with ash. Our departure from Rabaul will see us sail past the Beehives, volcanic plugs from the crater that formed Simpson Harbour.
Included Expeditions
A complimentary shuttle will transfer you from Rabaul airport to the ship for embarkation.
Access to the rebuilt town area of Rabaul is just a short walk from the wharf. A courtesy shuttle running to the edge of the ash area where the Rabaul Hotel, Yamamoto's Bunker and the Historical Society is situated will be available.
Optional Shoreside Expeditions

RABAUL HIGHLIGHTS TOUR
Jump aboard a mini-bus to explore the eerie ghost town of old Rabaul sitting metres under tonnes of ash dumped primarily by the twin eruptions of Mt Tavurvur and Mt Vulcan in 1994.
You will explore the old town and visit the old airport, which actually had aircraft and helicopters buried under ash in 1994 although they have since been recovered.
Visit the sight of a Japanese WWII Bomber wreck and also the command bunker of Admiral Yamamoto, the Japanese commander during WWII. You will see the tunnels used to hide Japanese barges from Allied planes carved into the sides of the mountains. Some of the tunnels still have barges in them.
No visit would be complete without stopping at the Volcanic Observatory that is keeping a close eye on the active Mt. Tavurvur.
Duration: Half Day
Cost: $70 per person
RABAUL VOLCANO ADVENTURE
A unique experience, tailor made for Orion guests and highlighting the best that Rabaul has to offer.
You will start your Rabaul Volcano Adventure being paddled across a beautiful Harbour by local Matupit villagers in their outrigger canoes, on its own an experience not to be missed. The journey is about 800m in calm, very sheltered water.
You will then join local legend Bruce Alexander in the climb up the side of the volcano. A reasonable level of fitness is required, you can turn back if you can't go all the way, but if you make it you will be rewarded with spectacular views of both the harbour area and the volcanic rim itself.
You can walk around the old lava flow and let the local Matupit villagers treat you to a "Kulau" (fresh green coconut) to refresh you after your efforts. There is a chance to see Megapodes (wild fowl) who make this area their home.
Your guide, Bruce, is known as the unofficial Mayor of Rabaul. During the 1994 eruptions, Bruce and his father-in-law stayed behind shovelling the falling ash from the roof of their hotel to save the building, whilst the rest of Rabaul collapsed under the weight of the ash.
You will need a sturdy pair of shoes and a sense of adventure. This is an experience you will only get in Papua New Guinea or for that matter only in Volcano Town, Rabaul!
**Actual itinerary depends on volcanic activity on the day**
Duration: Half Day
Cost: $75 per person


Sepik River (Watam Village) – Wet landing
Latitude: 3°52'S
Longitude: 144°34'E

The meandering Sepik River is the longest river in PNG and for years has been a major trading artery linking the coast and the interior. Orion takes position today at the mile-wide river mouth nearby the small village of Watam. The dense vegetation and swampland to be seen along the river's edge is home to many species of birds. Your visit to the village will give you an insight into a way of life that very few outsiders have witnessed. With no roads, phones, electricity or luxuries to be had, the open and happy outlook of the villagers will touch you. A "dragon" dance welcomes us ashore, punctuated by singing and lots of laughter, as you are all marked with a red ceremonial mark on our cheek.
Included Expeditions
Orion guests will be able to explore the river mouth of the mighty Sepik near the village of Kopar.
Their exclusive access to Watam village will give you an insight into life in a remote Sepik village that very few outsiders have witnessed, even today. There are no roads, no phones, there is no electricity and there are not too many other luxuries to be found.
The villagers will welcome you with a special "dragon" dance and continue with a performance of the dances of their ancestors. You will be shown how to make Sago, the staple food of the Sepik coastline, and the local teacher will open the school to you. Unique carvings and woven baskets will be available to buy.
Madang – Dry landing
Latitude: 5°12'S
Longitude: 145°50'E

It's well worth getting up early this morning for Orion's approach to Madang through the spectacular Dallman Passage. Madang itself is a lovely town set on a peninsula characterised by lush gardens and magnificent vistas of tropical seascapes, islands and inlets. The market has masses of colourful produce, shell jewellery, woven bags (bilums) from the highlands, carvings and bilbil clay pots which are a local specialty. Weathered headstones in the cemetery are reminders of colonial times and you have the chance to visit nearby villages and attend a "sing sing". Scuba divers enjoy easy access to dive sites just off-shore which encompass wartime wrecks, pelagic marine life, reef-filled shallow lagoons and drift-diving off deep drops.
Included Expeditions
Orion guests will be free to explore Madang and the markets today by complimentary shuttle bus.
Optional Shoreside Expeditions
MADANG BILBIL VILLAGE TOUR
A minibus will transfer you from the wharf to downtown Madang today to visit the Town Markets with their colourful array of fresh fruits and handmade artefacts.
Your visit to the town will be followed by a fascinating visit to the village of Bilbil, famous for its earthenware pots, which you may wish to purchase. The houses in the village are made from traditional materials, such as the Sago Palm, and often an entire house can be constructed without the use of nails.
The Bilbil people will treat you to a traditional sing-sing while you sip a cool drink.
Duration: Half Day
Cost: $80 per person
MADANG SCUBA DIVE
Madang has long been the tourism centre of Papua New Guinea and the diving around the area is something special.
Local operator Aquaventures, one of the most experienced operators in Papua New Guinea, can offer two dives at one or two of the local dive sites with the exact location chosen dependant on local conditions on the day.
Certified divers only: must show certification.
Equipment hire is additional to tour price.
Cost of dive equipment hire is additional (rates per day in AUD$ – subject to change)
Regulator & computer $45.00
BCD $23.00
Mask/snorkel/fins $20.00
Full Set everything $65.00
Duration: Half-day
Cost: $180 per person – two dives

Tami Islands – Wet landing
Latitude: 6°45'S
Longitude: 147°53'E

The beautiful Tami Islands are a quiet, simple, island idyll. Tami Islands comprises four atolls, including one that's barely more than a white sandy beach. There are two main villages on the two large islands that face each other across the cove which is filled with reef and deepens to a volcanic pit at its centre. Drumming and dancing herald a day ashore where you may explore the village for intricate carvings and souvenirs or walk with Orion's botanist to inspect native produce gardens. You won't want to leave after swimming and snorkelling above the myriad corals that form the extensive reef.
Included Expeditions
Your visit to Tami Islands includes access to the island for swimming, snorkelling and sea kayaking.
A guided walk through the food gardens will be offered for Orion guests today and you will also have a beach BBQ.
Tufi Harbour – Wet landing
Latitude: 9°4'S
Longitude: 149°17'E

The magnificent coast around the north of the mainland is a well-kept secret. Over 30 fjords are carved into the shoreline, one of which is Orion's anchorage point today. You'll be surrounded by dense rainforest above sheer basalt walls and sandy white beaches. Cruise along the coast and climb aboard an outrigger dugout canoe which will glide along a river and through mangrove forests for a village visit. Local guides lead us on a botanists walk to the spectacularly scenic Suicide Point and along the way is a chance to see the huge Blyth's hornbill and the world's largest butterfly – the Queen Alexandra's Birdwing with a wingspan of up to 30cm.
Included Expeditions
Orion will cruise amidst the spectacular fjords to her anchorage location. There is access to a white sandy beach via their Zodiacs for swimming, snorkelling and sea kayaking today.
TUFI SCUBA DIVE
Tufi Dive is a reputable operator with a great selection of dive sites close to our anchorage position. With a fleet of fast dive boats you'll be in the water diving on world-class reefs in no time at all. The price includes all equipment and transfers.
This dive is for certified divers only and your certification card must be shown.
Duration: Half Day
Cost: $130 per person
(one dive including all gear)
TUFI VILLAGE EXPERIENCE
After a 20-minute cruise along the coast you enter one of the scenic fjords, where you glide along the clear and smooth waters until they pick up your local guides. You transfer to traditional outrigger canoes manned by the local people and are paddled further up into the fjord, passing under canopies of ancient mangrove forests. Some of these trees are well over sixty feet in height and are home to a wide range of colorful birds, including the huge hornbills.
While gliding along you will see the local people going about their tasks of hunting and gathering. You soon come to a small beach nestled on the bank of the now freshwater river; you disembark here and proceed on foot through the rainforest where you come to a small jungle clearing that has a small waterfall cascading down into a rock pool. Here you are offered a refreshing cool drink from a coconut and while enjoying the unique scenery, you will be given a demonstration of traditional canoe making. You then proceed back to the river where you continue down stream to your waiting boats and head over to the island.
Upon disembarking at the island, you will be given a traditional welcome by the villagers. You will be led to a shaded area to sit in comfort and experience the spectacular dances that are unique to the Tufi area. You will have the opportunity to purchase some Tapa cloth, shell jewellery and other handicrafts for which this area is world-famous. The villagers will also give you a demonstration of the making of the Tapa cloth.
Duration: Half Day
Cost: $98 per person
OUTER REEF SNORKELLING TOUR
On departing Orion you will spend 30 minutes cruising out past the colourful reefs of the Solomon Sea. On the way keep a lookout for dolphins, giant manta rays, turtles and schools of pelagic fish. You will see a small dot on the horizon start to appear, this is our destination.
Cyclone Reef has a very small coral cay island that is surrounded by a pristine atoll. You tie up to your permanent buoy (so as not to damage the reef) and are then briefed by your local expert on the best parts of the reef to go snorkelling. You will enjoy a guided tour of this magnificent reef experiencing hundreds of different species of colourful fish, beautiful corals, crystal clear water and fantastic drop offs.
Duration: Half Day
Cost: $85 per person
SUICIDE POINT WALK
You will be transferred to Tufi wharf to be welcomed by your guide William who is the son of the local chief.
This is an easy walk with a total tour time of two hours.
The walk sets out from the Tufi Resort where you walk through grass lands towards Yagaruva Village. You will pass through this village and continue along a track that takes you to a spectacular lookout over the large fjords and islands. The walk will then lead you into the bush and along the ridge that divides the two fjords. Throughout this walk local flora and fauna of interest will be highlighted. You can expect to see many varieties of birds, including the hornbills, parrots, black and white cockatoos, sea eagles and the world's largest butterfly, the "Queen Alexandra". As you walk you will be treated to superb views of both the fjords and the mountain backdrop.
When the track comes to its narrowest point, the path is barely wide enough to accommodate one person at a time and it is all that separates you from vertical drops at either side into the brilliantly clear waters of the two fjords. This narrow division between the fjords is all that prevents Tufi Station from becoming an island. Resting on the path it is easy to see why Suicide Point is so named. After admiring the view and taking some photos you make your way back to the ship.
Duration: Half Day
Cost: $45 per person

Fergusson Island – Wet landing
Latitude: 9°31'S
Longitude: 150°41'E

On Fergusson Island, the islanders still follow ancestral traditions and cook meals in a beachside lake of boiling water. Our landing will be made at isolated Dei Dei Village and after a short walk through the bush a network of hot springs is revealed.
Included Expeditions
You will be transferred by Zodiac to take a guided walk to explore the hot springs of Dei-Dei on Fergusson Island. This prehistoric landscape will amaze you with several geysers, numerous hot pools, steam vents and salt deposits.
You may even experience some of the locals cooking their food in the pools.

Samarai & Kwato Islands – Wet landing
Latitude: 10°36'S
Longitude: 150°39'E

In the early 1900's tiny Samarai Island was the thriving colonial capital of the territory of Papua and the town's streetscape carries reminders of those bygone, halcyon days. Back then it was described as one of the most beautiful places in the South Pacific.
Included Expeditions
Orion guests will be transferred ashore by ship's Zodiacs where you will be met and escorted by local guides to explore these historical and colonially significant areas.
Kwato Islands
Just 3 kilometres west of Samarai is Kwato Island where European traders broke their journey en route to the South Pacific in search of gold and to trade in mother of pearl, sandalwood and sea cucumbers (beche de mer). In 1891 the Reverend Charles Abel founded a church and mission here and he is best remembered for his theory that the game of cricket would have a civilising influence over the tribes. The sweeping view from the impressive stone church at the top of the hill is well worth the climb.
Included Expeditions
Orion guests will be transferred ashore by ship's Zodiacs where you will have the opportunity to climb to the top of the hill to visit the historic Kwato Church.
Whilst not in possession of a world-class beach, Kwato does have some interesting snorkelling sites and in the afternoon you will have the opportunity to explore these sites.

Alotau (Milne Bay) – Dry landing
Latitude: 10°18'S
Longitude: 150°27'E

Alotau, the capital of Milne Bay Province, is located at the eastern tip of mainland Papua New Guinea. Many of the population still rely on the sea for their livelihood and the busy harbour and nearby market are focal points for the town. Cargo movements drive harbour activity, and there's an array of colourful vessels to be seen, ranging from tiny canoes to well-equipped dive and charter boats. This morning sees your final warm PNG welcome, with dancers in local costume.
Explore Alotau and meet the townsfolk at the markets where you'll find an eye-opening array of tropical produce, seafood and crafts. On the foreshore is the new gleaming black Australian War Memorial commemorating the Battle of Milne Bay in 1942. This battle saw the tide of the Pacific war turn with Australian forces inflicting upon the Japanese army their first defeat on land. Relics are everywhere, from abandoned airfields to landing barges overgrown by jungle.
Included Expeditions
Access to Alotau Township and the colourful markets is only a short walk from the wharf, past a significant war memorial and the busy harbour. For Orion guests who do not wish to walk, a complimentary shuttle bus is available, or, as another option, Alotau is one of the few places in Papua New Guinea to have taxi services.
Optional Shoreside Expeditions
ALOTAU WWII RELICS & HISTORY TOUR
Sometimes battles are fought for the prize of a harbour, a city or a town. The Battle for Milne Bay was fought for an Airstrip that is today called Gurney Airport but back in August 1942, was simply known as Number 1 Strip. A small garrison of mainly Australian Infantry and RAAF crews fought off a numerically superior Japanese force to win a battle that was a turning point in the war. This tour will follow the battle from landing zone to the airstrip where the Australians turned the Japanese force back. Knowledgeable local guides will give you a unique insight into every twist and turn in the battle.
This tour includes visits to:
Turnbull War Memorial – visit the site of the original No.3 airstrip during WWII and its memorial to Australia's Squadron Leader, Peter St George Turnbull, who was killed during the Battle of Milne Bay.
Alotau War Memorial – a stop at the commemorative plaque in the town centre.
Corporal John French Memorial at Goilani River – see the monument to Corporal John French, honoured with the Victoria Cross for his outstanding actions at this site.
Wahuhuba Bay – see the site where the Japanese first landed, and where the first exchange of gunfire in the Battle of Milne Bay took place.
Giligili – see the remains of the wharf that it is believed was used by American troops during WWII for fuel loading.
Nigila – experience the privilege of accessing privately owned land where six American landing barges were "dumped", 1km from the shore.
Duration: Half Day
Cost: $88 per person
ALOTAU HIGHLIGHTS TOUR
Alotau has been the capital of Milne Bay Province since 1966. Prior to this the area was known as Hiwehiwe in the local Tawala language, which means "slight breeze". This tour will allow you to experience the town, the history, the culture and the local people, with a visit to a small village just outside the town area at the base of the Stirling Ranges, as well as stops along the way to WWII memorial sites.
This tour includes:
Pick up from (and drop off to) the wharf
Ahioma – a drive around Milne Bay to the beaches of Ahioma where war barge wrecks still stand.
Toptown Lookout – photograph the panoramic view of Milne Bay.
During the drive, you will be shown the Alotau Market, the town centre, the Alotau War Memorial and Alotau Hospital Alotau Cathedral and Anglican Church.
Turnbull War Memorial – visit this memorial and the site of the No.3 airstrip during WWII.
Rabe Village – experience Milne Bay culture first hand, sample local delicacies and learn about traditional customs.
Artefact Shopping – your opportunity to collect authentic Milne Bay quality artefacts, which include carved bowls, clay pots, Trobriand grass skirts and woven baskets.
Duration: Half Day
Cost: $88 per person
BAT CAVE ADVENTURE
Just 20km from town is an extensive cave system. These caves are still unchartered, however the "Bat Cave", or "Damawewe", is known by the private landowners of Yane Yanene village. With local guides, you are able to venture into the large caverns (some several metres high), through tunnels and across underground streams.
The limestone formations and thousands of bats create a spectacular sight that you'll long remember.
Expect to get a little wet and dirty, but it will be an unforgettable experience!! It is best to wear old clothing for this trip.
Requires a medium level of fitness, suitable footwear and involves a lot of contact with mud and guano.
Duration: Half Day
Cost: $88 per person

Cairns, Australia – Embark/Disembark
Latitude: 16°55'S
Longitude: 154°46'E

The Cairns region is internationally recognised for worldclass attractions, superb natural features and friendly north Queensland hospitality. It is the focal point for the magnificent World Heritage listed Great Barrier Reef Marine Park and is surrounded by tropical rainforests. Visitors enjoy browsing at indigeneous art galleries, shopping at the night markets and dining out on multicultural cuisine in the many restaurants along the esplanade.
Cruise Line
Orion


Founded in early 2004, Orion Expedition Cruises has developed voyages to encourage guests to become a part of the region they are discovering.
Orion is a purpose built vessel designed to access the inaccessible, all in 5-star luxury. The ship combines the best and the latest in design with maritime and environmental technology, comfort and casual elegance. From the ice-strengthened hull to the chilled champagne and superb cuisine, this is expedition cruising at its finest.
Described as the latest in the quest to build the perfect expedition vessel *, all Orion's staterooms feature ocean views and offer internet access, flat-screen TV, DVD/CD, a choice of twin and queen sized beds, a sitting area and marble bathrooms. Other on board amenities include a health spa with gymnasium, sauna, sun deck Jacuzzi and a stern marina platform.
Orion offers a range of included and optional Shoreside Expeditions designed to enhance the destination exploration for their guests. From Camel Safaris in Broome to snorkelling over pristine coral formations, there are many unique opportunities for guests to visit areas of Australia that even most Australians don't get to see. As part of their commitment to offering guests an enriching experience, on board speakers have been selected for their knowledge and expertise on the regions they visit. Guests are invited to attend presentations in the 90 seat Lecture Theatre.
Their innovative expeditions are year-round and vary with the seasons:
Summer (December to February) Antarctica and New Zealand and sub-Antarctic Islands.
Autumn (March, April) in remote and unspoilt parts of the Papua New Guinea and Melanesia.
Winter (April to September) in the Kimberley
Spring (October, November) in the wild jungles of Borneo
They would be delighted to have you join them on a voyage to some of the most wonderful but rarely seen places on earth.
Founded: 2003
2012/13 Fleet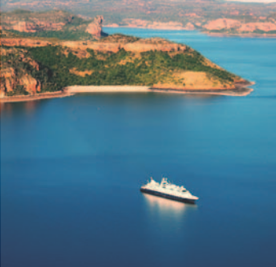 Demographic
Spirit of adventure
Travellers rather than tourists
May not necessarily classify themselves as 'cruisers'
Well travelled and are looking for something different
Enjoy their creature comforts
Recognise the value in unique and intimate itineraries
Language & Onboard Currency
Language: English
Currency: AU$
Destinations
The Kimberley, Borneo, Papua New Guinea, Antarctica, New Zealand, Sub-Antarctic Islands
Accommodation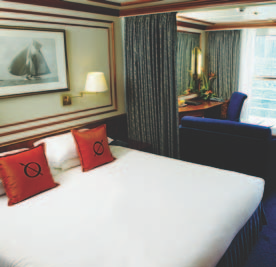 All 50 suites and staterooms with ocean views and room to relax during the day
Choice of either queen- or twin-bed sleeping arrangements
Well appointed marble bathrooms
Conveniences such as ample storage space, complimentary 24-hour room service, a flat-screen TV, DVD/CD player, internet connectivity, a personal safe, hair dryer and a mini-refrigerator
Dining & Beverages
Dining at any time is an unhurried experience with a single sitting free of fixed table assignments
Option to enjoy dinner in the restaurant or to dine alfresco, under the stars
Buffet breakfast or lunch at Outdoor Café
Selection of Australian, New Zealand and European wines: vintages from exceptional lesser-known wineries complement a range of familiar labels
Entertainment
A range of light entertainment
Musical duo in the lounge after dinner playing a selection of music ideally suited to conversation over a cognac or dancing
Ship Facilities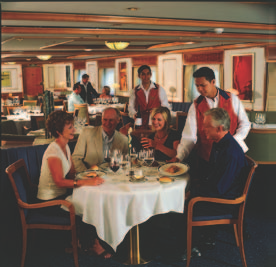 Library, spa, hair and beauty salon, boutique, gymnasium, outdoor café, restaurant, lounge
10 passenger Zodiacs and marina platform
Dedicated lecture theatre and sauna
Cruise Price Inclusions
Accommodation
All meals
Entertainment
Educational programs
Port taxes
Gratuities
24-hour room service
Use of ship's sporting equipment and facilities
Guest Loyalty Program
Past guests receive an additional 5% savings
Recent Awards
Orion are proud to have been named Best Responsible Cruise Operator at the internationally acclaimed 2010 Virgin Holidays Responsible Tourism Awards which took place as part of World Travel Market in London on Wednesday 10th November (World Responsible Tourism Day).
Thousands of tourism organisations and travel experiences were nominated by the public in just 13 categories with the central tenet being that all types of tourism – from niche to mainstream – can and should be operated in a way that respects and benefits destinations and local people. These prestigious awards recognise individuals, companies and organisations in the travel industry that are making a significant commitment to the culture and economies of local communities and are providing a positive contribution to biodiversity conservation.
Past Awards
ISLANDS
Recognised for Leadership
in Responsible Tourism

Best Cruise/Sailing
Experience

Best Adventure
Tourism 2009

Best Cruise Line 2009

Best Small Ship
2005 – 2009

Best Adventure Tourism
2005 – 2009

Best Cuisine
2006, 2007 & 2009

Best Cruise Line
2010