Offer Expired
Waiting for Cruiseline update
Contact us for current specials

Due to the travel ban, all pricing info on this site is NOT updated. Use them as reference only.
11953
Ocean
01 Jan 00
Asia
01 Jan 70
12Jan70
11 nights
Orcaella
Cruise Only


Venture off the beaten track in supreme luxury and capture the authentic spirit of exotic Burma. Orient Express presents Orcaella, the new luxury river cruiser which will transport you to a hidden world of adventure, mystery and delight as you travel from Mandalay to Bagan. Departing 18Nov13 with fares from $5,850 per person.
Important Terms
* Rates quoted are in Australian dollars.
Prices shown are fully inclusive of taxes unless otherwise stated.
Advertised price includes any bonus nights, special offers or discounts listed in the inclusions.
Surcharges may apply due to demand, Christmas & New Year's Eve, school or public holidays, trade shows, special events & other unforeseen circumstances.
Prices may be based on Dynamic Rates and as such, may fluctuate at anytime without notice, due to matters outside our control, such as adverse currency fluctuations, fuel surcharges, taxes and airfare increases, or at the property's discretion.
Cabins
The spacious cabins open to the river, allowing you to truly experience the sights, sounds and scents of Myanmar. Floor-to-ceiling glass doors provide the perfect frame to the river and its banks. All cabins have en suite facilities
Itinerary
Full Itinerary
Day 1: Mandalay – Mingun
Board Orcaella and cruise on the Ayeyarwady River towards northern Myanmar.
A stop at Mingun includes a visit to the world's largest brick-built pagoda and the biggest uncracked bell.
Get to know fellow travellers at the welcome dinner.
Day 2: Mingun – Nwe Nyein
Disembark at Nwe Nyein for a guided walking tour and a chance to meet artisans sculpting traditional clay pots.
Later, sail past the picturesque island pagoda of Thihadaw before enjoying a cocktail party on the top deck.
Day 3:Kyan Hnyat – Katha
Spend the morning strolling around the delightful village of Kyan Hnyat. Children greet you on their way to school and the market begins to bustle with activity.
As Orcaella continues its voyage you can admire the rural villages dotted along the shore.
Day 4: Katha – Shwegu
Visit Katha by trishaw and take in the market made famous by George Orwell in 'Burmese Days'.
In the afternoon, small boats take you ashore to the port of Shwegu and beyond to experience life in a typical riverside Shan village.
Day 5: Zinbon – Bhamo – Shwe Paw
As the cruise continues, relax and admire the green-clad mountains reaching down to the narrowing channel. Travel past logging camps and the old colonial village of Zinbon.
The ship drops anchor off Bhamo. Visit the town centre and enjoy the vibrant activity of this tribal meeting point.
Day 6: Shwe Paw – Katha
Begin the day with a tour of picturesque Shwe Paw Island and its ancient pagodas.
Your journey then takes you on to the riverside village of Moe Dar where you'll witness a traditional noviciation ceremony.
Day 7: Katha – Kyan Hnyat
In the early morning, board a train to the forest station of Naba and journey into the thick Kachin jungle and teak forest.
Enjoy a leisurely afternoon gliding towards Kyan Hnayt, and end the day with a refreshing cocktail on the Top Deck.
Day 8: Kyan Hnyat– Mogok
This morning the ship anchors at Thabeikkyin.
A winding road will lead you past a lush forestry reserve to Mogok, where you'll meet elephants working in the teak forests.
Day 9: Mandalay
Mandalay comes into view in the early morning.
Disembark for a tour of Myanmar's second city, including lunch at a local restaurant.
Rejoin the ship at the quaint village of Shwe Kyet Yet and enjoy a tribal dance performance in the evening.
Day 10: Bagan
Spend the day gazing at the passing scenery as the ship continues towards Bagan.
In the evening take in the sunset over the Bagan plain and enjoy a magical performance by traditional Bagan artists.
Day 11: Bagan– Mt Popa
Visit the ancient sites in and around Bagan with an expert guide.
In the afternoon you may choose to join a tour of Mount Popa—the legendary home of animist spirits known as Nats—with its impressive summit monastery. Or take a horse-drawn cart or a bicycle to explore on your own.
Celebrate your final evening on board at this evening's cocktail party, and say goodbye to your new friends during the Farewell Dinner.
Day 12: Yangon
Transfer to Bagan airport for your flight to Yangon.
Please note this itinerary is subject to change.
This cruise can be extended with one or more nights in Yangon either before or afterwards.
Ship Info
Orcaella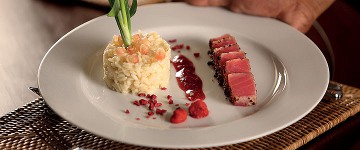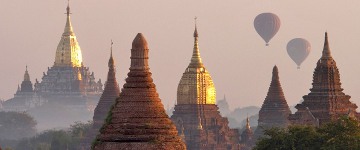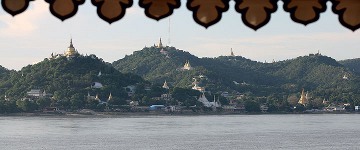 Orcaella
Drift along the Ayeyarwady and Chindwin aboard the luxurious Orcaella river cruiser on exceptional seven- and 11-night journeys.
Marvel at the ever-changing views of breathtaking gilded temples and forested gorges. And enjoy Orcaella's attentive service; from gourmet dining and elegant cabins to the relaxing sun deck.
Offshore excursions led by our expert guides provide genuine insight into everyday life and Myanmar's remarkable history.
Relaxed elegant dining, a cooling dip in the pool after the hustle and bustle of a local market, or a reviving massage on board—a journey on board Orcaella is an unforgettable adventure.
The executive chef creates innovative dishes featuring local ingredients which sit alongside European delicacies. A carefully chosen wine list complements the rich and varied menus.
With an open sundeck area, lounge, bar and swimming pool, this is the perfect retreat. With a refreshing drink in hand, sit back and admire the passing views of river life.
Enjoy lectures on local life or cultural landmarks included on the itinerary. Specialist talks on photography, history and nature are available as well as interactive workshops run by local experts.

If you wish to workout, or simply indulge in a treatment, our Wellbeing area provides a fitness and massage centre. Yoga classes are also offered by a local instructor.
Reflecting the relaxed atmosphere, the dress code in the evening is casual yet elegant. During the day, appropriate resort-wear and comfortable walking shoes are recommended.