Offer Expired
Waiting for Cruiseline update
Contact us for current specials

Due to the travel ban, all pricing info on this site is NOT updated. Use them as reference only.
11917
Ocean
01 Jan 00
Asia
01 Jan 70
10Jan70
9 nights
Orion
Cruise Only


Take a round trip of Japan onboard Orion II and experience the best that Japanese cuisine has to offer. Departs 27Apr12. Book before 30Nov11 to receive special earlybird rates.
Important Terms
* Rates quoted are in Australian dollars.
Prices shown are fully inclusive of taxes unless otherwise stated.
Advertised price includes any bonus nights, special offers or discounts listed in the inclusions.
Surcharges may apply due to demand, Christmas & New Year's Eve, school or public holidays, trade shows, special events & other unforeseen circumstances.
Prices may be based on Dynamic Rates and as such, may fluctuate at anytime without notice, due to matters outside our control, such as adverse currency fluctuations, fuel surcharges, taxes and airfare increases, or at the property's discretion.
Itinerary
This is a remarkable journey of discovery using Japanese cuisine as a window into the culture, art and ritual of this ancient society. Orion guests will have the opportunity to discover Japan and its ancient culture through the amazing diversity of Japanese food. At each port of call, you will discover a different Japanese dish, learn its history and visit local markets to shop for ingredients. The expert onboard chefs will teach you how to prepare and present the world's favourite Japanese dishes. And then of course, you'll come together on board Orion II to enjoy traditional Japanese dining. Onshore explorations will include the markets where the locals shop, like the famous Jalgachi Fish Market in Busan. You'll explore the amazing variety of seafood, prepare mouth-watering Kobe beef, the most famous beef in the world, and learn why the notorious fugu puffer fish can be lethal and yet is sought by gourmet food lovers the world over. There can be no better way to experience Japan's culture than through the complexities and culture of the Japanese food experience. The ritual, history and philosophy of the Japanese all find expression at their table. Enjoy every taste on this unique voyage of discovery.
| | |
| --- | --- |
| Day | Port |
| 1 | Kobe, Japan |
| 2 | Shimonoseki, Honshu Island |
| 3 | Busan, South Korea |
| 4 | Nagasaki, Kyushu Island |
| 5 | At sea |
| 6 | Okinawa, Ryukyu Islands |
| 7 | At sea |
| 8 | Kobe, Honshu Island |
| 9 | Kobe, Japan |
Destinations & Shoreside Expeditions
Kobe, Japan – Embark/Disembark
Latitude: 34°41′N
Longitude: 135°12′E
Prior to disembarkation you have the option to purchase a coach transfer from the port in Kobe to hotels in Osaka and Kyoto or to Kansai International Airport. Please see the expedition team onboard of you wish to arrange one of these transfers. There are regular flights from Tokyo airport to Kobe airport.
Shimonoseki, Honshu Island – Wet landing
Latitude: 33°57′N
Longitude: 130°56′E
Shimonoseki sits on the scenic Kanmon Strait, on the tip of the island of Honshu, only a short distance from Kyushu. In fact the nearest city to Shimonoseki is Kitakyushu across the strait on Kyushu. The two cities are linked by an undersea pedestrian tunnel. This strategic location on the Kanmon Strait has seen Shimonoseki take a leading role in many battles throughout history. Today the port is a major gateway to and from Japan particularly for cargo traffic coming in and out of South Korea and Japan.
Shimonoseki is most well known today as the home of Fugu, the infamous Japanese Blowfish, edible only when the highly toxic parts have been removed by extremely skilled chefs who have trained for years in the art of Fugu preparation. The included activities today will give you a great insight into Fugu cuisine in Japan.
From your berth in Shimonoseki, you will find it quite easy to access the township, and even the undersea pedestrian tunnel which opens on the Kyushu side in an area known as "Moji Retro Town", an attractive shopping area with coffee shops and cafes, you can join the included expedition to explore the local area.
Busan, South Korea – Dry landing
Latitude: 35°06′N
Longitude: 129°02'E
Busan, South Korea, is located on the South easternmost tip of the Korean Peninsula, and faces the Korea Strait. In the 15th century, the Korean government designated Busan to be a trading port with the Japanese. Busan is now the fifth busiest seaport in the world. Some of the restaurants in this district are locally famous, with family recipes passed down the generations. Jagalchi Market is an area of narrow street stalls and is well known for its fish market. Nearby crowded Haeundae beach has to be seen to be believed as thousands of beach goers flock here every day in summer.
Included Expeditions
A shuttle bus from the port to the central shopping area and fish markets will be available all day in Busan as well as an included expedition visiting several local attractions. The inclusive tour will visit Tongdosa Temple, a colourful Korean Buddhist temple where you can participate in a Korean tea ceremony with the Monks. You will briefly stop at Haeundae beach to witness the spectacle of colour and sound as thousands of Koreans pack themselves onto the beach strip. Then you will progress to the UN Memorial Cemetery to pay respects to those who served and lost their lives during the Korean War. As no visit to Busan is complete without a visit to the Jalgachi Fish Market, arguably the best of its kind in the world, where every kind of edible sea creature is on sale, the inclusive tour will also visit here. (Guests will be split into different groups to participate in the included activities at different time throughout the day)
Nagasaki, Kyushu Island – Dry landing
Latitude: 32°41′N
Longitude: 129°51'E
Nagasaki City makes up almost half of the total land area of the prefecture of the same name. The prefecture also consists of 971 islands. It has the dubious honour of being the site of the second atomic bomb explosion, after Hiroshima. The Nagasaki Peace Park has been established beside Ground Zero to remind the world of the horrors of atomic weapons and to encourage future peace.
Nagasaki has had a long history of European contact with missionaries arriving as early as 1542. St Francis Xavier is believed to have visited the area in 1549. As such it is essentially the centre of Japanese Christianity; the Ouru Church of 26 Japanese martyrs (built by the French in 1864) commemorates the killing of 26 missionaries in 1596 by the Shogun of the time. Portuguese and later Dutch and British traders have also had a long history in Nagasaki.
Included Expeditions
Today you will use the local street cars to transport us to the Nagasaki Peace Park and Ground Zero and also to Dejima, a designated Japanese history site. During Japan's self-imposed period of isolation, Dejima was created as a man made island to "contain" Portuguese traders in 1634. From 1641 to 1851 it became a Dutch trading base up until the point it was integrated into the rest of the city as the isolationist period came to an end. Also visit Glover Garden, the one time home of Thomas Glover, a Scottish business man who helped to establish ship building and other industries in Nagasaki, and to the Ouru Catholic Church of the 26 Martyrs. A complimentary shuttle into the city area will also be available today. Please note, Orion II guests will be split into different groups to participate in the included activities at different times throughout the day.
Optional Shoreside Expedition
UNZEN PARK & SHIMABARA EXPLORER
Orion II guests will drive inland from Nagasaki through the mountains to Unzen National Park, stopping along the way at a roadside "station" famous for Castella Portuguese sponge cakes, introduced by the first European contact. The Unzen National Park has numerous walking trails through the hot spring areas. Further on you will reach Shimabara and its castle dating back to the 1600's. The Samurai residences of Shimabara, which will also be visited, have waterways filled with colourful Koi Carp.
This tour includes a Japanese lunch at a local hotel. English speaking guides will accompany the tour. Please note this tour will preclude you from undertaking the inclusive experiences today.
Price: $225 per person including lunch
Duration: Full Day
Okinawa, Ryukyu Islands – Dry landing
Latitude: 26°21′″N
Longitude: 127°49′E
Today you will berth in Naha, the main port for Okinawa, the largest island in the Ryukyu Island chain. The Ryukyu Islands stretch from Kyushu, down to the South West to within 120 kilometres off Taiwan. The Ryukyus formed part of an independent kingdom through until the 14th century when they came under the control of China's Ming Dynasty. By the 17th-century, Japanese samurai invaded the islands under the leadership of the feudal lord of the Japanese province of Satsuma, finding little resistance from within the Ryukyus. A unique system of paying tribute to both the Japanese and Chinese Emperors then existed until the 19th century, when the Japanese Meiji Government fully annexed the Ryukyus, terminating ties with China and forcibly relocating the Ryukyu King to Tokyo.
Okinawa, the largest of the Ryukyu Islands, was the site of significant ground warfare during the Battle of Okinawa during World War II. American troops fought a long and bloody battle to capture Okinawa, so it could next be used as the major stepping stone for the planned invasion of Japan. The 82-day-long battle saw losses of over 100,000 Japanese troops and over 12,000 US troops. Significantly, somewhere between 42,000 and 150,000 Okinawan civilians – approximately one quarter of the civilian population – were also killed. Okinawa remained under direct US military control from the end of the war right up until 1972. Several significant US military bases remain on Okinawa today, the future of which is subject to significant debate today between the US and Japanese governments.
A shuttle will be available to the main town area of Naha today for independent exploration and shopping or you can join the included expedition that will explore several areas of interest in the region.
Included Expeditions
Today Orion II guests are invited to visit the former Japanese Imperial Navy HQ on Okinawa, and traverse the underground tunnel system linking the command bunkers that controlled the Japanese forces during the Battle of Okinawa. As the US forces overcame the Japanese resistance, the Japanese commanders ended their own lives by detonating a grenade within their control room in the bunker. The nearby peace memorial with its eternal flame are a reminder of all those who lost their lives in the battle and of the overall futility of war. The significant Shuri Castle had many links to the unique system of paying tribute to both the Japanese and Chinese emperors. The colour alone, being red, is in contrast to the traditional Japanese Vermillion colour, red being much more closely associated to the Chinese kingdoms. Local guides will escort us through the fascinating passageways and grand rooms of the castle.
finish your exploration of the area today with a walk through the Gangala Valley. A well-formed path takes us through a semi-collapsed cave system, surrounded by forests featuring giant Banyan trees. Within the valley is the site of a pre-historic settlement estimated to date some 18,000 years back. Excavations still continue here. Human skeletal remains and tools uncovered on the site to date are thought to be from the oldest inhabitants of Okinawa, which may also potentially be some of the oldest in all Asia. Some researchers argue that these remains come from ancestors of the people of Japan in the Jomon period (14,000 to 4,000 BCE).
Cruise Line
Orion


Founded in early 2004, Orion Expedition Cruises has developed voyages to encourage guests to become a part of the region they are discovering.
Orion is a purpose built vessel designed to access the inaccessible, all in 5-star luxury. The ship combines the best and the latest in design with maritime and environmental technology, comfort and casual elegance. From the ice-strengthened hull to the chilled champagne and superb cuisine, this is expedition cruising at its finest.
Described as the latest in the quest to build the perfect expedition vessel *, all Orion's staterooms feature ocean views and offer internet access, flat-screen TV, DVD/CD, a choice of twin and queen sized beds, a sitting area and marble bathrooms. Other on board amenities include a health spa with gymnasium, sauna, sun deck Jacuzzi and a stern marina platform.
Orion offers a range of included and optional Shoreside Expeditions designed to enhance the destination exploration for their guests. From Camel Safaris in Broome to snorkelling over pristine coral formations, there are many unique opportunities for guests to visit areas of Australia that even most Australians don't get to see. As part of their commitment to offering guests an enriching experience, on board speakers have been selected for their knowledge and expertise on the regions they visit. Guests are invited to attend presentations in the 90 seat Lecture Theatre.
Their innovative expeditions are year-round and vary with the seasons:
Summer (December to February) Antarctica and New Zealand and sub-Antarctic Islands.
Autumn (March, April) in remote and unspoilt parts of the Papua New Guinea and Melanesia.
Winter (April to September) in the Kimberley
Spring (October, November) in the wild jungles of Borneo
They would be delighted to have you join them on a voyage to some of the most wonderful but rarely seen places on earth.
Founded: 2003
2012/13 Fleet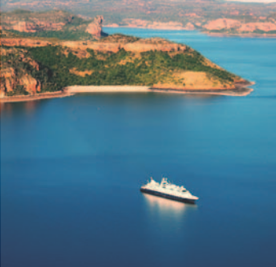 Demographic
Spirit of adventure
Travellers rather than tourists
May not necessarily classify themselves as 'cruisers'
Well travelled and are looking for something different
Enjoy their creature comforts
Recognise the value in unique and intimate itineraries
Language & Onboard Currency
Language: English
Currency: AU$
Destinations
The Kimberley, Borneo, Papua New Guinea, Antarctica, New Zealand, Sub-Antarctic Islands
Accommodation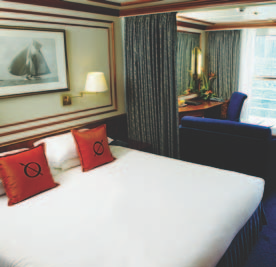 All 50 suites and staterooms with ocean views and room to relax during the day
Choice of either queen- or twin-bed sleeping arrangements
Well appointed marble bathrooms
Conveniences such as ample storage space, complimentary 24-hour room service, a flat-screen TV, DVD/CD player, internet connectivity, a personal safe, hair dryer and a mini-refrigerator
Dining & Beverages
Dining at any time is an unhurried experience with a single sitting free of fixed table assignments
Option to enjoy dinner in the restaurant or to dine alfresco, under the stars
Buffet breakfast or lunch at Outdoor Café
Selection of Australian, New Zealand and European wines: vintages from exceptional lesser-known wineries complement a range of familiar labels
Entertainment
A range of light entertainment
Musical duo in the lounge after dinner playing a selection of music ideally suited to conversation over a cognac or dancing
Ship Facilities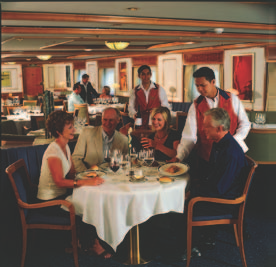 Library, spa, hair and beauty salon, boutique, gymnasium, outdoor café, restaurant, lounge
10 passenger Zodiacs and marina platform
Dedicated lecture theatre and sauna
Cruise Price Inclusions
Accommodation
All meals
Entertainment
Educational programs
Port taxes
Gratuities
24-hour room service
Use of ship's sporting equipment and facilities
Guest Loyalty Program
Past guests receive an additional 5% savings
Recent Awards
Orion are proud to have been named Best Responsible Cruise Operator at the internationally acclaimed 2010 Virgin Holidays Responsible Tourism Awards which took place as part of World Travel Market in London on Wednesday 10th November (World Responsible Tourism Day).
Thousands of tourism organisations and travel experiences were nominated by the public in just 13 categories with the central tenet being that all types of tourism – from niche to mainstream – can and should be operated in a way that respects and benefits destinations and local people. These prestigious awards recognise individuals, companies and organisations in the travel industry that are making a significant commitment to the culture and economies of local communities and are providing a positive contribution to biodiversity conservation.
Past Awards
ISLANDS
Recognised for Leadership
in Responsible Tourism

Best Cruise/Sailing
Experience

Best Adventure
Tourism 2009

Best Cruise Line 2009

Best Small Ship
2005 – 2009

Best Adventure Tourism
2005 – 2009

Best Cuisine
2006, 2007 & 2009

Best Cruise Line
2010