Offer Expired
Waiting for Cruiseline update
Contact us for current specials
---
Due to the travel ban, all pricing info on this site is NOT updated. Use them as reference only.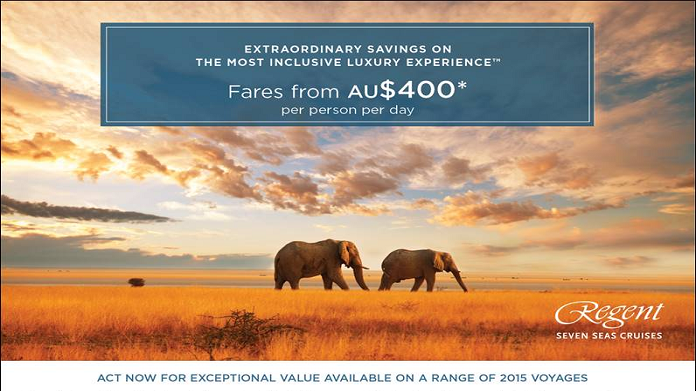 You could be sailing the crystalline waters of the Mediterranean, celebrating the holiday season in South America, exploring exotic South Africa or discover the intriguing Middle East. If you are still deciding on your 2015 travel plans act fast with limited time only, savings are available on a range of destinations. With fares from just AU $400 per person, per day including FREE unlimited shore excursions, FREE unlimited shore excursions, FREE unlimited alcoholic and non-alcoholic beverages, FREE pre-paid gratuities aboard all-suite, all-balcony ship there is no better time to sail aboard Regent Seven Seas Cruises.
2859
Ocean
08 Oct 15
Africa, Asia, Europe, Middle East, South America
30 Sep 15
Regent Seven Seas Cruises
Cruise Only


Important Terms
* Rates quoted are in Australian dollars.
Prices shown are fully inclusive of taxes unless otherwise stated.
Advertised price includes any bonus nights, special offers or discounts listed in the inclusions.
Surcharges may apply due to demand, Christmas & New Year's Eve, school or public holidays, trade shows, special events & other unforeseen circumstances.
Prices may be based on Dynamic Rates and as such, may fluctuate at anytime without notice, due to matters outside our control, such as adverse currency fluctuations, fuel surcharges, taxes and airfare increases, or at the property's discretion.
Cruise Line
Regent Seven Seas Cruises

Regent Seven Seas Cruises is the only truly all-inclusive luxury cruise line. Travel with the security and comfort of The World's Most Luxurious Fleet™, enjoying the freedom that comes with our Unrivalled Space at Sea™.
Taking care of every detail so that you can fully experience and enjoy every moment is at the heart of our all-inclusiveness. Discover how everything from the exquisitely prepared cuisine to the included, unlimited shore excursions will create a truly unforgettable journey.
Standing upon the deck of a luxury cruise ship the fresh, sea air enlivens the spirit. Beckoning guests ashore are the hidden wonders of far-flung regions and favourite ports of call, waiting to be discovered.
Wake up each morning in a spacious suite to a new perspective from your private balcony. Enlighten your day with new insights from knowledgeable, onboard speakers and local guides as you tour, taste and savour the many marvellous destinations. Recall the day's adventures with good friends and exquisite food at our specialty cruise restaurants, then dance or delight in the rhythm of the evening's onboard entertainment before settling into your private oasis at sea.
With every luxury included, we've elevated all-inclusive travel, inviting you to take hold of every moment and make life-long memories to share with friends and family for years to come. Make your voyage your own with custom enhancements and allow our incredible crew to take care of every detail on an all-inclusive cruise that truly is An Unrivalled Experience®.
With headquarters in Miami, Regent Seven Seas Cruises® is owned by Norwegian Cruise Line Holdings Ltd., a diversified cruise operator of leading global cruise lines Norwegian Cruise Line, Oceania Cruises and Regent Seven Seas Cruises®.
Regent's Current Cruise Offers:
Travel close-to home and SAVE on these five sailings to Asia Pacific, onboard Seven Seas Explorer*
Enjoy a FREE 2-Category Suite Upgrade and a reduced 7.5% deposit — plus up to 40% off select sailings — when you Upgrade Your Horizon with Regent Seven Seas Cruises.* For A Limited Time Only.
Hurry! Don't Miss Out! Call us for availability on 1300 308 081