Offer Expired
Waiting for Cruiseline update
Contact us for current specials

Due to the travel ban, all pricing info on this site is NOT updated. Use them as reference only.
11967
Ocean
01 Jan 00
Europe
05 Sep 13
Sea Cloud River
Cruise Only


Board the River Cloud II on the Danube River Golf Cruise and effortlessly explore the golf and travel highlights of Austria, Germany, Hungary and the Czech Republic on one of Europe's legendary rivers, rich in history, architecture, and scenery.
Important Terms
* Rates quoted are in Australian dollars.
Rates are in AUD/USD
Prices are per person, based on twin share, inclusive of port charges, taxes, and all discounts unless otherwise stated.
Single occupancy and 3rd guest rates are available upon request.
Prices shown are fully inclusive of taxes unless otherwise stated.
Advertised price includes any bonus nights, special offers or discounts listed in the inclusions.
Surcharges may apply due to demand, Christmas & New Year's Eve, school or public holidays, trade shows, special events & other unforeseen circumstances.
Prices may be based on Dynamic Rates and as such, may fluctuate at anytime without notice, due to matters outside our control, such as adverse currency fluctuations, fuel surcharges, taxes and airfare increases, or at the property's discretion.
Itinerary
Brief Itinerary
SALZBURG September 5–7
Your journey begins in Salzburg, among the most beautiful cities in Europe. Your accommodations at the five-star Hotel Sacher offer easy access to Salzburg's Old Town, the birthplace of Mozart. Golf takes us to Salzburg's lake region for a round beneath the white-faced Dragon Wall Mountain, while tours explore the area's breathtaking scenery and charming towns made famous by "The Sound of Music."
VIENNA September 10–11
One of Europe's cultural epicenters, Vienna conjures visions of royalty, the tastes of chocolate and fine wine, and the sounds of Mozart and Strauss. Vienna also offers golf gems such as Fontana Golf Club, former home of the Austrian Open.
PRAGUE Extension Tour September 14–17
Prague's cultural highlights, including St. Vitus Cathedral, the Old Town Square and Astronomical Clock, the Charles Bridge, and Hradcany Castle, will delight Extension Tour participants. Golfers enjoy a round at Karlštejn Golf Club, located in the Czech countryside, overlooking a famous castle.
Full Itinerary
September 4/5: Salzburg, Austria

Depart your home city on September 4 for an overnight flight to Salzburg, birthplace of Mozart. Upon arrival, you are greeted and transferred to the five-star Hotel Sacher. Conveniently located in the heart of Salzburg, the hotel has beautiful views of the Old Town, a UNESCO World Heritage Site. The afternoon is at your leisure until you gather for a welcome reception this evening.

Salzburg
September 6: Salzburg, Austria
Golf: Golfclub Am Mondsee
Located just outside of Salzburg, Mondsee sits below the white-faced Dragon Wall Mountain and along the shores of Lake Drachensee, one of 70 lakes in the area. Water is a prominent design feature of the course and Mondsee's final four holes are a stern test of both skill and nerve.
Tour: Mondsee & The Lake District
Austria's famous lake district, called the Salzkammergut, has been known for its salt mines as well as being a summer resort for royalty, intellectuals and the bourgeoisie. The tour takes you through breathtaking scenery with majestic mountains, crystal blue lakes and charming towns. Visit the church in Mondsee, which was the scene for the wedding in "The Sound of Music," before continuing on to St. Gilgen for lunch.
September 7: Pass au, Germany
Today all passengers explore lovely Salzburg, a designated World Heritage Site. Local guides will lead you in small groups to the treasures of this city including the Old Town, Mozart's birthplace, Festival Hall, Market Square, St. Peters District, the cathedral and Residenz Square. Afterward, depart for Passau to board River Cloud II and enjoy a welcome dinner on the glorious host vessel.

Brunnwies Golf Course
September 8: Pass au, Germany

Golf: Brunnwies Golf Course
The peaceful hills and farmland of Bavaria provide an ideal setting for golf. Designed by Bernhard Langer, Brunnwies is one of six golf courses that comprise the Hartl Golf Resort. The setting exudes charm with endless views of the forests and farmlands of Lower Bavaria, as well as a farm-style clubhouse that serves a beer once brewed by monks from nearby Aldersbach Monastery.
Tour: Passau
Touring passengers explore the town of Passau, once referred to as the "Venice of Bavaria." It is filled with fine examples of Baroque, Rococo and Neo-Classical architecture like the 15th century St. Stephen's.
September 9: Melk-Dürnstein, Austria
Golfers take a well-deserved rest today as River Cloud II cruises through the Wachau Valley, one of the most beautiful and historic parts of Austria. Stop at Melk and tour the famous Abbey. Built in 1089, the Abbey is located on a cliff overlooking the Danube and is still used today by Benedictine monks. Later you will visit Dürnstein—one of the most picturesque towns along the Danube—set at the foot of the castle where Richard the Lionhearted was imprisoned.
September 10: Vienna, Austria
Golf: Colony Club Gutenhof
Located just south of Vienna is Austria's first 36-hole golf club—Colony Club Gutenhof, which has hosted both the European Tour's Austrian Open and the Austrian Women's Open. Its two parkland courses are set among century-old forests and winding streams. Golfers will have to accurately negotiate numerous water hazards and well-placed bunkers to score well at Gutenhof.
Tour: Spanish Riding School
Attend a rehearsal of the Spanish Riding School, home to the only institution in the world to have practiced the Renaissance tradition of Lipizzan horse riding. See the Hofburg complex, the glory of the Habsburg Empire and continue to the 12th century St. Stephen's Cathedral, Vienna's most recognized landmark. This evening a private concert is planned to allow you to sample the music of some of Austria's most notable composers.
Schönbrunn Palace
September 11: Vienna, Austria
Golf: Fonta na Golf Club
After opening in 1997, Fontana Golf Club quickly established itself as one of, if not the, best golf courses in Austria. Designed by course architect Doug Carrick, Fontana hosted the Austrian Open for a number of years. The bent grass greens and fairways are superbly maintained, adding to the enjoyment of playing this fine course—as do the tasty bratwursts offered at the halfway house.
Tour: Schönbrunn Palace
Today's tour visits Schönbrunn Palace, residence of the Habsburg emperors from the 18th century until 1918. Here, the 6- year-old Mozart played for Empress Maria Theresa in the Palace's Hall of Mirrors. You have time this afternoon for individual exploration of this romantic city.
September 12: Budapest, Hungary
Tour: Budapest
River Cloud II docks in the heart of Budapest—often referred to as the "Paris of the East." All passengers get a day devoted to exploring Budapest, with visits to the Opera House, Parliament, Heroes Square, City Market and the Castle Hill District.
September 13: Budapest, Hungary
Golf: Pannonia Golf & Country Club
Travel into the Hungarian countryside to Pannonia Golf & Country Club, located on a site that was a country home for the Habsburgs over 180 years ago. Nestled in the beautiful Máriavölgy Valley, this course, designed by Doug Carrick, features generous fairways, deep bunkers and imaginatively shaped greens.
Tour: Szentendre
This tour visits the town of Szentendre, located in the middle of the Danube Bend. This charming town with dozens of small galleries and cafés is home to a Hungarian artist colony.
September 14: Budapest, Hungary

Bid farewell to the captain and his crew as you begin transfers this morning for homebound flights or you may continue onto the Prague Extension Tour.
Cruise Line
Sea Cloud River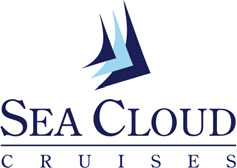 Small and perfectly formed, elegant and exclusive – there are many river boats, but there is only one river yacht – River Cloud II. Together with a maximum of 88 other guests, you can enjoy the peaceful tranquility of the journey and the cosmopolitan atmosphere onboard in 5-star comfort.
River Cloud II sails with Mediterranean charm along the European waterways of Belgium and The Netherlands; along the Rhine, Moselle, Main and Danube rivers.
2013 Fleet
River Cloud II – max 88 pax
New for 2013
All cruises will be joined by artists and experts to explain the unique features of the route and provide an insight into a specific period of history or offer a completely new perspective on the journey – be it maritime themes, music, art, culture or cuisine
Two very special events taking place in the 2013: 200-year anniversary of the birth of Richard Wagner and the biggest art convention in the world, "Art Basel".
Combination discount of 10 % on the second cruise while booking two cruises
Single cabins with no surcharge
Accommodation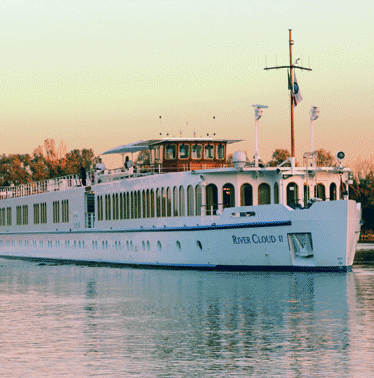 All outside cabins
3 cabins categories
Dining & Beverages
Six meals per day
Wine & beer with lunch and dinner
All soft drinks; tea and coffee
Inclusions
All meals included
Welcome champagne in the cabin
Fruit basket in cabin replenished daily
Internet
Premium travel documents with detailed destination information
All port fees
English-speaking tour guides
Mineral water on all excursions
Bikes