Savings up to US$2,000 per stateroom
Specials

from

US$3,535 (~

AUD$5,472 *

)
Offer Expired
Waiting for Cruiseline update
Contact us for current specials

Due to the travel ban, all pricing info on this site is NOT updated. Use them as reference only.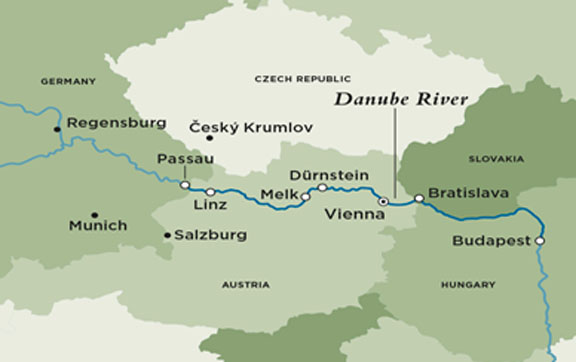 From the World's Most Awarded Luxury Cruise Line comes a new standard of luxury the 154 guest Crystal Mozart to explore the Danube River in extraordinary style, with butler service for every suite, superb Michelin star-level cuisine, and an unrivalled selection of all-inclusive luxuries and privileges. The engaging experience on board continues ashore with expertly curated complimentary excursions allowing for unprecedented access and uniquely authentic local experiences.
Highlights
Cruise Fare Savings up to US$400 per person, or

Onboard Spending Credits up to US$600 per person
Important Terms
* This product is priced in USD (USD), AUD rates can fluctuate depending on exchange rates, final rates in AUD will be confirmed by your consultant at time of booking.
New bookings only made between 02Nov16 and 30Dec16.

Crystal Clear Choice Offer applies to the first two guests in booking only (third berth not

eligible) and requires each guest to choose his/her choice of credit to apply to the booking.
Prices shown are fully inclusive of taxes unless otherwise stated.
Advertised price includes any bonus nights, special offers or discounts listed in the inclusions.
Surcharges may apply due to demand, Christmas & New Year's Eve, school or public holidays, trade shows, special events & other unforeseen circumstances.
Prices may be based on Dynamic Rates and as such, may fluctuate at anytime without notice, due to matters outside our control, such as adverse currency fluctuations, fuel surcharges, taxes and airfare increases, or at the property's discretion.
Itinerary
Treasures of the Danube (Round-Trip Vienna)
Departures from: 02Apr17 through 13Nov17 – 10 Days
Date
Port
Arrival
Departure

02Apr17, Sunday

Vienna, Austria (overnight) »
 
Embark pm

03Apr17, Monday

Vienna, Austria »
 
12 m

04Apr17, Tuesday

Entry into scenic Wachau Valley  »

04Apr17, Tuesday

Dürnstein, Austria »
9 am
12 n

04Apr17, Tuesday

Crossing the scenic Wachau Valley  »

04Apr17, Tuesday

Melk, Austria »
3 pm
7 pm

05Apr17, Wednesday

Linz, Austria »
8 am
10 pm

06Apr17, Thursday

Passau, Germany (overnight) »
8 am
 

07Apr17, Friday

Passau, Germany »
 
2 pm

07Apr17, Friday –
08Apr17, Saturday

Danube Scenic Cruising  »

08Apr17, Saturday

Bratislava, Slovakia »
1 pm
9 pm

09Apr17, Sunday

Scenic cruising into Budapest  »

09Apr17, Sunday

Budapest, Hungary (overnight) »
9 am
 

10Apr17, Monday

Budapest, Hungary »
 
2 pm

10Apr17, Monday

Scenic cruising from Budapest  »

10Apr17, Monday –
11Apr17, Tuesday

Danube Scenic Cruising  »

11Apr17, Tuesday

Vienna, Austria (overnight) »
2 pm
 

12Apr17, Wednesday

Vienna, Austria »
Disembark am
 
* Ports of call may vary based on itinerary and departure dates selected
Ship Info
Crystal Mozart
Crystal Mozart is named after the famous Austrian composer Wolfgang Amadeus Mozart and cruises on the Danube River, which passes Austria along with Germany, Slovakia, Hungry and Serbia.
She holds the record of being the largest river cruise vessel on European rivers, measuring 75.1 feet wide (22.9 meters), which is double the width of an average industry river boat.
DINING OPTIONS
Palm Court

Reminiscent of the Palm Court on Crystal Symphony, the venue will be a main hub for dancing and live local entertainment, as well as casual cocktails and tea.
Crystal Mozart Bistro

A favorite spot aboard Crystal's ocean vessels for freshly baked pastries, fruit and snacks, plus coffee, espresso and tea, Crystal Mozart's bistro will serve light bites throughout the day.
The Cove

A Betzenderfer Grand Piano takes center stage in this intimate spot ideal for cocktails and conversation.

Waterside

The main dining room with an indoor/outdoor setting, which will serve elaborate breakfast and lunch buffets, similar to Crystal Esprit's Yacht Club, followed by upscale evening dinner service.

Ship facts
Total berths: 154 (Note: Third berths available on request.)
Total guest suites: 79 (77 on sale)

CS (2)  Two-Bedroom (connecting rooms) Crystal Suite with French Balcony
PH (12) Penthouse with French Balcony
S1 (21) Spacious Suite with French Balcony
S2 (1) Spacious Suite with French Balcony
W1 (35) Spacious Suite with Fixed Picture Window
W2 (6)  Spacious Suite with Fixed Picture Window

Length: 120.44 meters/395 feet
Width: 22.85 meters/75 feet
Crew:  92
Cruise Line
Crystal Ocean Cruises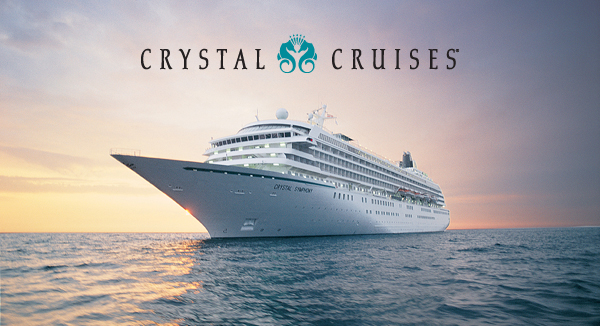 About Crystal Cruises
Six-Star Commitment – From the moment you step on board, you will experience Crystal Cruises' dedication to making your cruise a perfect one. Six-Star Commitment means each instant must be memorable. Think of the farthest corners of the world connected by a smooth and shining sea. Imagine that a floating luxury resort, filled with everything you ever could desire, is waiting to carry you on the journey of your dreams. At Crystal Cruises, they take pride in navigating that magical highway of the sea, transporting you to the best the world has to offer. Your days and nights on a Crystal cruise are effortless and carefree. You will revel in a wealth of time, a luxurious sense of leisure and ease; your hours are your own, to spend as you see fit. Released from the pressure of schedules and routines, you are free to play, to rest, to mingle and relax – to allow for the luxury of serendipity.
Like the open sea, each day is limitless. You can chart a course, then change it at your whim. Let possibility fill the sails of your imagination and see what magic might appear. Crystal Cruises gives you space to stretch out and explore. There are broad, sunny decks to stroll and inviting corners to settle into. There are cozy nooks where you can be alone. You can join a spellbound audience at an exciting Broadway-style show or get together with a few new friends over a frothy cappuccino. Your stateroom is a comforting place to call your own, where you can snuggle in and dream. With skilled and practiced sleight-of-hand, chefs prepare the finest cuisine from around the world. Guests may begin a cruise alone, but within days they find themselves greeting new-found friends. There is a spirit of cheerfulness and good humour to be found wherever you are on the ship. Guests say that's the real magic of a Crystal cruise. There's no mystery to it; it's simply a commitment to heartfelt service that creates an atmosphere of enchantment, every day.
Crystal Cruises Awarded World's Best Large-Ship Cruise Line for 18th Year Running
Crystal Cruises has again been selected as the World's Best Large-Ship Cruise Line in the annual Travel + Leisure's "World's Best Awards" readers' survey. This win marks Crystal's 18th consecutive year on top of the readers survey awards and their quality only seems to be getting better. The ultra-luxury vacation company is the only cruise line, hotel, or resort to win its category every year since the awards began. Crystal's winning score for 2013 reflects thousands of jet-setting readers' ratings across six areas: service, itineraries/destinations, activities, accommodations, food, and value. Crystal Cruise was also recognized in the survey for offering the World's Best Service (Large-Ship).