Offer Expired
Waiting for Cruiseline update
Contact us for current specials

Due to the travel ban, all pricing info on this site is NOT updated. Use them as reference only.
10838
Ocean
01 Jan 00
Asia
01 Jan 70
11Jan70
10 nights
Orion
Cruise Only


This exciting itinerary will have the highlights of Tana Toraja, 'Land of the Heavenly Kings'. Discover the ancient cultures, amazing wildlife and temples of South East Asia like no other. Departs 29Sep13 with fares starting from $8,425 per person.
Important Terms
* Rates quoted are in Australian dollars.
Prices shown are fully inclusive of taxes unless otherwise stated.
Advertised price includes any bonus nights, special offers or discounts listed in the inclusions.
Surcharges may apply due to demand, Christmas & New Year's Eve, school or public holidays, trade shows, special events & other unforeseen circumstances.
Prices may be based on Dynamic Rates and as such, may fluctuate at anytime without notice, due to matters outside our control, such as adverse currency fluctuations, fuel surcharges, taxes and airfare increases, or at the property's discretion.
Itinerary
You will visit the legendary Borobudur, the long-lost 9th century Mahayana Buddhist temple of Central Java. Abandoned sometime in the 14th century the temple was rediscovered from the overgrown jungle in 1814 and is now listed by UNESCO as a World Heritage site. Be amazed at Tanjung Puting, one of the natural wonders of the world, home of Camp Leakey and the famous Orang-Utan Foundation International that affords Orion's guests the rare opportunity to get close to orang-utans – a wildlife experience like no other! Later you'll experience the majestic panoramas, captivating villages and dramatic ceremonies of Tana Toraja with its unique culture, and gentle people.
Itinerary Highlights:
Tana Toraja, known as the 'Land of the Heavenly Kings' with is unique culture.
The orang-utans of the world famous Camp Leakey.
A day trip to the extraordinary lost temple of Borobudur in Central Java.
Full Itinerary
| | |
| --- | --- |
| Day: | Port: |
| 1 | Bali |
| 2 | At Sea |
| 3 | Semarang (for Jogjakarta & Borobudur) |
| 4 | At Sea |
| 5 | Tanjung Puting National Park, Kalimantan (for Camp Leakey) (overnight onboard) |
| 6 | Tanjung Puting National Park, Kalimantan (for Camp Leakey) (overnight onboard) |
| 7 | At Sea |
| 8 | Pare Pare, Sulawesi (for overnight land trip to Tana Toraja) |
| 9 | Pare Pare, Sulawesi |
| 10 | At Sea |
| 11 | Bali |
Cruise Line
Orion


Founded in early 2004, Orion Expedition Cruises has developed voyages to encourage guests to become a part of the region they are discovering.
Orion is a purpose built vessel designed to access the inaccessible, all in 5-star luxury. The ship combines the best and the latest in design with maritime and environmental technology, comfort and casual elegance. From the ice-strengthened hull to the chilled champagne and superb cuisine, this is expedition cruising at its finest.
Described as the latest in the quest to build the perfect expedition vessel *, all Orion's staterooms feature ocean views and offer internet access, flat-screen TV, DVD/CD, a choice of twin and queen sized beds, a sitting area and marble bathrooms. Other on board amenities include a health spa with gymnasium, sauna, sun deck Jacuzzi and a stern marina platform.
Orion offers a range of included and optional Shoreside Expeditions designed to enhance the destination exploration for their guests. From Camel Safaris in Broome to snorkelling over pristine coral formations, there are many unique opportunities for guests to visit areas of Australia that even most Australians don't get to see. As part of their commitment to offering guests an enriching experience, on board speakers have been selected for their knowledge and expertise on the regions they visit. Guests are invited to attend presentations in the 90 seat Lecture Theatre.
Their innovative expeditions are year-round and vary with the seasons:
Summer (December to February) Antarctica and New Zealand and sub-Antarctic Islands.
Autumn (March, April) in remote and unspoilt parts of the Papua New Guinea and Melanesia.
Winter (April to September) in the Kimberley
Spring (October, November) in the wild jungles of Borneo
They would be delighted to have you join them on a voyage to some of the most wonderful but rarely seen places on earth.
Founded: 2003
2012/13 Fleet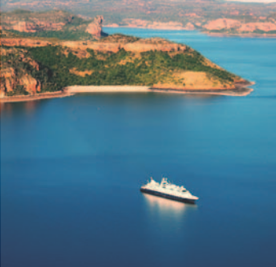 Demographic
Spirit of adventure
Travellers rather than tourists
May not necessarily classify themselves as 'cruisers'
Well travelled and are looking for something different
Enjoy their creature comforts
Recognise the value in unique and intimate itineraries
Language & Onboard Currency
Language: English
Currency: AU$
Destinations
The Kimberley, Borneo, Papua New Guinea, Antarctica, New Zealand, Sub-Antarctic Islands
Accommodation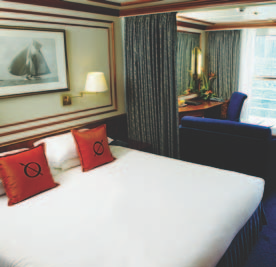 All 50 suites and staterooms with ocean views and room to relax during the day
Choice of either queen- or twin-bed sleeping arrangements
Well appointed marble bathrooms
Conveniences such as ample storage space, complimentary 24-hour room service, a flat-screen TV, DVD/CD player, internet connectivity, a personal safe, hair dryer and a mini-refrigerator
Dining & Beverages
Dining at any time is an unhurried experience with a single sitting free of fixed table assignments
Option to enjoy dinner in the restaurant or to dine alfresco, under the stars
Buffet breakfast or lunch at Outdoor Café
Selection of Australian, New Zealand and European wines: vintages from exceptional lesser-known wineries complement a range of familiar labels
Entertainment
A range of light entertainment
Musical duo in the lounge after dinner playing a selection of music ideally suited to conversation over a cognac or dancing
Ship Facilities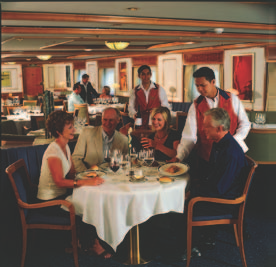 Library, spa, hair and beauty salon, boutique, gymnasium, outdoor café, restaurant, lounge
10 passenger Zodiacs and marina platform
Dedicated lecture theatre and sauna
Cruise Price Inclusions
Accommodation
All meals
Entertainment
Educational programs
Port taxes
Gratuities
24-hour room service
Use of ship's sporting equipment and facilities
Guest Loyalty Program
Past guests receive an additional 5% savings
Recent Awards
Orion are proud to have been named Best Responsible Cruise Operator at the internationally acclaimed 2010 Virgin Holidays Responsible Tourism Awards which took place as part of World Travel Market in London on Wednesday 10th November (World Responsible Tourism Day).
Thousands of tourism organisations and travel experiences were nominated by the public in just 13 categories with the central tenet being that all types of tourism – from niche to mainstream – can and should be operated in a way that respects and benefits destinations and local people. These prestigious awards recognise individuals, companies and organisations in the travel industry that are making a significant commitment to the culture and economies of local communities and are providing a positive contribution to biodiversity conservation.
Past Awards
ISLANDS
Recognised for Leadership
in Responsible Tourism

Best Cruise/Sailing
Experience

Best Adventure
Tourism 2009

Best Cruise Line 2009

Best Small Ship
2005 – 2009

Best Adventure Tourism
2005 – 2009

Best Cuisine
2006, 2007 & 2009

Best Cruise Line
2010