from

US$3,290
(~

AUD$5,189 *

)
Offer Expired
Waiting for Cruiseline update
Contact us for current specials

Due to the travel ban, all pricing info on this site is NOT updated. Use them as reference only.
12039
Ocean
01 Jan 00
-
22 Mar 14
Paul Gauguin
Tere Moana
Cruise Only


Spend 7 nights cruise the stunning Caribbean Sea on your round trip to Maarten via the Virgin Islands all in comfit and luxury aboard Paul Gauguin's Tere Moana. This once in a life time Cruise departs 22Mar14 with fares starting from US$3,290
Important Terms
* This product is priced in USD (USD), AUD rates can fluctuate depending on exchange rates, final rates in AUD will be confirmed by your consultant at time of booking.
Rates are in AUD/USD
Prices are per person, based on twin share, inclusive of port charges, taxes, and all discounts unless otherwise stated.
Single occupancy and 3rd guest rates are available upon request.
Prices shown are fully inclusive of taxes unless otherwise stated.
Advertised price includes any bonus nights, special offers or discounts listed in the inclusions.
Surcharges may apply due to demand, Christmas & New Year's Eve, school or public holidays, trade shows, special events & other unforeseen circumstances.
Prices may be based on Dynamic Rates and as such, may fluctuate at anytime without notice, due to matters outside our control, such as adverse currency fluctuations, fuel surcharges, taxes and airfare increases, or at the property's discretion.
Itinerary
Day 1 Embark the m/v Tere Moana in Philipsburg, St. Maarten
The smallest island in the world to have been partitioned between two nations (France and the Netherlands), St. Martin/St. Maarten has prospered in peaceful coexistence for nearly 350 years. Embark the m/v Tere Moana on the Dutch side of the island, St. Maarten, then perhaps enjoy the fine beaches, multicultural restaurants, and duty-free shopping of Philipsburg, St. Maarten's lively pastel-hued captial. The ship sets sail late in the evening.
Day 2 Tortola, B.V.I.
The largest and by far the most populous of the British Virgin Islands, Tortola attracts visitors for its white-sand beaches framed by lush mountains and an azure sea. The ruins of an ancient fort and a restored sugar plantation are among the island's main attractions. Or simply enjoy the laidback ambiance of the capital city, Road Town, and take advantage the excellent diving and snorkeling here.
Day 3 Virgin Gorda, B.V.I.
A mix of African, Indian, and Spanish cultures distinguishes Virgin Gorda, whose jagged landscape rises sharply from a turquoise sea. Among the nature trails and nature reserves that showcase the island's spectacular beauty are the ruins of an abandoned 19th-century copper mine on Handsome Bay, now a national park. Or visit The Baths, where giant boulders strewn about by nature have created a patchwork of pools, beaches, and trails. As an exclusive Paul Gauguin Cruises extra, enjoy a festive picnic today on the island's Prickly Pear Beach.
Day 4 Jost Van Dyke, B.V.I.
Sometimes called the "Barefoot Island," Jost Van Dyke offers picture-postcard scenery and a relaxing, casual ambiance. You'll have a full day to wander the beach that serves as its main street or relax on the island's coral sands, considered among the loveliest beaches in the Caribbean. Ships wrecked on the coral reefs in days of old provide fascinating diving and snorkeling today. Back aboard this evening, perhaps you'll admire one of the spectacular sunsets for which Jost Van Dyke is renowned.
Day 5 Basseterre, St. Kitts & Nevis
One of the most beautiful Caribbean islands, St. Kitts is an unspoiled paradise where development is limited, world-famous for its stewardship of the local ecosystems of lava formations, tropical forests, and lagoons. Located on St. Kitts is the capital of the federation of St. Kitts and Nevis, Basseterre. During your full day here, you can explore Basseterre's two city centers—the Circus, a shopping destination modeled after London's Piccadilly Circus, and Independence Square, home to the cathedral and other local landmarks. If you prefer to stay close to the sea, shipwrecked vessels and virgin reefs here offer excellent snorkeling and diving. Or venture afield to Brimstone Hill Fortress National Park,one of the best-preserved fortifications in the Americas and a UNESCO World Heritage Site.
Day 6 Les Saintes, F.W.I.
Located just six miles south of Guadeloupe, this small archipelago of eight gorgeous tropical islands is a world apart with its serene, relaxing ambiance. In Terre-de-Haut, one of just two inhabited islands in the chain, enjoy exceptional snorkeling in the magnificent bay, or take in the view from above at Fort Napoleon. Watch fishermen at work wearing unusual hats found nowhere else. Or explore the village, with its interesting shops and art galleries.
Day 7 St. Barts, F.W.I.
Chic shops are a hallmark of this "Manhattan-sur-Mer" ("Manhattan on the Sea"), known for its duty-free shopping. Others include the island's balmy climate and brilliant blue skies, iguanas, and night-blooming cactus. Distinctly French in language, culture, and cuisine, St. Barts remains thoroughly independent in spirit. Enjoy excellent snorkeling and diving from the island's fabulous cove-style beaches. The Moana remains moored here late into the evening, so that you can also experience the island's vibrant nightlife.
Day 8 Disembark in Philipsburg, St. Maarten
Your Caribbean idyll ends where it began, in multicultural St. Maarten. Enjoy breakfast aboard before disembarking for your return flight home.
Ship Info
Tere Moana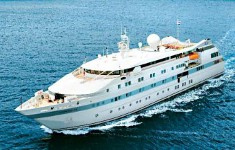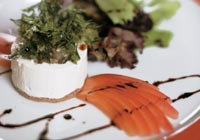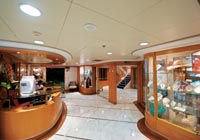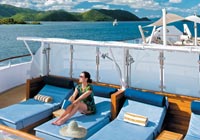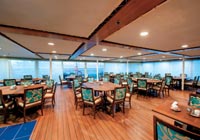 Tere Moana
MV Tere Moana is a sophisticated and intimate vessel accommodating 90 guests, this newly renovated vessel features spacious staterooms, two restaurants – L'Etoile and La Veranda and a spa among other attributes. Onboard you can enjoy the ultimate in personal service, with one crew member for every 1.5 guests.
Your Cabin
Onboard there are 45 spacious and well designed cabins with passenger accommodation arranged over three of the five decks. Private balconies have been added to eight of the ship's 45 staterooms, all of which have ocean views. Balcony Staterooms measure 298 square feet including the balcony. Window Staterooms in categories B and C are 194 square feet and feature a picture window. All staterooms feature an ocean view, temperature control, king-size bed (all have twin bed configuration), bathroom with full size shower and bath products, bathrobes and slippers, desk/vanity area with stool and 110V and 220V outlets, closet with draws, TV, CD/DVD player, complimentary in room movie channels, Bose sound docking station, direct dial satellite telephone, personal safe and refrigerator.
Your Space
The spacious and finely decorated public rooms are spread across all decks. On deck 6, the sun deck offers a chance to relax and unwind in the whirlpool, or just soak up the sun on a Balinese bed or a chaise lounge. The pool on deck 5 invites you to take a dip or perhaps relax in a comfortable deck chair with a good book. Early risers can enjoy a light breakfast at the Pool Bar. The fitness centre is also on deck 5 and is fully equipped with a wide range of equipment as is the Deep Nature Spa where an expert therapist offers an extensive menu of massage, skin care and facial treatments. On deck 4 there is a book and DVD library which is open 24 hours a day and La Veranda is where breakfast and lunch can be enjoyed in the sophisticated relaxed setting of the restaurant or al fresco (limited number of al fresco tables). On deck 3 you will find La Boutique which offers a selection of clothing items and duty free gifts from around the world. A limited selection of sundry items and other travel necessities is also available for purchase. There is also Le Salon, a comfortable area with inviting seating areas accented by illuminated Tahitian custom artwork and sparkling, crystal table lamps. After a day of exploration, it is the perfect place to enjoy cocktails, conviviality and live piano music. L'Etoile is the principal restaurant on board on deck 2 featuring contemporary cuisine.
Your Dining
Throughout your voyage, enjoy sumptuous meals prepared from fresh ingredients and inspired by the local cuisine of your destination. Complimentary wine is perfectly paired with dinner. You will enjoy the culinary delights of Jean-Pierre Vigato, Chef Proprietaire of the world renowned two Michelin starred Restaurant Apicius in Paris. His signature menu is featured at L'Etoile. The elegant main dining room, L'Etoile is open for dinner daily and has an open seating policy. Featuring perfectly appointed decor, crisp linens and an array of tempting specialties, expertly prepared. The principal restaurant on board, it features contemporary cuisine, various vegetarian dishes, local specialties representing the cruise destination, and any special dietary requests guests may have (with advance notice). Dinner is served a la carte, with various entree selections that change daily, including one featured menu item per day inspired by Chef Vigato. For lunch, dine a la carte, or enjoy the buffet, often featuring an international theme. Breakfast is also served buffet style. A limited menu for 24 hour room service is also available.
For your comfort, safety and security
The Medical Centre is designed to provide medical care for temporary illnesses and accidents. The ship's licensed and registered doctor is on 24 hour call for professional and emergency services, which are available at customary charges. The vessel fully complies with all national and international regulations with respect to safety at sea and is in compliance with SOLAS (convention of Safety Life at Sea). The MV Tere Moana has a state of the art stabilizer system that keeps rocking to a minimum.
Life Onboard
If large resort style vessels accommodating many thousands of passengers are your ideal, then the MV Tere Moana is not for you as you will not find endless entertainment, round the clock buffets and the people management which is so much a part of today's big ship onboard style. However, if you like us you prefer a more peaceful life at sea you will find this the ideal vessel. The atmosphere onboard is informal; a little live piano music in the lounge or bar after dinner, talks from our guest speaker and informative port briefings and of course good food, all contribute to make any voyage aboard this wonderful vessel a memorable and joyful experience. After a day ashore you will return to the comfort and peace of an exceedingly comfortable ship. The dress code is smart casual, jacket and tie are optional.
Cruise Line
Paul Gauguin


The Paul Gauguin Cruises Experience brings you the world's Best Luxury Tahiti, French Polynesia, Fiji and South Pacific Cruises
Paul Gauguin Cruises operates the award-winning luxury small-ship the
m/s Paul Gauguin, providing an exceptional cruise experience. Discover the difference of cruising with purpose and allow us to introduce you to authentic Polynesia.
Paul Gauguin Cruises is proud to offer an extraordinary value in luxury cruising, thanks to our all-inclusive pricing. Spend more time enjoying your cruise vacation and less time worrying about every little detail when it's all been taken care of—from gourmet dining to onboard gratuities, and so much more.
When you travel on board The Gauguin, you'll enjoy:
All shipboard meals, in your choice of venues
Complimentary 24-hour room service
Complimentary beverages, including select wines and spirits, beers, soft drinks, bottled water, and hot beverages
In-room refrigerator replenished daily with soft drinks, beer, and bottled water
All shipboard entertainment, including our troupe of Polynesian performers and live music in the evenings
Presentations by onboard experts, and select sailings feature guest hosts
Onboard gratuities for room stewards, dining and bar staff
Watersports, including complimentary kayaking and paddleboarding from our marina or destination beaches
Complimentary snorkel gear for use throughout the cruise
Use of our secluded, white-sand beach in Bora Bora where you can enjoy volleyball and snorkeling (on select voyages)
A day on our private islet, Motu Mahana, off the coast of Taha'a, featuring snorkeling, watersports, a barbecue, full bar service, and Polynesian hospitality (on select voyages)
Complimentary Wi-Fi throughout the ship
Travel aboard the longest-serving luxury cruise line in the South Seas and enjoy savings of up to 20% on a wide variety of all-inclusive, award-winning journeys of authentic discovery.