Offer Expired
Waiting for Cruiseline update
Contact us for current specials

Due to the travel ban, all pricing info on this site is NOT updated. Use them as reference only.
11840
Ocean
01 Jan 00
Australia & New Zealand
07 Jun 16
Holland America Line
Cruise Only


Cruise your way to Rugby World Cup 2011! Cruise ships will be used as floating hotels, and its all inclusive pricing is the most convenient and cost effective way to experience this amazing event!
Important Terms
* Rates quoted are in Australian dollars.
Prices shown are fully inclusive of taxes unless otherwise stated.
Advertised price includes any bonus nights, special offers or discounts listed in the inclusions.
Surcharges may apply due to demand, Christmas & New Year's Eve, school or public holidays, trade shows, special events & other unforeseen circumstances.
Prices may be based on Dynamic Rates and as such, may fluctuate at anytime without notice, due to matters outside our control, such as adverse currency fluctuations, fuel surcharges, taxes and airfare increases, or at the property's discretion.
Cruise Line
Holland America Line


Holland America Line has graceful mid-sized ships with a generous amount of personal space. Guests are treated to award-winning service, with nearly one crew member for every two guests. They can choose from quality dining options as diverse as the enrichment programs, and onboard activities that suit their every whim.
Founded: 1873
No. of Vessels: 15
Demographic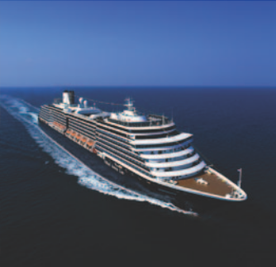 Premium customer – their mind set is not defined by age or income
Accommodation
Mid-sized ships purposefully designed to accommodate fewer guests, resulting in more space per guest than any other premium cruise line
Dining & Beverages
Delicious and innovative menus across a broad range of dining venues
Entertainment
Evening entertainment: live music, stage shows, diverse lounges and music
Ship Facilities
The Greenhouse Spa and Salon
Fitness centre, fitness classes
Two outdoor pools
Basketball and practice tennis or volleyball courts
Whirlpool, hot tub, sauna and steam room
Club Hal for ages 3 – 7 and ages 8 – 12
Cruise Price Inclusions
Accommodation
All meals
Entertainment
Port taxes & government fees
Room service