Return Rate from : $13,375
Swiss airlines to Europe
First Class Airfares
Image Credit : swiss-airlines-media-library
Airfare Details
Singapore Airlines/Swiss Air First Class to Europe Return rate from
| | | | |
| --- | --- | --- | --- |
| From/To: | Zurich | London | Paris |
| Sydney | $14,050 | $13,375 | $13,650 |
Minimum 7 days advance purchase.
Are these promotional fares available for any dates?
No. only on selective dates, usually outside peak travel seasons – school holidays, European summer, Easter, Christmas/New Year or major event periods.
Fly with Singapore Airlines or Qantas: Between Australia and Asia, in First Class
Fly with Swiss Airlines: Between Asia and Europe onwards return, First class to Zurich, and business class in Europe
Stopovers available in Asia and Zurich
ALL above fares are PER PERSON and INCLUDE all fuel surcharges and taxes. Rates are subject to high season surcharges, availability and changes without notice. Advertised rates are based on the lowest available fare and may differ at time of booking. All featured "from" prices are based on the lowest priced routing for the destination(s) listed. Taxes may increase if stopping over at a destination, returning from an alternative port or if not paid in full at time of booking. Other travel dates may be available at an additional cost. Please ask one of our Travel Specialists for full details, terms and conditions.
Book By
14-Feb-2023
Availability
Very limited seats available. Blackout period June/July 2023. Long layovers or overnight stopovers are required for the lowest fare.
Departure City

Sydney

Other departure cities may be available, please speak to one of our Travel Specialists for more information.

Arrival Cities

Zurich, London, Paris, Rome, Athens.

Other destinations in Europe may also be available, please ask one of our Travel Specialists for more information. Surcharges may apply.

Routing & Flight Duration
Australia - Singapore - Zurich - Europe return
Minimum/Maximum Stay
Max: 12 Months
Payment
Credit Cards, Direct Deposit, Cheque, Luxury Pay Later, Payment details »
Other

Fares subject to change anytime without notice.

Once your reservation is confirmed, full payment must be received within 3 days.

Fare is not guaranteed until your seats are booked, your ticket is paid in full and your ticket is issued.

Credit card fees apply.

Please ask one of our Travel Specialists for more information.

Visa Info
Visa Info


Click the link to check if you require a visa.

All travellers require a COVID vaccination certificate to travel along with a negative COVID test prior to travel.
Stopover
Singapore
Known as one of the cleanest and most expensive cities in the world, Singapore is home to a fascinating combination of old and new. With extraordinary gardens, great food, excellent shopping and impressive architecture visitors are sure to find plenty to keep them entertained.
Find out more about Singapore & its attractions
Singapore Stopover Accommodations
First & Business Class Info

Seating Maps
Dreamliner Aircraft Seat Map
spacer30
spacer30
Airbus A380-800 Seating Map
spacer30
spacer30
spacer30
Business Class
spacer30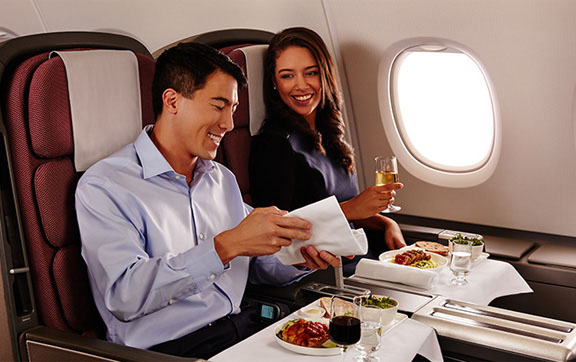 spacer30
For a superior way to fly from check-in to arrival. Qantas offer a Business Class section with a dedicated cabin, more space to relax and premium dining with the freshest seasonal ingredients. Your flight also includes lounge access and the attentive and friendly cabin crew ready to look after you. Business Class passengers enjoy priority check-in counters, dedicated boarding lane and disembarkation access. Enjoy refreshments and magazines in a private, onboard area on A380 services or enjoy our healthy snackbar on Dreamliner 787-9 services.
spacer30
Business Class Seating/ Flat Beds
spacer30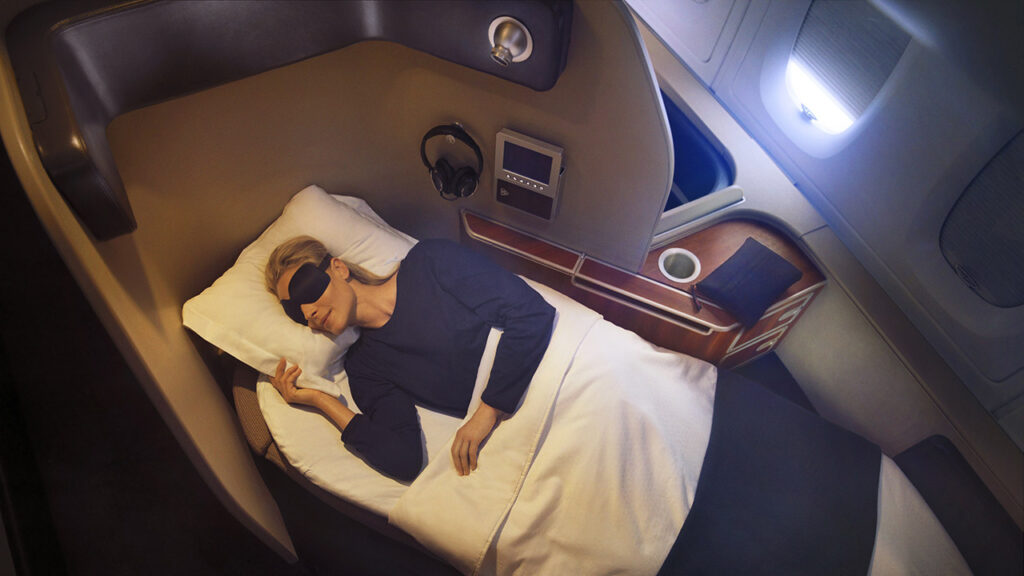 spacer30
The new Business Suites on all A330 and B787-9 aircraft combine functionality with privacy and ample space with every seat having direct access to the isle. Recline your seat from take-off through to landing maximising the opportunity to rest in your fully-flat bed.
spacer30
On the A380 Business travellers can enjoy the intelligent seating of the award-winning Skybed. With significant storage space and a variety of seat adjustments including an in-seat massage option! The Skybed converts into a two-metre, fully-flat bed.
spacer30
All seating options provide 100% cotton duvets and mattress plus a European style pillow for sleeping or a table for those who wish to continue working.
spacer30
spacer30
First Class Seating/ Flat Beds
spacer30
spacer30
Your expansive armchair has all your needs within easy reach with controls in your arm rest, in-seat massage, inflight entertainment, lighting, windows, shades and more. If you are travelling with a companion there is a comfortable leather ottoman to enable you to dine together.
spacer30
With a bedding down service, your suite is turned into a bedroom with Sheridan bedding and memory foam mattress. When fully flat your bed measures 212cm. With Martin Grant soft cotton sleepwear and slippers, as well as luxurious amenities also provided.
spacer30
Business Class Amenities
spacer30
spacer30
Business Class passengers receive his and hers signature Qantas pyjamas and stylish Qantas Curates amenity kits featuring ASPAR by Aurora skincare products on selected flights.
spacer30
Food & Beverage
spacer30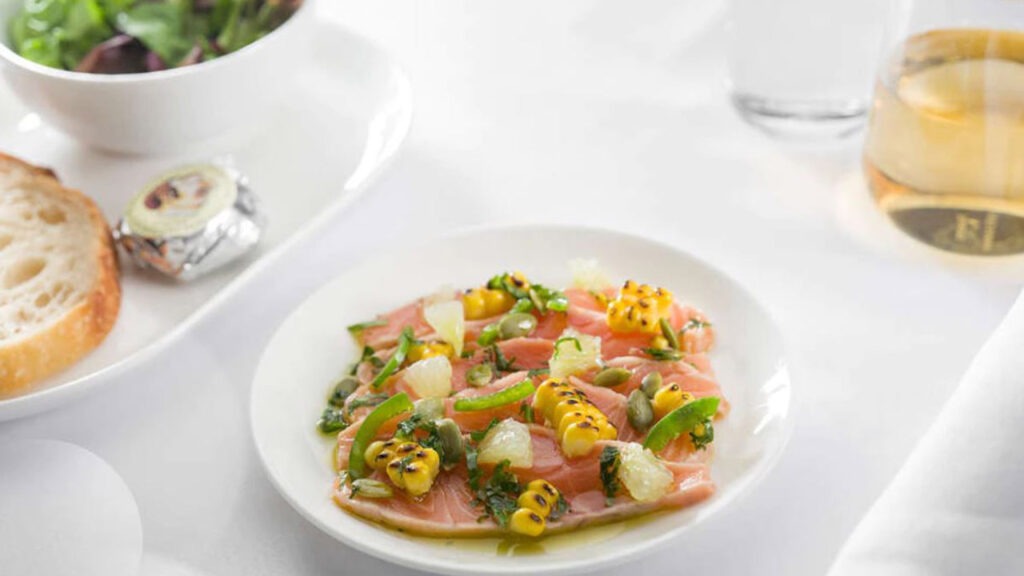 spacer30
Business Class passengers will enjoy a selection of Rockpool designed small and main plates* along with standard full formal dining offering, served on beautiful Noritake and David Caon designed tableware.
spacer30
With Sommeliers on hand during your flight Qantas encourage you to discuss which fine Australian award-winning wines and champagne you'd like to match your meal. On shorter overnight flights between Australia and Asia you'll enjoy even more rest, with Qantas's fast breakfast service offering simpler options.
spacer30
First Class International passengers will enjoy Neil Perry's inflight restaurant-style dining. Indulge in a tasting menu (on selected services) or choose to dine from our à la carte menu offering signature dishes. All meals are designed by Neil Perry, prepared onboard and made to order with the finest ingredients.
spacer30
Our Sommeliers in the Sky can advise on our selection of award-winning wines and champagne to match your meal.
spacer30
Snacks or light meals are available at any time during your flight. Choose from prestige wines, spirits and beers, along with loose leaf tea and espresso coffee.
spacer30
Luggage Business Class
spacer30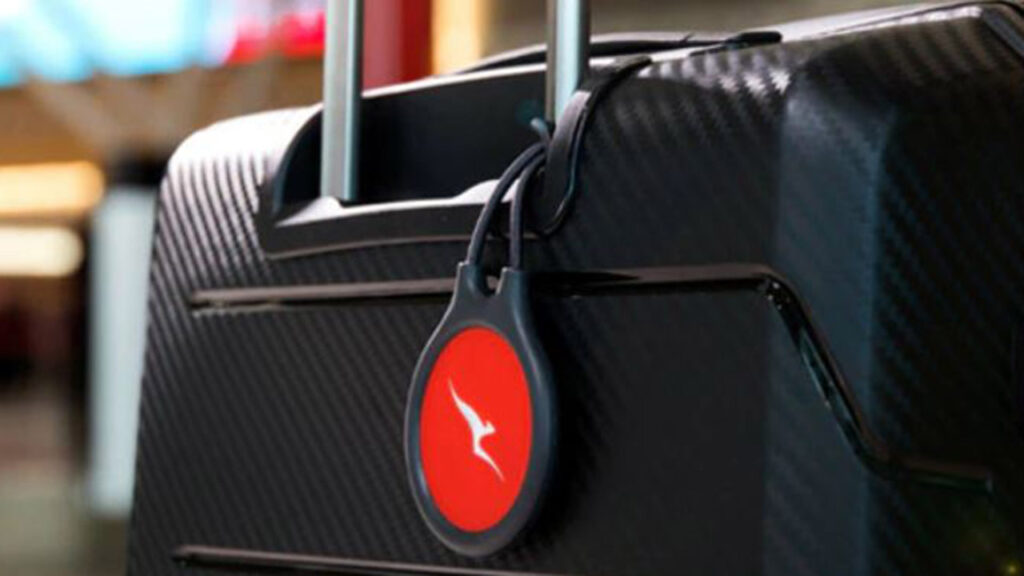 spacer30
International flights (excluding North & South America) Business Class travellers are allocated 40kg Qantas Club members 52kg Silver Qantas Frequent Flyers 52kg Gold Frequent Flyers 56kg Platinum and Platinum One Qantas Frequent Flyers 60kg
spacer30
Note - No single piece can exceed 32kg
spacer30
Clubs & Lounges
spacer30
Enjoy complimentary lounge access when you travel in Business or First Class with Qantas.
Start your international journey in the comfort of the International Business Lounge, found in key Qantas destinations around the world. With fresh, delicious dining options, shower facilities, private work areas, it's the only way to travel.
spacer30
spacer30
For more information regarding Qantas Clubs & Lounge access please contact one of our Travel Specialists.
*Aircraft can change at any time depending on the Airline. Please check with your Specialist Consultant at the time of booking or confirm with the airline prior departure for the latest airline class information and aircraft used for your specific flight.