Return Deal from : $9,175
Expired
Contact us for current specials
Airfare Details
Qatar Airways Companion to South America Business Class Return from rates Special Fares
| | | |
| --- | --- | --- |
| From/To: | Buenos Aires | São Paulo |
| Sydney | $9,250 | - |
| Melbourne | $9,250 | $9,175 |
Minimum 21 days advance purchase.
Are these promotional fares available for any dates?
No. only on selective dates, usually outside peak travel seasons – school holidays, European summer, Easter, Christmas/New Year or major event periods.
For single traveller fares, please visit Qatar to South America Business Class
ALL above fares are PER PERSON and INCLUDE all fuel surcharges and taxes. Rates are subject to high season surcharges, availability and changes without notice. Advertised rates are based on the lowest available fare and may differ at time of booking. All featured "from" prices are based on the lowest priced routing for the destination(s) listed. Taxes may increase if stopping over at a destination, returning from an alternative port or if not paid in full at time of booking. Other travel dates may be available at an additional cost. Please ask one of our Travel Specialists for full details, terms and conditions.
Book By
18-Feb-2019
Departure Until

01Mar19 - 11Dec19
Please note: All travel must be completed by 11Dec19

Travel Day

Midweek only Sunday – Thursday, surcharges apply for weekend travel.

Departure City

Sydney, Melbourne, Perth or Adelaide.

Arrival Cities

Buenos Aires or São Paulo.

Other destinations in South America may also be available, please ask one of our Travel Specialists for more information.

Minimum/Maximum Stay
Max:

Minimum Stay: 5 Days
Maximum Stay: 1 Month
Please note: All travel must be completed by 11Dec19

Companion Fare
Yes
Companion fare rules require TWO passengers to travel together on all legs of the journey.
Payment
Credit Cards, Direct Deposit, Cheque, Luxury Pay Later, Payment details »
Other

Change and Cancellation fees apply, please ask us for details.
First & Business Class Info
Business Class
Business Class Seating
spacer30
Voted "The World's Best Business Class", Qsuites have sliding 'privacy doors' and middle seats which convert into a double bed. The first-ever cabin to offer aft and forward-facing seats, Qsuite takes cabin innovation to a new level, thanks to its quad configuration.
spacer30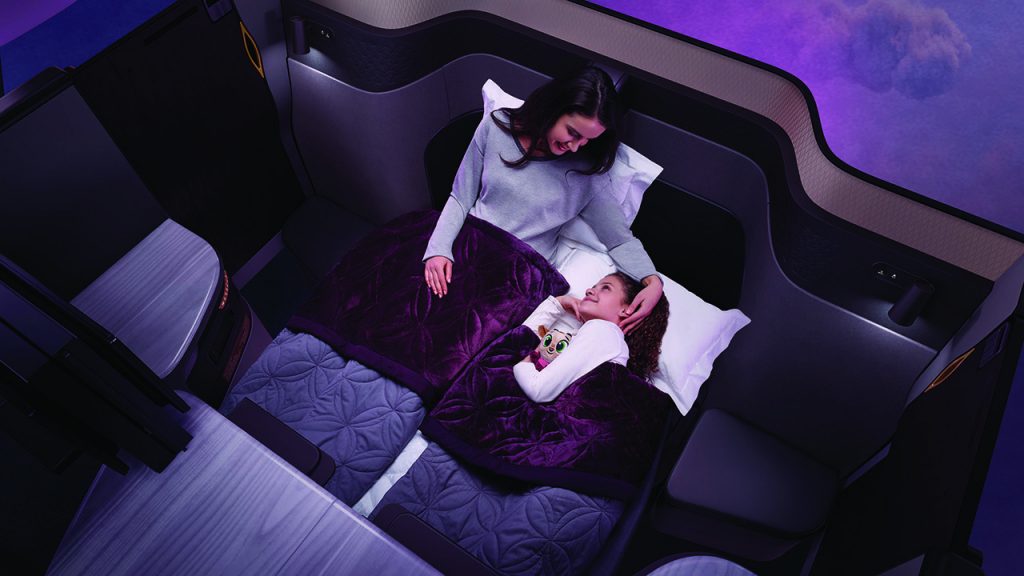 spacer30
The quad is a private space fully adaptable to your and your companions' requirements. Movable panels allow you to transform your space into a social area, allowing you to work, dine or socialise. When you wish to relax or sleep the space is transferred back into your own private room for the ultimate in privacy and comfort.
spacer30
Cabin interiors are designed in our signature colours of burgundy and grey, enhanced with elegant and warm rose gold detailing. Seats have been thoughtfully dressed in the latest and finest fabrics, to optimise your comfort. The media panel also comes with an all-access power port, with USB, HDMI and NFC capabilities for your convenience.
spacer30
Generous storage will keep your belongings within reach, and advanced LED lighting will help you adjust to changing time zones, so you arrive at your destination as refreshed as possible.
spacer30
spacer30
The fully lie-flat double bed promises you and your travel companion the ultimate journey in Business Class. A turn-down service comes complete with pillows, a quilted mattress and plush duvet and is complemented by The White Company sleepwear and slippers. Your amenity kit is courtesy of Italian luxury brands BRIC's and Castello Monte Vibiano.
spacer30
Business Class Food and Beverage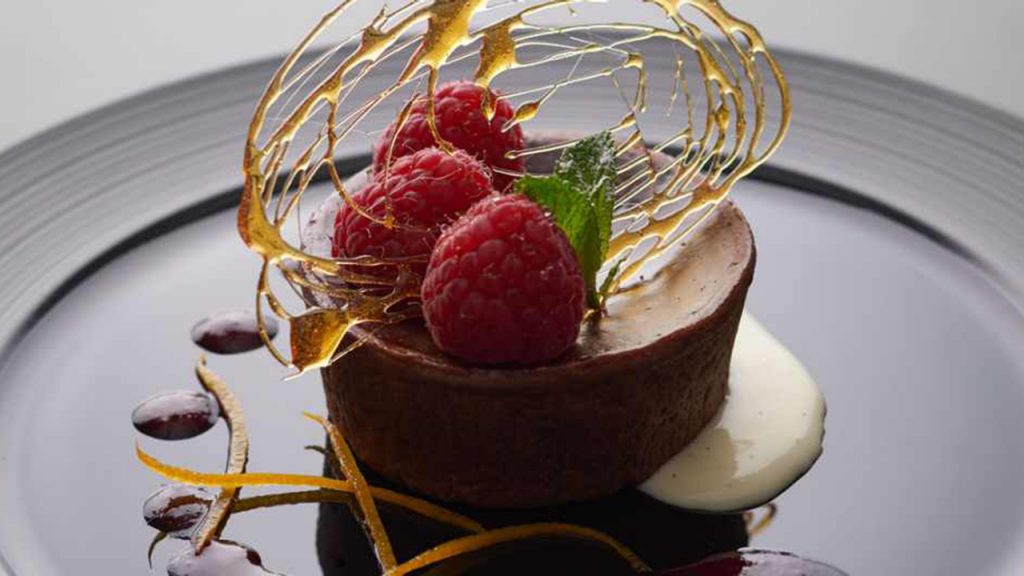 spacer30
The new age of airline dining revolves around you. Relish sumptuous cuisine designed by the best chefs in the world and savour expertly served exclusive vintages. An on-demand à la carte menu lets you enjoy mouth-watering dishes whenever you like. Each seat has a spacious dining area so you can enjoy your world-class meal in the heart of luxury.
spacer30
Recline and relax with a made-to-order mocktail, prepared especially for you by our award-winning cabin crew.
spacer30
spacer30
Our world-renowned chefs source only the finest and freshest ingredients to create mouth-watering dishes with exquisite flavours to satisfy every appetite. Begin your culinary journey with a selection of light delicacies, refined to reward your senses. Our appetising starters are served with a range of distinct and palatable flavours. Our magnificent cheese platter is one of the many highlights of our Business Class dining experience. It is served with a selection of firm, soft and blue veined cheeses, and accompanied with vine grapes, crudités, dried fruits, chutney or fruit paste. Dessert on board is always an incredible experience where you can enjoy a tasty selection of warm and sweet creations in Business Class.
spacer30
Our luxurious A380 lounge is a culinary retreat in its own right. Relax, unwind and sample a variety of savoury canapés such as poached prawn and wasabi or lamb loin and butternut squash.
spacer30
Business Class Entertainment
spacer30
Let time fly by, as you enjoy thousands of entertainment options. Oryx One's innovative system features an intuitive touch screen, to quickly find an array of movies, games and music to suit your taste.
spacer30
With the very first dual-screen interface, on board all our A350, A380 and B787 aircraft, you will be able to multitask; like play a game on your handheld device as you watch movies and TV programs on your personal screen, for example. Baggage allowances may vary according to route and cabin class. Please check the exact baggage regulations listed on your ticket.
spacer30
spacer30
*Aircraft can change at any time depending on the Airline. Please check with your Specialist Consultant at the time of booking or confirm with the airline prior departure for the latest airline class information and aircraft used for your specific flight.