Return Deal from : $7,195
Expired
Contact us for current specials
Airfare Details
American Airlines to North America with Free Internal Flights including Caribbean & Hawaii Business Class Return from rates Special Fares
| | |
| --- | --- |
| From/To: | North America* |
| Sydney | $7,195 |
Minimum days advance purchase.
Are these promotional fares available for any dates?
No. only on selective dates, usually outside peak travel seasons – school holidays, European summer, Easter, Christmas/New Year or major event periods.
ALL above fares are PER PERSON and INCLUDE all fuel surcharges and taxes. Rates are subject to high season surcharges, availability and changes without notice. Advertised rates are based on the lowest available fare and may differ at time of booking. All featured "from" prices are based on the lowest priced routing for the destination(s) listed. Taxes may increase if stopping over at a destination, returning from an alternative port or if not paid in full at time of booking. Other travel dates may be available at an additional cost. Please ask one of our Travel Specialists for full details, terms and conditions.
Book By
20-Apr-2018
Departure Until

31Mar19

Travel Day

Midweek only Sunday – Thursday, surcharges apply for weekend travel.

Departure City

Sydney

Other departure cities may be available, please speak to one of our Travel Specialists for more information.

Arrival Cities

*North America includes: USA, Canada, Carribean, Hawaii & Mexico

Other destinations in North America may also be available, please ask one of our Travel Specialists for more information.

Routing & Flight Duration
Advertised flights are from Sydney to Los Angeles then on to North America.

This airfare includes four free internal flights to North America including Hawaii & the Caribbean a $150 surcharge per extra flight is applied after all four free internal flights are used.
Minimum/Maximum Stay
Max:

Minimum Stay: Nil
Maximum Stay: 12 Months

Payment
Credit Cards, Direct Deposit, Cheque, Luxury Pay Later, Payment details »
Other

Change and Cancellation fees apply, please ask us for details.
First & Business Class Info
First Class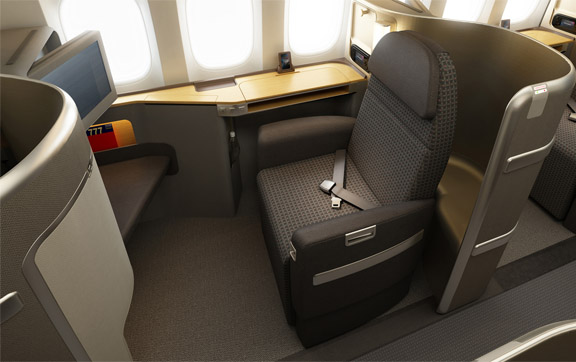 Your Flagship® First ticket gives you access to our best and most exclusive amenities and services; available for international flights over 3,000 miles.
Planes and seats
Enjoy true First Class service on our Boeing 777-300 and 777-200. Every seat is fully lie-flat with aisle access so you arrive feeling refreshed.
Wi-Fi
Never miss a beat while you're on board with international Wi-Fi on select aircrafts.
Premium dining
American Airlines has partnered with big names in food like Mark Sargeant and Maneet Chauhan to inspire menu items on select premium cabin flights. Plus, you can pair your meal with our award-winning wines. 
[bs_row class="row"]
[bs_col class="col-sm-4"]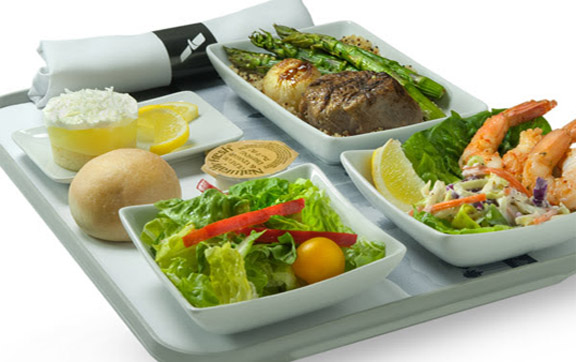 [/bs_col]
[bs_col class="col-sm-8"]
Reserve your meal in advance
You can reserve your meal on American-marketed and operated flights with scheduled meal service when you book  30 days before your trip. The reservation window stays open up to 24 hours before departure.
Drinks 
Our premium cabins are stocked with a wide variety of complimentary beers, wines and spirits to complement the inflight menu and your destination. Each wine we serve goes through an extremely selective process as part of our award-winning wine program.
[/bs_col]
[/bs_row]
American Airline's First, Business and Premium Economy meals are healthy, delicious and customized to your travel – menus vary depending on when and where you're traveling.
Entertainment
Pass the time with free entertainment and Bose® QuietComfort® 25 Acoustic Noise Cancelling® headphones. On select aircraft you'll even be able to watch live TV.
Amenities
Amenity kits
Be pampered with travel essentials from leading skincare and lifestyle brands 3LAB and Cole Haan.
Inflight comfort
Save some space in your carry-on –American Airlines have got comfort covered with pajamas for you. When you're ready, turn your fully lie-flat seat into a bed with the complimentary pillow and blanket provided.
Business Class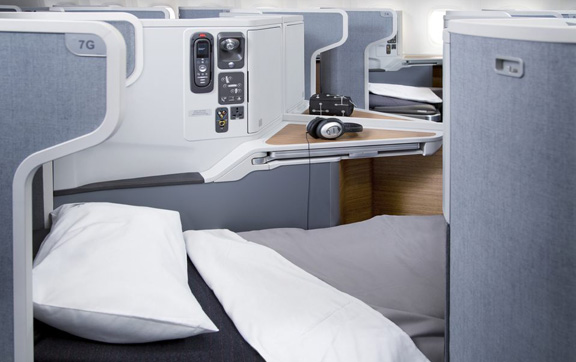 Welcome to the new American Airlines Business Class. The new cabin design, seats and entertainment upgrades are available on all 767-300's and 777's.
Your seat is at your command to provide maximum flexibility and control. Choose from several pre-set positions or fine-tune the fit using individual electronic controls to adjust the seat back, seat cushion and leg rest to your exact preference. Lean back to relax, sit up to work or lie flat to get some welcome shut-eye. And in between, if you want to find your favourite position again, use the convenient memory feature.
Baggage Information
Baggage allowance will change depending on your desired routing and chosen fare, please ask your Travel Specialist for exact information regarding luggage allowances for your flights.
Lounges
Enjoy exclusive access to Business Class Lounges when you fly with American Airlines. For more information regarding American Airlines Lounge Access, please contact one of our Travel Specialists.
*Aircraft can change at any time depending on the Airline. Please check with your Specialist Consultant at the time of booking or confirm with the airline prior departure for the latest airline class information and aircraft used for your specific flight.