Return Rate from : $10,205
Air France to Europe
Business Class Airfares
Expired
Contact us for current specials
Airfare Details
Air France Business Class to Europe Return rate from
| | | | |
| --- | --- | --- | --- |
| From/To: | Paris | London | Rome |
| Sydney | $10,575 | $13,575 | $10,205 |
Minimum days advance purchase.
Are these promotional fares available for any dates?
No. only on selective dates, usually outside peak travel seasons – school holidays, European summer, Easter, Christmas/New Year or major event periods.
Fly with Qantas/Singapore Airlines: Between Australia and Singapore
Fly with Air France : Between Singapore and Europe onwards return
Stopovers available in Singapore, Paris
ALL above fares are PER PERSON and INCLUDE all fuel surcharges and taxes. Rates are subject to high season surcharges, availability and changes without notice. Advertised rates are based on the lowest available fare and may differ at time of booking. All featured "from" prices are based on the lowest priced routing for the destination(s) listed. Taxes may increase if stopping over at a destination, returning from an alternative port or if not paid in full at time of booking. Other travel dates may be available at an additional cost. Please ask one of our Travel Specialists for full details, terms and conditions.
Book By
12-Aug-2022
Departure Until
Availability is limited and may not be available on all flights or travel days.
Departure City

Sydney, Melbourne, Brisbane, Perth

Other departure cities may be available, please speak to one of our Travel Specialists for more information.

Arrival Cities

Paris, London, Rome

Other destinations in Europe may also be available, please ask one of our Travel Specialists for more information. Surcharges may apply.

Routing & Flight Duration
Australia - Singapore - Paris - Europe return
Minimum/Maximum Stay
Max: 12 Months
Payment
Credit Cards, Direct Deposit, Cheque, Luxury Pay Later, Payment details »
Other

Fares subject to change anytime without notice.

Once your reservation is confirmed, full payment must be received within 3 days.

Fare is not guaranteed until your seats are booked, your ticket is paid in full and your ticket is issued.

Voluntary changes for this fare from $100 per ticket plus fare/tax difference.

Voluntary cancellation for this fare from $250 per ticket for cancellation/refund.

Credit card fees apply.

Please ask one of our Travel Specialists for more information.

Visa Info
Visa Info


Click the link to check if you require a visa.

All travellers require a COVID vaccination certificate to travel along with a negative COVID test prior to travel.
Stopover
Singapore
Known as one of the cleanest and most expensive cities in the world, Singapore is home to a fascinating combination of old and new. With extraordinary gardens, great food, excellent shopping and impressive architecture visitors are sure to find plenty to keep them entertained.
Find out more about Singapore & its attractions
Singapore Stopover Accommodations
Paris
Paris is known for its famous buildings and works of art, its chic fashion scene and its modern literary, artistic, and intellectual ideals, and is a must for anyone wishing to experience the best of both contemporary and age old European culture.
Find out more about Paris & its attractions
Paris Stopover Accommodations
First & Business Class Info
Business Class
A New Personalised Cabin

To ensure your comfort and well-being all throughout your flight, Air France has designed the new Business cabin, now available on certain intercontinental flights.
The new cabin serves as an office, restaurant, entertainment lounge and bedroom. You decide how to use the cabin to meet your needs.
The Business Seat: Your Coocoon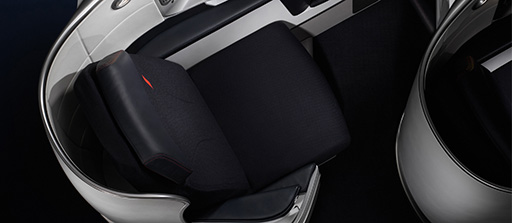 You will love the contemporary design and subdued elegance of Air France's Business seat: a graceful shape, padded upholstery, footrests, leather armrests, topstitching on the headrest and metallic finishing touches. Every detail is designed to ensure your well-being, comfort and privacy throughout your flight.
The seat becomes a helpful travel companion, adapting to meet all your needs. Need to work? How about some rest or sleep? Adjust the seat to the position that is right for you.
The new Business seat represents Air France's vision of the travel experience. Your benefits include the following:
A fully flat bed
Direct access to the aisle for every passenger
A multipurpose area (desk, restaurant table, bed) offering even greater privacy
A Full Bed for a full Night's Sleep in the Sky 

Air France works to make sure you get a peaceful night's sleep in a seat that transforms into a full bed. Nearly 2 m / 6.5 ft in length, it is made of comfortable materials and an armrest that lowers completely. With this additional space, you are free to find the sleeping position that is right for you.
Take advantage of accessories designed to help you avoid jet lag: an XXL feather down pillow and a soft duvet in glacier blue and warm grey.
Details that make a difference

In the Business cabin, each of your electronic devices—smartphone, tablet and laptop—has a secure place in the storage areas. You can also charge them using a personal power outlet and USB port.
Your personal storage compartment features an elegant red interior and contains noise-reducing headphones as well as a mirror. Store your daily-use items here to keep them close at hand.
You can also adjust the lighting to meet your needs: reading, ceiling and ambience lighting. You are free to orchestrate the flight you want.
Baggage Allowance
Baggage allowance will change depending on your desired routing and chosen fare, please ask your Travel Specialist for exact information regarding luggage allowances for your flights.
Airport Lounge Access
Enjoy complimentary access to exclusive airport lounges with Air France Business Class. For information regarding Air France's Lounge Access please contact one of our Travel Specialists.
*Aircraft can change at any time depending on the Airline. Please check with your Specialist Consultant at the time of booking or confirm with the airline prior departure for the latest airline class information and aircraft used for your specific flight.